"The View" co-host Whoopi Goldberg taped an apology video on Wednesday for using the word "gypped" during the show, saying she should have used another term.
Goldberg and her fellow co-hosts were discussing possible criminal charges against former president Donald Trump in the alleged hush money scandal involving Stormy Daniels.
"You know when you're a certain age you use words that you know from when you're a kid or you remember saying, and that's what I did today and I shouldn't have, I should have thought about it a little longer before I said it. But I didn't and I should have said 'cheated,' but I used another word and I'm really, really sorry," Goldberg said in the video.
She used the word "gypped" while discussing the Daniels case. It's a longtime slang term for being cheated or swindled but is viewed as a slur by some because of its association with "Gypsies."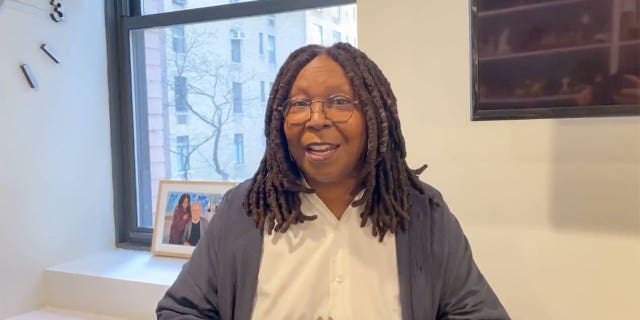 'The View' co-host Whoopi Goldberg videotaped an apology on Wednesday after "The View." (Screenshot/Twitter/TheView)
WHOOPI GOLDBERG ECHOS DON LEMON IN ATTACKING NIKKI HALEY: 'YOU'RE NOT A NEW GENERATION, YOU'RE 51'
"The people who still believe that he got, you know, gypped somehow, will still believe that he cared enough … about his wife to pay that money from his personal thing. I just don't understand. If that was the case, then why all the subterfuge? Why is Michael Cohen paying for it?" Goldberg said.
Some Twitter users were puzzled by Goldberg's apology video, responding they were unaware the word was considered offensive.
Goldberg was suspended from "The View" in early 2022 after she claimed the Holocaust was not about race, but she didn't immediately post an apology after the show that time.
"The Holocaust isn't about race," Goldberg said during the January 2022 episode. "It's about man's inhumanity to man, that's what it's about."
She seemed to double-down on her comments during an interview in December but issued a statement later that she was referencing her initial remarks.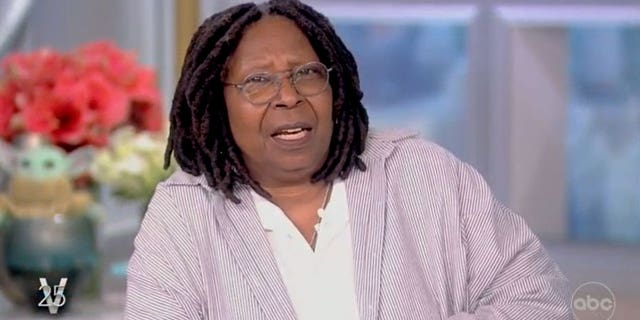 Whoopi Goldberg appears on the set of ABC's "The View" on May 19, 2022. (Screenshot/ABC)
WHOOPI TAKES HEAT FOR 'INCENDIARY' HOLOCAUST REMARKS: 'SHE LEARNED NOTHING'
"Recently while doing press in London, I was asked about my comments from earlier this year," Goldberg said. "I tried to convey to the reporter what I had said and why, and attempted to recount that time. It was never my intention to appear as if I was doubling down on hurtful comments, especially after talking with and hearing people like rabbis and old and new friends weighing in."
During the show on Friday, actress Jane Fonda joined the hosts and suggested "murder" in response to a question about what pro-abortion activists can do in addition to marching and protesting against abortion laws.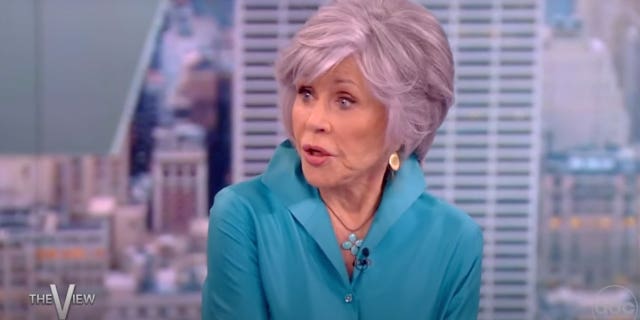 Hollywood icon and far-left activist Jane Fonda sparked a firestorm when she suggested "murder" in an appearance on "The View" to combat abortion laws. She later said she was joking. (Screenshot/ABC News)
CLICK HERE TO GET THE FOX NEWS APP
"Well, I've thought of murder," Fonda said during cross-talk before her "Grace and Frankie" co-star Lily Tomlin asked her to repeat herself.
"Murder," Fonda said again as hosts laughed.
Co-host Joy Behar insisted Fonda was just kidding, and the actress released a statement later in the day that her comment was "obviously made in jest."
Hanna Panreck is an associate editor at Fox News.