There was a time when no respectable casserole or Jell-O salad was served in anything but a brightly colored piece of Pyrex glassware — and every cupboard was stacked high with the functional mixing bowls, baking dishes and storage containers.
Now, Pyrex dishes are fetching big bucks as dealers make rare finds they call the "holy grail" and snap up nostalgic kitchen pieces as seen in their favorite Netflix shows.
Social media has helped people spread the word — and the enthusiasm.
"I didn't know what I had found at the time," Louis Prizzi, 35, a vintage dealer in Long Island, New York, told Fox News Digital. "I posted it on the Midcentury Modern Kitch Facebook group and people flipped out."
VINTAGE COOKBOOKS MAY BE WORTH THOUSANDS OF DOLLARS: HERE'S 6 REASONS WHY
Prizzi runs an Instagram vintage store called @Thats_So_Loopy.
He casually picked up a small blue Pyrex "Butterprint" bowl at a flea market, which he turned around and sold for $2,100 on eBay after the reaction he got from Pyrex enthusiasts online.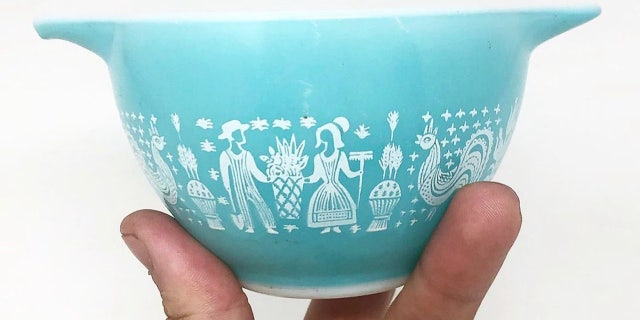 Louis Prizzi of New York picked up this small blue Pyrex "Butterprint" bowl at a flea market — which he then turned around and sold for $2,100 on eBay. (Louis Prizzi)
He explained that while the pattern itself is not particularly rare, the small bowl he happened upon was an "unproduced" size that matches a popular four-piece set of mixing bowls.
"So, it's a never-produced fifth piece — and that's the reason it is rare and desirable, and commanded that price," Prizzi said.
"Most people were unaware a smaller size even existed. It was probably a promotional piece, and it is said there are less than 10 of them in existence."
RETRO BACK-TO-SCHOOL SUPPLIES: NOSTALGIC ITEMS THAT'LL MAKE YOU RELIVE THE GOOD OLD CLASSROOM DAYS
At Cedar Chest Antique Mall in McGregor, Texas, store manager Tim Dowdle said a set of bowls in the harder-to-find "Gooseberry" print, produced between 1957-1966, sold for $699 last month.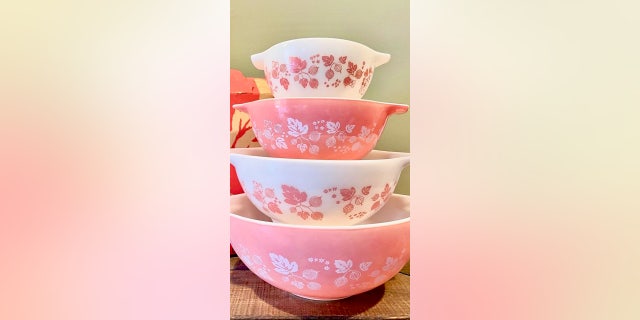 This set of hard-to-find "Gooseberry" nesting bowls in the original box is priced at $550 at Rosie's Vintage in Long Island, New York. "It's currently our unicorn," Thea Morales, owner of Rosie's Vintage, told Fox News Digital. (Judy Rao)
But Paulette Kilpatrick, who sells vintage kitchenware and linens at Cedar Chest in McGregor, said the term "holy grail" is a matter of perspective, not just price, when it comes to Pyrex.
ANTIQUE FURNITURE SALES ARE ON THE RISE AMID INFLATION, SUPPLY CHAIN ISSUES
"I recently sold a dish to a young woman that she said felt like was the 'holy grail' for her," Kilpatrick said.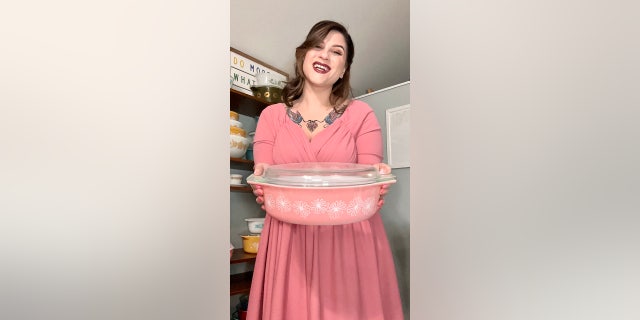 Holding a prized Pyrex possession, Alyssa Durante of Long Island, New York, shows off her "Pink Daisy" casserole, which is the same one she saw on a favorite TV series, "The Marvelous Mrs. Maisel." (Alyssa Durante)
"It was a small black casserole with a white interior — and there are very few in black."
It didn't go for $1,000, Kilpatrick said. But she sold it for $100 and said she was glad she could connect someone with a piece that spoke to her.
Alyssa Durante, 30, of Long Island, agreed with that idea.
NEW JERSEY PINBALL MUSEUM TAKES ITS VISITORS BACK IN TIME
"For me, it's more of an excitement or an emotional thing," Durante told Fox News Digital. "I do have a vintage Pyrex book that I use to find the value and the history of each piece. But I don't necessarily go for the most expensive pieces. I'm never going to be able to afford 'Lucky in Love.'"
"Lucky in Love," a one-quart casserole dish featuring green grass and clovers with pink hearts scattered throughout, was most likely a test piece or limited release item that was made only in 1959, according to the Corning Museum of Glass, a not-for-profit in Corning, New York.
In 2015, one dish sold for over $4,000 on eBay.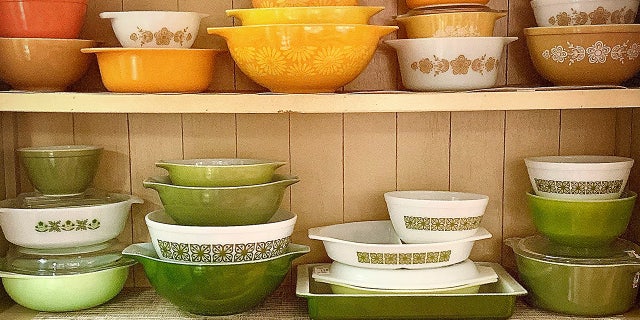 A complete color wheel of vintage Pyrex bowls is on display at Rosie's Vintage in Huntington on Long Island, New York. For more information, anyone can visit RosiesVintageStore.com. (Thea Morales)
Popular TV series like "Mad Men" and "The Marvelous Mrs. Maisel" have put certain Pyrex patterns — such as "Turquoise Snowflake" and "Pink Daisy" — in the limelight, Duranted noted.
That and the lure of nostalgia apparently have collectors hitting garage sales and online auctions alike.
"I loved the show "The Marvelous Mrs. Maisel," Durante said. "I felt like I identified a lot with the main character, Midge. I would notice the different Pyrex sets in the background of her kitchen. I was like, 'Oh my gosh, I have to have the Pink Daisy casserole now.'"
RARE VINTAGE FARM TRACTOR SOLD FOR $420,000 AT MULTI-MILLION DOLLAR AUCTION
Currently, there are "Pink Daisy" casserole dishes listed on Etsy, ranging in price from $100 to $300.
"Pink Daisy is really desirable because it's high demand and it's pretty rare," Yvette Egan, owner of the Etsy shop, ParkwoodTreasures, told Fox News Digital.
"They only produced the pattern in certain types of dishes. And the latest one I found is really one of the more rare ones. It's called a 'space saver.'"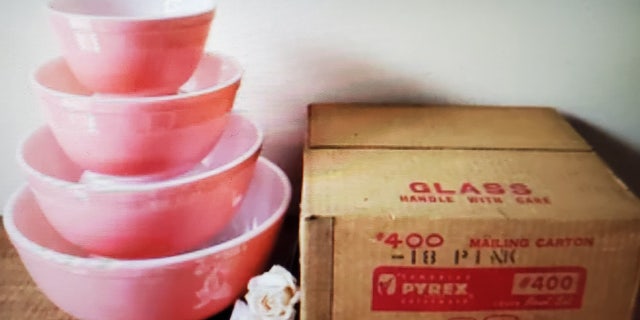 These bowls, named simply Pink Pyrex, are priced at $2,189.95 at ParkwoodTreasures on Etsy. "They were in a box on a shelf in somebody's basement [ever] since [that person] got married," owner Yvette Egan said. "They're perfect. Absolutely perfect." (Yvette Egan)
Egan of Madison, Wisconsin, said the dishes were "space savers" because they would fit in the refrigerator and go from oven to refrigerator.
"That was a big deal for those casseroles … So, you didn't have to dirty another dish," Egan said.
The Pyrex dishes that Egan has for sale on Etsy are in mostly mint condition — adding a lot of value to them, she said, since some Pyrex can be faded or have small chips.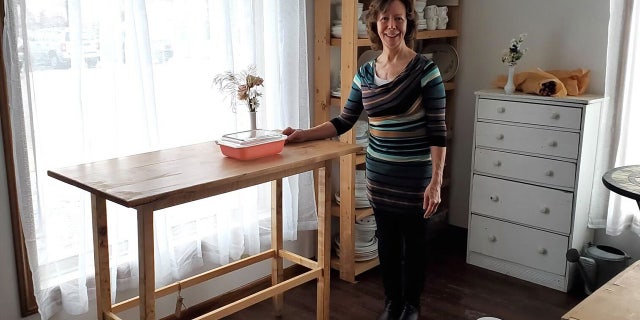 Yvette Egan stands in her workspace in Madison, Wisconsin. She's the owner of the Etsy shop known as ParkwoodTreasures, which sells vintage Pyrex bowls in mint condition. (Yvette Egan)
"I've had people contact me that don't know a lot about Pyrex and ask, 'Why are you asking so much for that when I've seen it somewhere else for $450?' I say, 'Try to find them somewhere else,'" Egan said.
For example, Egan is selling a set named Pink Pyrex for $2,189.95.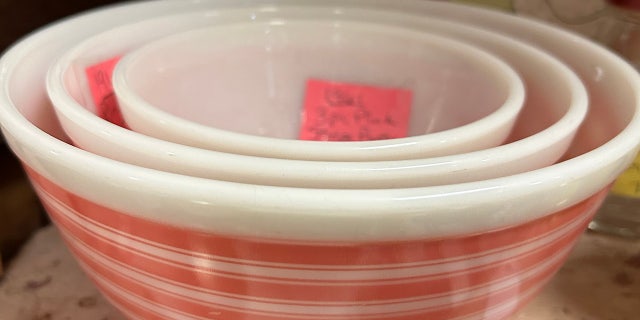 This set of pink-and-white striped Pyrex nesting bowls is currently going for $329 at Cedar Chest, an antique mall in McGregor, Texas. Pink Pyrex has grown in popularity and value thanks to the TV series, "The Marvelous Mrs. Maisel." (Gretchen Eichenberg)
If a dish comes with the original clear glass lid, it is even more valuable, according to collectors.
Kathy Studensky, owner of Thistle Attic at the Cedar Chest in McGregor, thinks it's millennials who like the idea of a more sustainable form of kitchenware.
HISTORIC 160-YEAR-OLD CHURCH IN NEW YORK LISTED FOR SALE AT 'CHEAP PRICE' OF $100K: SEE THE STUNNING IMAGES
"People are moving away from plastic and we're finding out that glass is safer than plastic and Pyrex is such a good investment because it's so durable. You don't use it for a year or two and throw it away. These things almost last forever."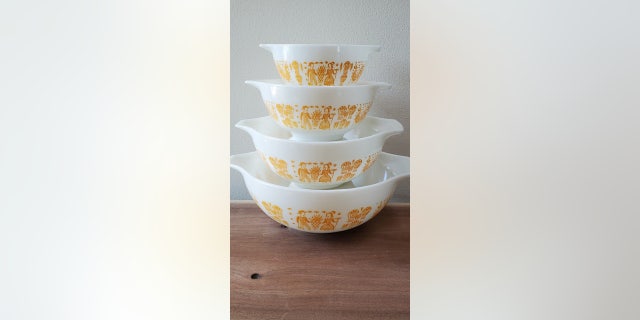 "The thing that makes 'Orange Butterprint' so rare is that it was only available through S&H Green Stamps," Yvette Egan said. "You could save those green stamp books and redeem them for all sorts of things." This set, which wasn't available in department stores, is selling for $2,169.95 on Etsy. (Yvette Egan)
Durante said sustainability is one of the main reasons she shops at vintage and thrift stores — and her Pyrex pieces further her efforts.
WOMAN ACCIDENTALLY EATS HEART-SHAPED POTATO CHIP WORTH OVER $120K: 'I DIDN'T REALIZE'
"It's a very sustainable source because they last for generations," Durante said. "I know some people don't always cook with and use their Pyrex, but I do. I have maybe three display ones, but all of them I use for baking. I made all of Thanksgiving dinner in them one year."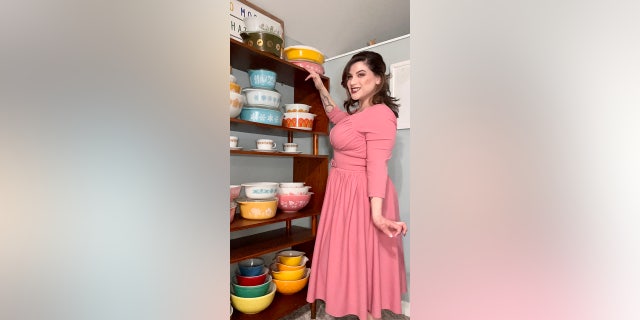 Alyssa Durante has a collection of more than 30 pieces, including the recent addition of a primary color bowl set (bottom shelf, center). (Alyssa Durante)
In that sense, Pyrex is a collection that has function, Prizzi said.
"There are a ton of collectors who collect it and they use it," Prizzi said. "There are Pyrex groups on Facebook where you will see pictures of someone who says, 'I just made banana bread in a dish that is worth $2,000.'"
"Pyrex to me now is even more sentimental than it was before."
— Alyssa Durante
While durable, Pyrex should be handled with care when washing, say those in the know.
VINTAGE VIDEO GAME COLLECTION WORTH $100K UNCOVERED IN HOARDER'S FORMER HOUSE
"A dishwasher is the no. 1 killer of Pyrex," Prizzi said.
"It will kill the shine and make it worthless," said Studensky, who agreed with that.
"No one had dishwashers when Pyrex was first created," she added. "Warm soapy water. The dishwasher will take the sheen off but even then, you can still use it."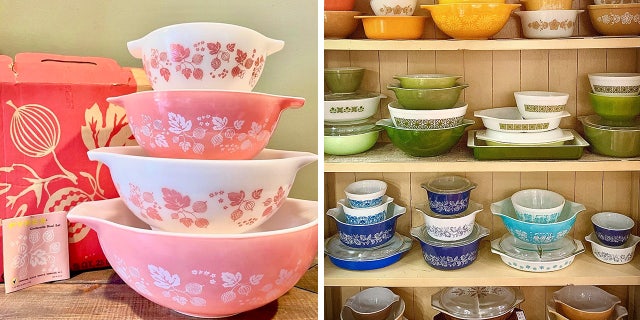 These vintage Pyrex dishes, seen at Rosie's Vintage on Long Island, New York, are worth big bucks, with some pieces selling for as much as $2,000. Thea Morales, 46, owner of Rosie's Vintage, told Fox News Digital that there are some Pyrex pieces that were part of a "short run" — which means the company only manufactured a few of them as a test — making them much harder to find and more valuable. (Thea Morales)
Nostalgia, no doubt, plays a part in the fancy.
WOMAN'S EXPIRED VICKS VAPORUB JAR FROM THE 1980S GOES VIRAL: 'VINTAGE FOR THE WIN'
"My first memory of a Pyrex bowl was with my grandma," Durante said. "We were making pizza dough in the bowl."
She added, "It was one of the yellow primary bowls, and I'll never forget it. So for me, it brings me back to making pizza with my grandmother, which is really sentimental because she passed two months ago. Pyrex to me now is even more sentimental than it was before."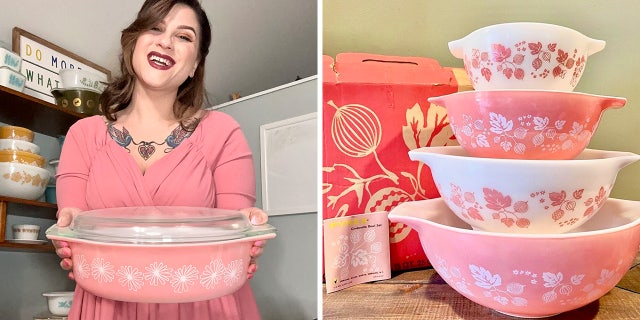 Durante, at left, holds one of her Pyrex pieces. On the right sits a stack of pink Pyrex bowls courtesy of Rosie's Vintage on Long Island, New York. (Alyssa Durante/Judy Rao)
Durante said that as an early present to herself, she just bought a full set of primary color mixing bowls that she found on Facebook Marketplace.
CLICK HERE TO GET THE FOX NEWS APP
"I think people get into it for nostalgia, and then they fall down the rabbit hole and just keep discovering pieces that speak to them," Prizzi said.
CLICK HERE TO SIGN UP FOR OUR LIFESTYLE NEWSLETTER
That's where Kilpatrick suggests starting a collection.
"Find colors that you like or what you remember from your childhood," she said.
Gretchen Eichenberg is a contributing reporter for Fox News Digital.