The U.S. government pledged more than $171 million Friday for humanitarian and development projects to assist Venezuelans experiencing a variety of urgent needs at home and abroad.
Some of the money will go for food, water and sanitation efforts within the crisis-wracked country, while other funds are designated for emergency shelter, health care and other services for Venezuelans who have migrated to other South American nations, the U.S. Department of State told The Associated Press.
The U.S. ambassador to the United Nations, Linda Thomas-Greenfield, announced the funding during a conference in Brussels. The event is designed to raise awareness of Venezuela's protracted economic and political crisis, which has pushed millions into poverty and driven more than 7 million others to migrate, mostly within Latin America.
BIDEN ADMINISTRATION GIVES MADURO REGIME LIFELINE AS VENEZUELANS CRY FOUL
"We must continue to provide critical assistance to Venezuelan refugees, migrants, their host communities and those still in Venezuela," Thomas-Greenfield said via livestream from New York. "The work we are doing together will save lives and will change lives."
The ambassador also urged conference attendees to work together to "advance a peaceful political solution in Venezuela."
President Nicolas Maduro's government and Venezuela's opposition, including the faction backed by the U.S., reached an agreement four months ago to fund social programs with money drawn from the country's assets frozen abroad. But the fund, expected to be managed by the United Nations and to progressively reach about $3 billion, has yet to materialize.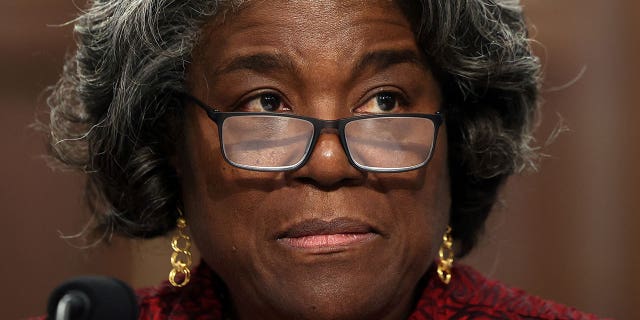 Linda Thomas-Greenfield, United States Ambassador to the United Nations, testifies on March 01, 2023, in Washington, DC. Thomas-Greenfield announced a $171 million funding for Venezuela during a conference in Brussels. (Kevin Dietsch/Getty Images)
About three-quarters of Venezuelans live on less than $1.90 a day — the international benchmark of extreme poverty. The minimum wage paid in Venezuelan bolivars is the equivalent of $5 a month, down from $30 in April 2022.
Neither of those wages is enough to feed one person, let alone a family. The cost of a basic basket of goods for a family of four was estimated at $372 in December.
COLOMBIA ELECTS FORMER REBEL GUSTAVO PETRO TO BECOME COUNTRY'S FIRST LEFTIST PRESIDENT
A U.N. report published last year estimated it would cost $795 million to help about 5.2 million people in Venezuela through health, education, water and sanitation, food and other projects.
The State Department said the funding announced Friday includes more than $84 million from the U.S. Agency for International Development for health care, food, water and other services for people in Venezuela and for emergency food assistance for Venezuelan migrants in other countries. The money will go to U.N. agencies and nongovernmental groups already operating in Venezuela.
CLICK HERE TO GET THE FOX NEWS APP
USAID also plans to provide $31 million for development efforts, including the socio-economic integration of Venezuelans in Colombia, where the largest share of migrants has resettled during the crisis, and in Ecuador. Some of that money will go to support human rights organizations, independent media outlets and other groups.
More than $56 million from the State Department will be directed to humanitarian programs for Venezuelans and their host countries, including emergency shelter, mental health services, and protection for women, Indigenous people and other vulnerable groups.