The United States has resumed its normal flights through international waters over the Black Sea following the crash of a drone due to Russian interference.
U.S. officials said Friday that a RQ-4 Global Hawk flew through the region — the first U.S. aircraft to do so since the skirmish, according to Reuters.
RUSSIA GIVES STATE AWARDS TO PILOTS BEHIND US DRONE CRASH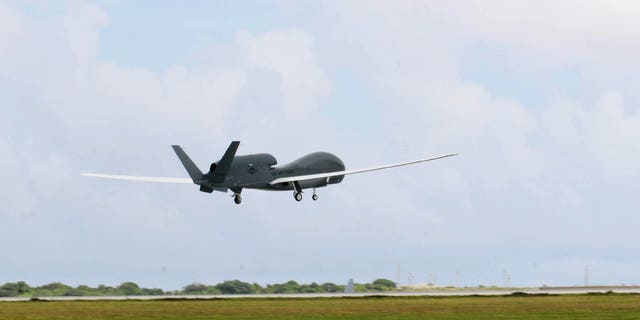 An RQ-4 Global Hawk takes off from Andersen Air Force Base, Guam (U.S. Air Force photo/Senior Airman Nichelle Anderson)
Military officials assured the public that the Russian harassment of the US drone on Tuesday would not affect regular operations in the region.
Defense Secretary Lloyd Austin summarized the incident Wednesday in a press conference, saying, "Two Russian jets dumped fuel on an unmanned U.S. MQ-9 aircraft conducting routine operations in international airspace. And one Russian jet intercepted and hit our MQ-9 aircraft, resulting in a crash."
Austin sharply criticized the Russian military for its actions, stating that the Black Sea incident was "a part of a pattern of aggressive and risky and unsafe actions by Russian pilots in international airspace."
US VIDEO SHOWS MOMENT RUSSIAN FIGHTER JET COLLIDES WITH US DRONE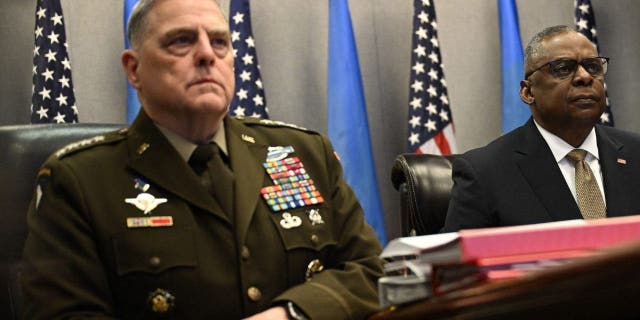 US Defense Secretary Lloyd Austin (R) Chairman of the Joint Chiefs of Staff General Mark Milley attend a virtual meeting of the Ukraine Defense Contact Group on March 15, 2023, at the Pentagon in Washington, D.C. (ANDREW CABALLERO-REYNOLDS/POOL/AFP via Getty Images)
Russia denied that the aircraft touched one another, and accused the U.S. of unnecessarily escalating the issue.
Russian minister of Defense Sergei Shoigu presented state awards to the fighter jet pilots responsible for downing a U.S. drone over the Black Sea earlier this week.
CLICK HERE TO DOWNLOAD THE FOX NEWS APP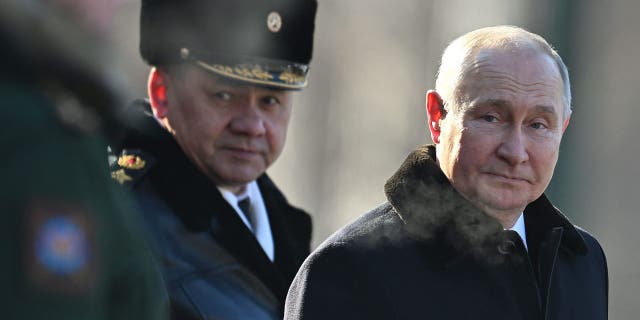 Russian President Vladimir Putin and Russian Defence Minister Sergei Shoigu attend a wreath-laying ceremony at the Eternal Flame and the Unknown Soldier's Grave in Alexander Garden during an event marking Defender of the Fatherland Day in Moscow, Russia on Feb. 23, 2023. (PAVEL BEDNYAKOV/Sputnik/AFP via Getty Images)
In an official statement, the Ministry of Defense commended the pilots for preventing the drone from "violating the boundaries of the temporary airspace regime established for the special military operation."
The statement accuses the U.S. drone of flying with its transponders off.
Timothy Nerozzi is a writer for Fox News Digital. You can follow him on Twitter @timothynerozzi and can email him at timothy.nerozzi@fox.com