Former President Donald Trump holds a 14-point lead over potential 2024 Republican presidential nomination rival Gov. Ron DeSantis of Florida, according to a new poll in the early stages of the White House race.
The national survey from Quinnipiac University also indicates President Biden holding a four-point advantage over Trump and a razor-thin one-point edge over DeSantis in hypothetical 2024 general election matchups.
Trump stands at 46% support among Republicans and GOP-leaning voters questioned in the poll, which was conducted March 9-13, with DeSantis at 32%. The survey indicates Trump has expanded his lead over DeSantis. In Quinnipiac University's February poll, the former president topped the Florida governor 42%-36%.
"DeSantis might be the buzz in the GOP conversation, but, for now, Trump is seeing no erosion and, in fact, enjoys a bump in his lead in the Republican primary," Quinnipiac University polling analyst Tim Malloy said.
FIRST ON FOX: DESANTIS HEADING TO NEW HAMPSHIRE FOLLOWING STOPS IN IOWA, NEVADA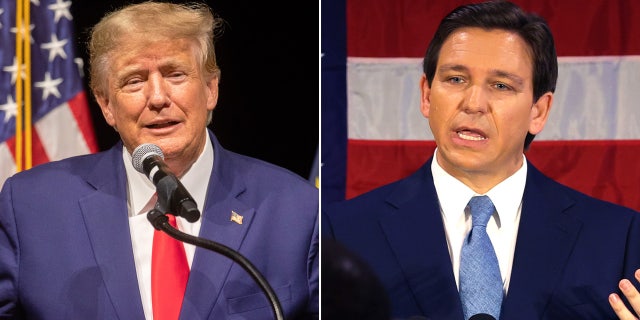 File photos of former President Trump, left, and Florida Gov. Ron DeSantis. (Scott Eisen, Spencer Platt)
Trump became the first major Republican to declare his candidacy when he launched his third straight campaign for the White House in mid-November, soon after the 2022 midterm elections.
More than two years after leaving the White House following his 2020 election defeat at the hands of Biden, Trump remains the most popular and influential politician in the Republican Party. Earlier this month, Trump once again overwhelmingly won the straw poll at the Conservative Political Action Conference (CPAC). The largest annual gathering of conservative leaders and activists has become a Trumpfest since the former president's 2016 election.
TRUMP AND DESANTIS NECK AND NECK IN NEW POLL IN STATE THAT KICKS OFF 2024 GOP CALENDAR
But Trump's taken plenty of incoming fire over his impact on the GOP's lackluster performance in the midterms, received some unfavorable reviews following his mid-November campaign launch at his Mar-a-Lago club in Palm Beach, Florida, and has faced criticism over controversial comments and actions in the past two months.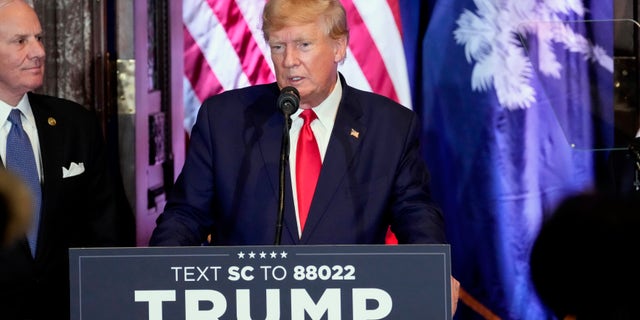 Former President Trump speaks at a campaign event at the South Carolina Statehouse Jan. 28, 2023, in Columbia, S.C. (AP)
Separately, legal scrutiny focusing on Trump appears to be intensifying, and possible indictments in the coming weeks could make him the first former president in American history to face criminal charges.
WHO'S IN AND WHO'S ON THE SIDELINES — YOUR GUIDE TO THE 2024 GOP PRESIDENTIAL NOMINATION RACE
DeSantis saw his popularity soar among conservatives across the country over the past three years due to his forceful pushback against coronavirus pandemic restrictions and his aggressive actions as a culture warrior going after media, corporations and teachers unions. The governor won an overwhelming 19-point gubernatorial re-election victory in November, and in recent speeches, he has been spotlighting that his policy victories in Florida can serve as a roadmap for the entire nation.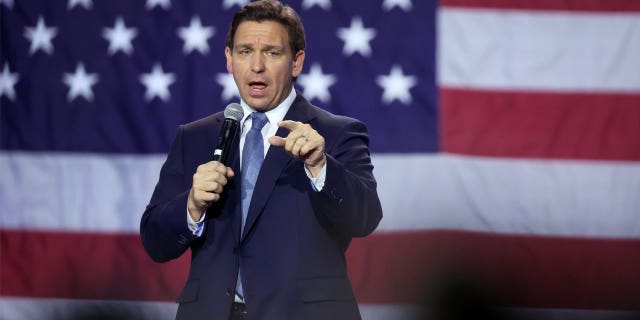 Florida Gov. Ron DeSantis speaks to Iowa voters March 10, 2023, in Des Moines, Iowa. (Scott Olson/Getty Images)
Sources in DeSantis' wider orbit have said any presidential campaign launch would come in the late spring or early summer, after the end of the current legislative session. However, the governor's latest travel itinerary to the early voting states of Iowa and Nevada and a trip next month to New Hampshire is sparking more speculation about an increasingly probable White House run.
The governor is also traveling across the country, highlighting his "Florida blueprint" and promoting his newly released memoir, "The Courage to Be Free."
According to the new Quinnipiac poll, former Ambassador to the United Nations and former two-term South Carolina Gov. Nikki Haley stands at 5% support. Haley launched her presidential campaign last month. Former Vice President Mike Pence, who's moving toward a likely 2024 launch in the spring, stands at 3% support. No other potential or actual candidate questioned in the survey tops 2%.
In an average of all the most recent national surveys in the GOP presidential nomination race compiled by Real Clear Politics, Trump stands at 44% support, DeSantis at 28%, Haley and Pence each at 6% and everyone else in the burgeoning field of contenders at 2% or less.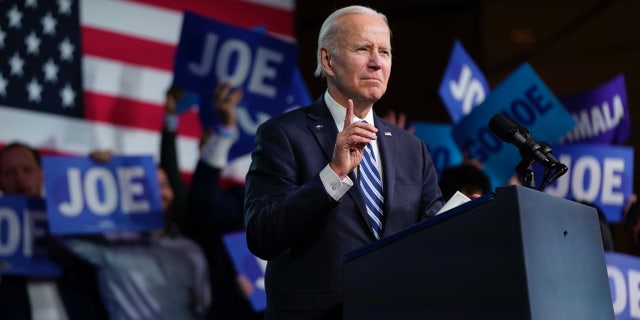 President Biden speaks at the Democratic National Committee Winter Meeting Feb. 3, 2023, in Philadelphia. (AP Photo/Patrick Semansky)
Looking at the November 2024 presidential election, the Quinnipiac poll indicates Biden topping Trump 49%-45% among all registered voters in a potential rematch of the 2020 election. According to the survey, the president edges the Florida governor 47%-46% in a possible general election matchup, which is well within the poll's margin of error. Biden has repeatedly said he intends to seek a second term in the White House but has made no formal campaign announcement.
CLICK HERE TO GET THE FOX NEWS APP
The survey indicates that Biden's standing with Americans remains well underwater. The president's approval rating in the poll stands at 39%-55%.
The Quinnipiac University national survey questioned 1,635 self-identified registered voters, including 677 Republican and GOP leaning voters. The poll's overall sampling error is plus or minus 2.4 percentage points, with a sampling error of plus or minus 3.8 percentage points for Republican presidential primary questions.
Paul Steinhauser is a politics reporter based in New Hampshire.