Tim Allen and his wife Jane attended an Oscars viewing party Sunday night as the actor poked fun at Will Smith's infamous slap.
Allen, 69, shared a joke about Smith slapping Chris Rock during the 2022 Oscars ceremony on Twitter.
"Of [sic] to a Academy Award dinner and I wonder if tonight's host will wear one of these?"
He included a photo of a padded boxing helmet with the tweet.
TOM CRUISE SKIPS OSCARS, BUT LADY GAGA WILL PERFORM 'TOP GUN: MAVERICK' SONG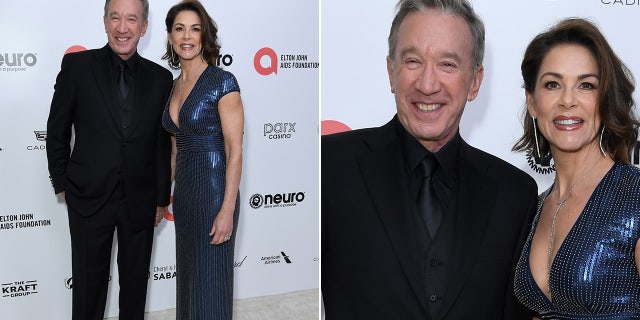 Tim Allen and his wife Jane Allen attends the Elton John Aids Foundation Oscars watch party. (Getty Images)
Smith was banned from attending any Academy Awards events for the next 10 years after slapping Chris Rock while the comedian was presenting an Oscar during the 2022 ceremony. Smith is still eligible for nominations and awards, but can't personally accept them.
Smith won the best actor Oscar for his role in "King Richard" despite his behavior. He apologized on Instagram days after the physical altercation.
2023 Oscars host Jimmy Kimmel joked about Smith's slap multiple times throughout the night so far.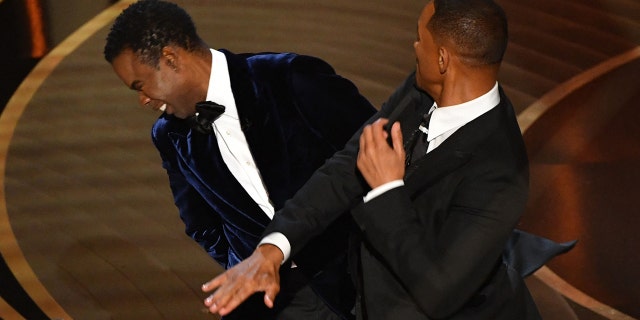 Will Smith took issue with Chris Rock's joke about his wife, Jada Pinkett Smith, leading him to slap the comedian across the face at the Academy Awards in 2022. (ROBYN BECK/AFP)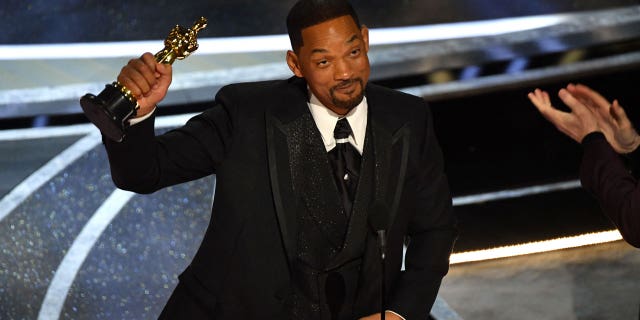 Will Smith won the best actor Academy Award shortly after slapping Chris Rock. (Getty Images)
CLICK HERE TO SIGN UP FOR THE ENTERTAINMENT NEWSLETTER
Allen and Jane posed for red carpet photos together at the Elton John AIDS Foundation's viewing party. The actor wore an all-black suit to the event while Jane wore a floor-length blue gown.
She wore her hair curled and tucked behind one ear and accessorized with a diamond necklace along with matching earrings.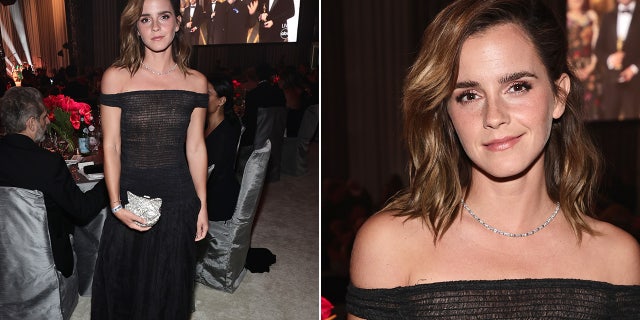 Emma Watson at the Elton John Aids Foundation Oscars viewing party. (Getty Images)
Emma Watson, Hilary Duff and more stars were also in attendance at the Academy Awards viewing party.
Watson, 32, wore a black off-the-shoulder gown. Duff, 35, posed for photos in a red gown that crossed around her neck.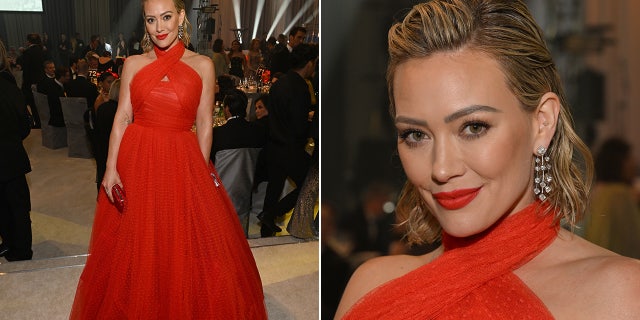 Hilary Duff stuns in a red dress at the Elton John Aids Foundation Oscars watch party. (Getty Images)
Heidi Klum turned heads as she donned a yellow feathery dress for the evening.
Meanwhile, Brooke Shields opted for an all-black sequined pantsuit.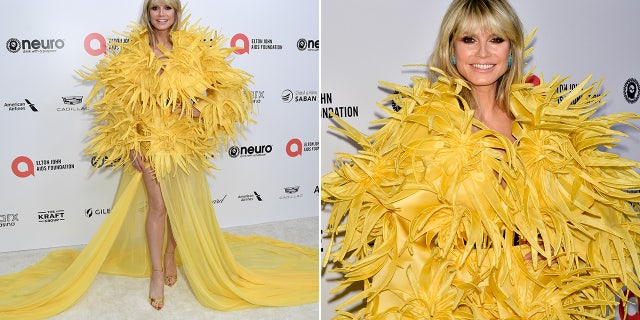 Heidi Klum wore an over the top yellow feathery gown at the Elton John Aids Foundation Oscars watch party. (Getty Images)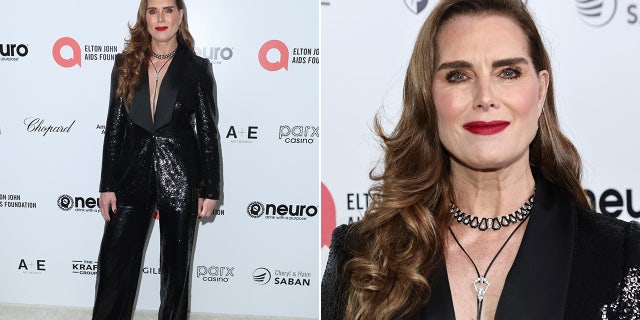 Brooke Shields walked the red carpet at the Elton John Aids Foundation Oscars watch party wearing a black pantsuit with a plundging neckline. (Getty Images)