While "Everything Everywhere" has catapulted him into the spotlight, previously Quan has been open about his struggles in Hollywood, particularly after he reached early success as a child actor in the 1980s. His career began with the 1984 blockbuster hit "Indiana Jones and the Temple of Doom," in which he played Indiana Jones' kid sidekick, Short Round. The next year, he found himself in yet another iconic role as neighborhood rascal Data in "The Goonies." However, the opportunities dried up, Quan said, and he decided to abandon his acting career for work behind the camera.
"Hollywood didn't want me. There were no roles for me, so I spent the majority of my time in my late teens and early 20s just waiting for the phone to ring, and it rarely rang," Quan said at The Hollywood Reporter's "Actors Roundtable" on Tuesday. "The difficult part was to say goodbye to the dream that I always wanted, but it was just difficult to be an Asian actor at that time."
Although Quan became respected behind the scenes as a stunt coordinator and an assistant director, working on projects like "X-Men," he said the blockbuster hit "Crazy Rich Asians" prompted his change of heart.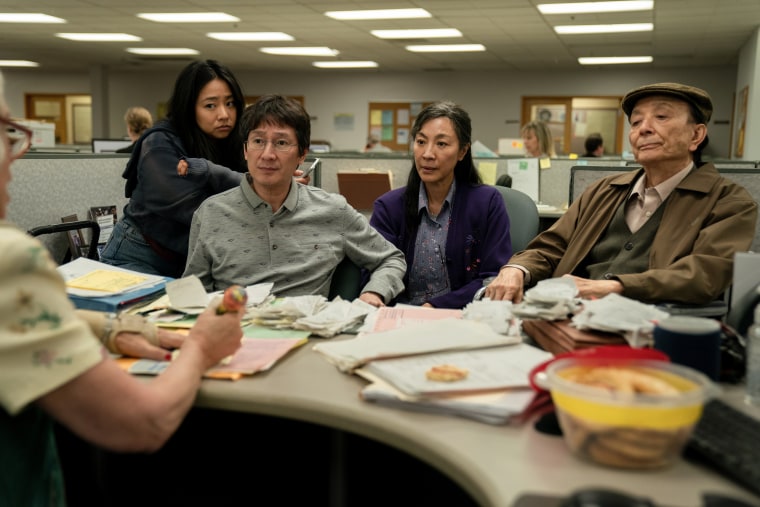 Quan said on the "Roundtable" that the expanding roles for Asian actors, in part, symbolized, led him to get back into the acting game.
"I realized Hollywood has changed dramatically. They're giving more opportunities to a wider group of people," Quan said. "I said, 'Maybe I should try acting again.'"
Although Quan was able to book "Everything Everywhere," he still had difficulties finding work after production wrapped, he said on "The Late Show With Stephen Colbert" last month. And he feared that he was "experiencing everything I experienced as a kid." But since the movie's release, Quan said, his career has significantly turned around. He'll be featured in the coming Disney series "American Born Chinese" as well as the second season of Marvel's "Loki."
Quan credited his wife, Echo, in his acceptance speech for giving him the encouragement he needed to give acting another go.
"Dreams are something you have to believe in. I almost gave up on mine," he said. "To all of you out there, please keep your dreams alive."
Kimmy Yam is a reporter for NBC Asian America.