CNN —
When 19-year-old Zhang Chao decided to take a gap year at university, the digital media major planned to use the short break to work and travel before going back to school.
But after spending a summer volunteering at a surf shop in Sanya, the capital of China's Hainan province, everything changed.
"I really liked surfing and I never went back to school," recalls Zhang.
That was nine years ago. Today, he is the proud founder of three Chinese surf brands – Shaka Surf Club, Goofydog Surf Shop and Tempo Restaurant and Bar.
In recent years, more and more Chinese have been embracing surfing like Zhang.
"Surfing has been a rising trend in China over the last two years. It's partly because of the efforts surfers and surf clubs like us have been putting into the scene for the last decade. But it's also because of the pandemic," says the surfer.
"As outdoor activities are preferred (amid Covid restrictions), many people head to the beach and start surfing… People are also becoming less work-oriented and are looking for an alternative way of life they enjoy."
Chinese photographer and yoga practitioner Tina Tang agrees.
"Surfing gives you a sense of freedom because we are always looking at our smartphones and always sitting in the office so our mind is always occupied. So you just bring your surfboard and go to the ocean and you can forget about anything," says Tang.
According to state media, Chinese cities with thriving surf scenes have seen tourist spending increases in the first half of 2022.
Wanning in Hainan province, for example, recorded 46.46% more tourism sales in that period. Guangdong's Huizhou tourism industry saw an increase of 190%.
The increased popularity of China's surfing scene has contributed to that growth, according to the report.
"Not every city is blessed with conditions needed for surfing. But with those favorable wave conditions, surfing helps diversify a city's tourism industry and enrich its lifestyle. The surf community is more than just surfing," says Zhang, who hosts exhibitions and beachside parties at his own surf club and restaurant.
He says his venues also attract many who don't surf, but come for the calming views and seaside atmosphere.
"Surfing is about freedom and happiness – and that is what younger generations nowadays are looking for as well. That's why surfing has become a more and more popular activity for these younger generations," says Zhang.
Here are some of the beaches around China Zhang recommends for different types of surfers.
Some 80 kilometers from the tourist hotspot of Sanya, Riyue Bay (which literally means Sun and Moon Bay) in Wanning City is a top destination for local and international surfers.
With warm temperatures year-round and consistent waves, Riyue Bay is home to some of the country's biggest surf competitions as well as China's national surfing team's training center.
"Riyue Bay is a great central hub for surfers. While there are surf clubs and hostels in the area, more experienced surfers could also easily access some nearby beaches for more challenging wave conditions," says Zhang.
Two of the most developed provinces in China for surfing are Hainan and Guangdong.
While many in Guangdong may head to Xichong Beach in Shenzhen for its convenience, those up for a day trip away from the city should head to Huizhou's Shuangyue Bay.
"People always come here for nice seafood or marine culture, also surfing now – it's pretty new," says photographer and surfer Tang.
The crescent-shaped bay, which stretches over eight kilometers long, is lined with beaches and hotels.
Apart from surfing, there are plenty of other water sports offerings along the beach.
Zhang recommends heading towards the western end of the bay – Shizidao (Lion Rock) – for better waves.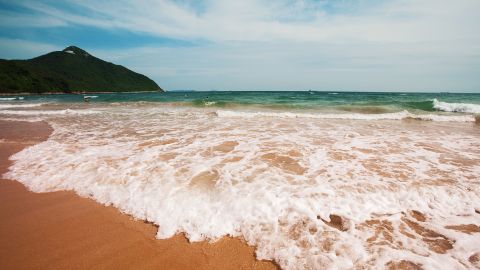 One of Zhang's favorite beaches for longboard surfing is Nanyan Bay, about a 30-minute drive north of Riyue Bay.
"From the shore to where you could start surfing, you'd need to paddle for around 20 minutes. That's why it's less popular than other beaches. But if you're willing to make an extra effort, the beach has great wave energy," says Zhang.
Zhang says that Hainan, in general, has many world-class surf spots.
The surf season peaks from November to March with a good swell every three to four days.
In the summer, Hainan is also prone to typhoons – which may be another opportunity to surf bigger waves for Zhang and other experienced surfers who will catch the bigger waves that roll in before the storm hits.
"Because of its name, local surfers call Liu'ao the L.A. of China," says Zhang. "It really is an amazing spot to surf."
A small peninsula in Fujian province, Liu'ao is a quaint fishing town with a population of less than 30,000.
"In addition to some good quality waves, Liu'ao Beach is surrounded by nature. It is less touched by humans and it is nice to take a stroll along the beach and the hill nearby," says Zhang.
There is also an old city wall in town that was built in 1388 and can be traced back to the Ming Dynasty.
Located in eastern Shandong province, Qingdao is famous for its Tsingdao Beer and German-style architecture.
"We often say that it's the only surf place in China you can access by subway. I haven't tried but I'd like to carry my surfboard on the subway, get off and arrive at the beach," says Zhang.
"It's also one of the coldest beaches to surf in China. You could still be frozen even if you wear a hat and gloves to surf."
Most surfers in this port city head to Shilaoren Beach, three-kilometer stretch of sand near some of the most valuable pieces of land in the central business district.
While you can surf all year long in Qingdao, the winter can get cold as temperatures often fall below freezing. This is why most people – with the exception of the hardcore – surf from May to October.