Spotify is preparing to roll out what it's hailed as the "biggest evolution" to its popular music streaming app to date.
Announced at its Stream On event this week and set to roll out over the coming months, its 500 million users will see their home screen get a substantial makeover that founder Daniel Ek says will see the platform "come alive" with different content - from videos to audiobooks.
But it didn't take long for observers to point out that the new look was not particularly new at all. Quite the opposite, given its attempts to become an all-encompassing attention-sapper now has it looking like TikTok, YouTube, and Instagram were piled into a blender and smothered over your phone screen with no room to spare.
Open Spotify once the revamp is complete, and your home screen could autoplay a video podcast you might like; tapping into the music or podcasts section will bring up a vertical scrolling feed of content, keen to entice you into trying new things and keep you "engaged".
Remember when it just wanted to play music?
"Spotify must go back to the heart of its brand - put sound first," says Grace Bilney of creative agency Redhouse.
"The new design is confusing and image-led. It sends the wrong message."
It's an assessment shared by many of those who watched the Stream On event.
Music producer Tommy Danvers, who has worked with artists like Kylie Minogue, Janet Jackson, and Tom Jones, thinks efforts to echo a TikTok-style user experience are a mistake.
"When you've already got an app that's dominant within its particular field, which Spotify is, trying to compete on a different level doesn't make sense to me," he says.
"Muddying the waters is robbing something from the experience."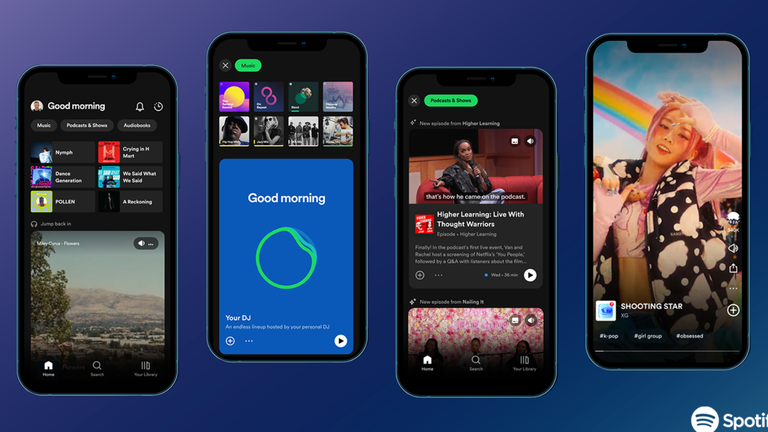 The changing face of your favourite apps
In fairness to Spotify, it is by no means alone when it comes to apps trying to reinvent themselves.
While most would consider Spotify's main competitor to be something like Apple Music (which Spotify is comfortably ahead of in terms of users and reach), Ek and his team will see anything that threatens how much time you spend on their app as a potential rival.
It's why Instagram, once focused on nothing more than photos, took its stories feature from Snapchat and pivoted towards short-form video when TikTok took off. YouTube did the same by launching Shorts in 2021 - yet another endless vertical feed of snappy clips you might like.
And TikTok is not just a trend-setter, because it joined Facebook last year in nicking the novel "one image a day" approach taken by the upstart app BeReal and labelling it "TikTok Now".
So why are so many apps so desperate to adopt the same features and aesthetic?
Will Amazon one day become an endless treadmill of algorithmically-generated purchasing suggestions?
Is Microsoft Teams just going to transform into a vertical feed of meetings it thinks you may like to join? In fairness, there's likely no better way to revive the annoying Clippy mascot.
Bilney says it's all part of an attempt by tech companies to piggyback on the success of "micro-attention apps", keeping users hooked by funnelling a huge amount of content past them in a short space of time.
And should the growing calls to ban TikTok over privacy concerns come to fruition, it may look a smart play if Instagram, YouTube, or Spotify have down already down the groundwork to mop up some of its user base.
Please use Chrome browser for a more accessible video player
3:30
Why is TikTok getting banned?
'These platforms are about attention'
"It's a huge chance they're taking," Danvers says of Spotify's redesign, which he sees as another sign of people's changing attitudes towards music since streaming took hold.
"The value has been sucked out of music over the past 10 to 15 years - everybody wants music, but nobody's prepared to pay for it, they're quite happy to watch it for free on YouTube or have the free tier on Spotify.
"And now we're in the middle of a subscription war in a cost of living crisis. Maybe a few years ago you were comfortable having a few of them, but now people are thinking 'do I really need all these?'
"At the end of the day, all these platforms are about attention - can I keep your attention as long as possible?"
Spotify bosses appeared to admit as much during the unveiling of their new-look app.
The company's co-president Gustav Soderstrom opened his remarks on the redesign by noting that today's world "pulls us in a million different directions".
Increasingly, many of the apps we use seem determined to do the same.