Ready to make a mouthwatering shepherd's pie? Chef Antelmo Ambrosio of Merchants Hospitality in New York City has a recipe for you.
Ambrosio oversees the menus and chefs for several restaurants including Merchants Cigar Bar, Watermark, Mezze on the River and more.
Get the recipe below, along with two more riffs on traditional shepherd's pie, whether you're making the hearty dish for St. Patrick's Day or whenever the hankering arises.
CLASSIC CORNED BEEF WITH CABBAGE AND POTATOES FOR ST. PATRICK'S DAY TRY ONE OF THESE FLAVORFUL RECIPES
Guinness Pot Pie by Chef Antelmo Ambrosio
Prep time: 10 minutes
Cook time: 30 minutes
Makes 4 servings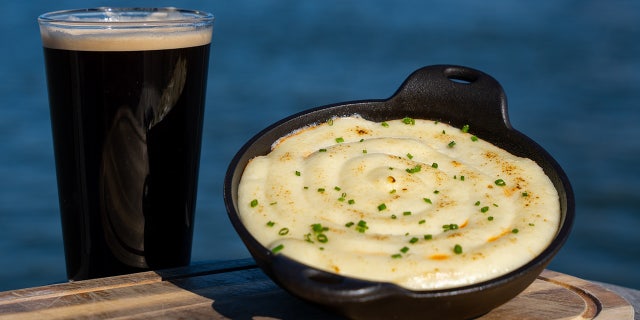 St. Paddys Day Pink Pier at Watermark NYC - Waterfront Bar (Merchants Hospitality)
Meat blend ingredients:
1 lb grass--fed ground lamb
½ lb grass fed chopped beef
2 tbsp olive oil
2 garlic cloves, minced
1 cup chopped white onion
2 medium carrots, peeled and diced
1 tsp kosher salt
½ tsp ground black pepper
2 tbsp all-purpose flour
2 tsp tomato paste
1 tsp Worcestershire sauce
2 tsp chopped fresh rosemary
1 tsp chopped fresh thyme
½ cup fresh green peas
SLOW-COOKER IRISH SODA BREAD IS THE EASIEST RECIPE FOR ST. PATRICK'S DAY
Instructions:
1. Heat olive oil, garlic, and onions in a pot and cook for four minutes or until transparent, then add carrots and let it cook for five minutes, stirring occasionally.
2. Add lamb, beef, salt and pepper, cooking until meat is light brown.
3. Add flour to the mixture, stirring for three minutes at medium heat.
4. Add tomato paste, beer, peas, Worcestershire sauce, fresh herbs and boil for 10 minutes, until it has a thick consistency.
5. Adjust with salt and pepper to taste.
6. Fill four medium ceramic baking dishes with the meat blend and set aside.
Mashed potato topping ingredients:
2 lbs russet potatoes, peeled and cut into chunks
6 tbsp unsalted butter
½ cup heavy cream
1 tsp of ground garlic
Pepper and kosher salt to taste
Instructions:
1. Boil potatoes in a pot until tender enough to mash. Remove from water and place in a mixing bowl along with butter, heavy cream, garlic, salt and pepper.
2. Mash mixture until smooth and adjust with salt and pepper to taste.
3. Place mashed potatoes on top of the meat blend in ceramic baking dishes.
4. Bake at 350 °F for five minutes, garnish with parsley and serve.
ST. PATRICK'S DAY: MOST IRISH CITIES IN US AND THEIR BELOVED PUBS
Lisa Lotts, publisher, recipe developer, and blogger of GarlicAndZest.com has another recipe you're going to love this St. Patrick's Day and beyond: Rich, savory Shepherd's Pie loaded with peas, mushrooms, onions and carrots.
"Shepherd's Pie is a cozy dinner traditionally made with mutton, vegetables and mashed potatoes. The rich gravy with the cooked beef, peas and carrots topped with piped mashed spuds is an old-fashioned casserole that takes you back," says Lotts, noting that this recipe because is more approachable thanks to the use of ground beef instead of mutton.
For extra creaminess, this recipe uses a surprise ingredient: Greek yogurt. (You can also swap in sour cream). The final result has a creamy texture and its nuanced yet familiar flavor is comfort food at its finest.
Shepherd's Pie by Lisa Lotts of GarlicAndZest.com
Prep time: 40 minutes
Cook time: 20 minutes
Makes 6 servings
Ingredients:
2 ½ pounds Yukon Gold Potatoes, peeled and cut into 1/2″ pieces
2 carrots, peeled and diced
1 medium onion, diced
1 tablespoon olive oil, divided
8 ounces mushrooms, chopped
2 teaspoons kosher salt, divided
1 teaspoon black pepper, divided
1 tablespoon fresh rosemary, minced
1 garlic clove
1 ½ teaspoons fresh oregano, minced
THE INFLATABLE IRISH PUB IS A PART VENUE THAT BRINGS THE TRADITIONAL BAR HOME
1 ½ pounds ground beef
3 ½ tablespoons butter, divided
1 ½ tablespoons flour
1 ½ cups low sodium beef broth
½ teaspoon gravy master (optional)
1 teaspoon Worcestershire sauce
1 cup Greek yogurt or sour cream
1 cup milk
1 tablespoon melted butter (for brushing over casserole, optional)
Instructions:
1. Place cut potatoes in a large saucepan and cover with water. Bring to a boil, reduce heat to simmer and cook for 18–20 minutes or until potatoes are tender.
2. Meanwhile, in a large skillet, heat one teaspoon of olive oil over medium high heat and add the mushrooms and a ¼-teaspoon of salt, stirring occasionally three-to-five minutes until the mushrooms are softened and give up their liquid. Transfer mushrooms to a large bowl.
3. Add 1 teaspoon olive oil to the pan and stir in the onions and carrots and another quarter teaspoon of salt. Cook over medium high heat until onions are tender and translucent and carrots are slightly softened. Transfer the vegetables to the bowl with mushrooms.
4. Heat the remaining teaspoon of olive oil and add the ground beef, breaking apart the meat with the back of a fork and browning. When the meat is about half way cooked, add the garlic, rosemary, oregano, ½-teaspoon kosher salt and 1/4 teaspoon black pepper. Cook stirring until meat is fragrant and completely cooked through. Transfer the beef to the bowl with the vegetables and stir in the frozen peas.
5. Melt 1 1/2 tablespoons butter in the pan and add the flour, ½-teaspoon salt and ¼-teaspoon black pepper. Stir to combine and cook over medium high heat, stirring constantly for about one minute, until bubbly. Slowly add the beef broth and cook, stirring constantly until the mixture thickens and comes to a boil. Boil and stir for one minute. Stir in the gravy master and Worcestershire sauce. Remove from heat and add the gravy to the beef and vegetable mixture. Stir to combine. Set aside.
6. Preheat the oven to 350°F.
CHICAGO'S GREEN RIVER TRADITION HAS A SURPRISING CONNECTION TO SODA BRAND: REPORT
7. Drain the water from the potatoes. If using a potato ricer, select the smallest extruder disk and run the potatoes through the ricer then stir in the butter, sour cream, salt, pepper and milk.
8. If using a potato smasher, add the remaining two tablespoons butter, sour cream, 1 teaspoon kosher salt and ½-teaspoon black pepper to the potatoes. Smash the potatoes, incorporating the dairy products. Stir in the milk. Potatoes should be smooth, but firm, holding their shape when you run a spoon through them.
9. Spray a large casserole dish with vegetable spray. Spoon the meat mixture into the casserole and spread out evenly with a spoon.
10. To pipe potatoes, select a large pastry tip and fit it in the bottom of a pastry bag. Fill the bag halfway with potatoes and fold the open ends of the bag together tightly. Gently squeeze the bag from the top, extruding the potatoes out over the casserole.
11. If you don't want to use a pastry bag, spread potatoes over the casserole with a spatula, creating divots and swirls. (casserole can be made to this point, covered and refrigerated to bake later).
12. Carefully dab the melted butter over the top of the potatoes. Bake the casserole in the center of a hot oven for 20 minutes. To brown the potatoes more, set the oven to broil and broil the casserole for three-to-five minutes until lightly browned. Serve.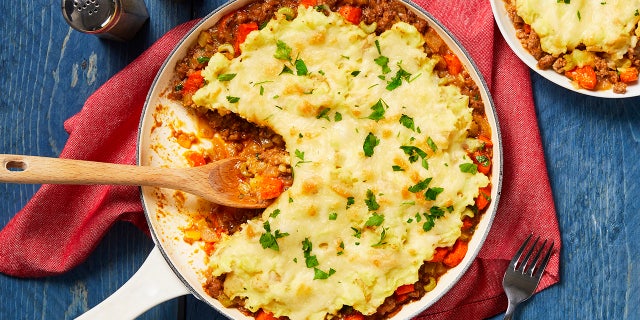 Consider making HelloFresh's pub-style shepherd's pie with white cheddar and thyme mashed potatoes this St. Patrick's Day 2023. (HelloFresh )
Last but not least, a recipe from HelloFresh, the meal delivery service for their pub-style Shepherd's Pie.
"No matter the weather, we firmly believe that there's nothing better than home-style, comforting classics that warm you from the inside out. Shepherd's pie is comfort food at its finest. This traditional Irish dish is made with ground lamb, so feel free to swap it in if you like," says Michelle Doll Olson, HelloFresh Culinary Development Manager.
"The base here is a rich, tomatoey beef filling chock full of fresh veggies and herbs. On top, swoops of creamy, thyme-flecked mashed potatoes are sprinkled with sharp white cheddar, then broiled to create an irresistibly cheesy crust."
HelloFresh's Pub-Style Shepherd's Pie
Total Time: 50 minutes
Prep Time: 15 minutes
Makes 2 servings
Ingredients:
16 ounce Yukon gold potatoes
2.5 ounce celery
¼ ounce thyme
2 tablespoons of sour cream
13 ounces crushed tomatoes
1 tablespoon flour
½ cup white cheddar cheese
3 ounce carrot
MAKE GUINNESS STEW, A SPIN ON IRISH POTATO SOUP, FOR ST. PATRICK'S DAY: TRY THE RECIPE
1 Yellow Onion
1 teaspoon, Garlic Powder
10 ounces Ground Beef
2 tablespoons beef stock concentrate
1 tablespoon cooking oil
Kosher Salt
Pepper
Utensils:
Peeler
Medium Pot
Potato Masher
Strainer
Medium Pan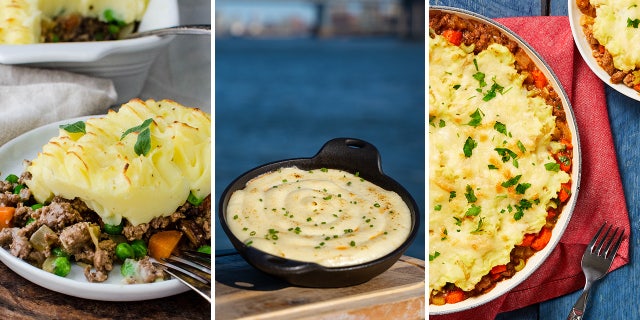 Three recipes for the classic Irish dish just in time for St. Patrick's Day. (Lisa Lotts from Garlic & Zest/Merchants Hospitality/HelloFresh )
Instructions:
1. Heat broiler to high. Wash and dry produce.
2. Dice potatoes into ½-inch pieces. Strip thyme leaves from stems; roughly chop leaves. Trim, peel, and halve carrot lengthwise; slice crosswise into ¼-inch-thick half-moons. Finely dice celery. Halve, peel and finely chop onion.
3. Place potatoes in a medium pot with enough salted water to cover by two inches. Bring to a boil and cook until tender, 15-20 minutes. Drain and return potatoes to pot.
4. Mash the potatoes with sour cream, 1 tsp chopped thyme and 2 TBSP butter until smooth and creamy, adding splashes of water as needed. Season generously with salt and pepper. Keep covered off heat until ready to serve.
5. While potatoes cook, heat a drizzle of oil in a medium, preferably ovenproof, pan over medium-high heat. Add carrot; season with salt and pepper. Cook, stirring, until slightly softened, 2–3 minutes.
6. Add celery, onion and a large drizzle of oil; season with salt and pepper. Cook, stirring, until veggies are just tender, 5–7 minutes. If veggies begin to brown too quickly, add a splash of water.
7. Stir in garlic powder and 2 tsp chopped thyme; cook until fragrant, 30 seconds.
8. Add beef to the pan with veggies and season with salt and pepper. Cook, breaking up meat into pieces, until browned and cooked through, 4–6 minutes.
9. Add flour; cook, stirring, until thoroughly combined, 1 minute.
10. Add half the crushed tomatoes and ½ cup water into the pan with the beef mixture.
11. Stir in stock concentrate and bring to a boil. Cook until mixture is very thick, 1–2 minutes. Turn off heat.
12. Taste and season with salt and pepper. If your pan isn't ovenproof, transfer the mixture now to a baking dish.
13. Top beef filling with an even layer of mashed potatoes, leaving a gap around the edge of the pan. Evenly sprinkle with cheddar cheese.
14. Broil until browned, 3–4 minutes. Watch carefully to avoid burning.
15. Serve directly from the pan.
CLICK HERE TO SIGN UP FOR OUR LIFESTYLE NEWSLETTER
Perri Ormont Blumberg is a contributing lifestyle reporter for Fox News Digital.