The San Francisco Board of Supervisors is considering several recommendations from the city's African American Reparations Advisory Committee to make amends for slavery.
Several proposals include paying qualifying Black residents a one-time lump sum of $5 million, the elimination of personal debt and tax burdens and guaranteed annual incomes of at least $97,000 for 250 years.
The Board of Supervisors can vote to adopt all, none or some of the committee's recommendations and even change them.
SAN FRANCISCO REPARATIONS PROPOSAL MAKES WAVES: 'AMERICA MUST ADMIT ITS SIN'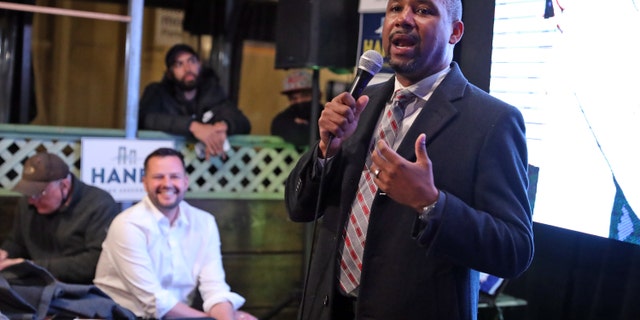 Supervisor Shamann Walton, member of the San Francisco Board of Supervisors, speaks in San Francisco, Calif., on Feb. 15, 2022. (Scott Strazzante/San Francisco Chronicle via Getty Images)
Fox News' Greg Gutfeld slammed the proposals, saying it's one of the funniest things he's ever heard.
"No one should be taking this seriously at all. This is hilarious," he said Thursday on "The Five." "So why is it so ludicrous? They did that on purpose. They don't want this. What they want is to divide people to create another commotion over race. If you had an actual practical plan over this, it would be modest. It probably wouldn't even include payouts at all. It would be about education."
Gutfeld argued it would take years to find out who did or did not own slaves and suggested the best path forward for reparations could be some kind of education initiative.
"If we can figure this out, you don't pay for education. You get the best education there is. That is called- that's a reparation," he explained.
The "Five" co-host argued the left was trying to hide its "classism behind their racism."
"If we weren't sitting here talking about this, we'd be looking at Pelosi; we'd be looking at Newsom. We'd be looking at the crazy lady on the board … It's amazing, White leftists do worse things to Blacks than the Aryan nations ever could," Gutfeld added.
"The big losers in this, just by bringing this up, are real estate agents. How do you make money selling homes for a dollar?" he joked. "The big winner is U-Haul, because even if this doesn't happen, it planted a seed in everybody's head that Frisco is a demented city that's getting more and more demented. Get the hell out. Get the hell out of there, even though this is never going to happen."
San Francisco city supervisors have warned some of the proposals are unrealistic and could destroy the city's budget.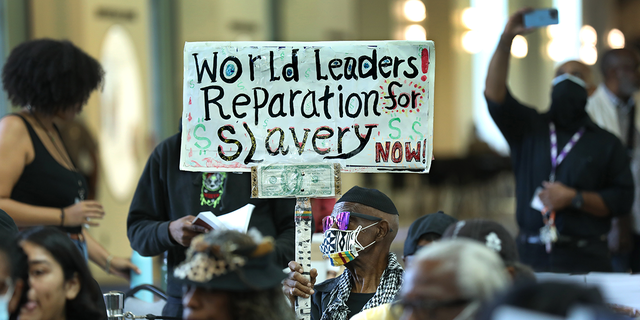 Los Angeles long-time resident, Walter Foster, age 80, holds up a sign as the Reparations Task Force meets to hear public input on reparations at the California Science Center in Los Angeles on Sept. 22, 2022. ((Carolyn Cole / Los Angeles Times via Getty Images))
"I wish we had this kind of money in San Francisco's general fund but if we want to maintain the services that exist today, we do not," San Francisco Supervisor Hillary Ronen told the San Francisco Chronicle.
CLICK HERE TO GET THE FOX NEWS APP
Supervisor Joel Engardio also said that reparations proposals "may not be feasible under current budget constraints," even though he is in favor of "finding bold, meaningful, and creative ways to address the injustice of slavery and systemic discrimination suffered by generations of Black Americans."

Ashley Carnahan is a production assistant at Fox News Digital.