32 min ago
Russian air defenses shoot down four missiles over Belgorod, governor says
From CNN's Josh Pennington
At least one person was injured in Russia's southern Belgorod region bordering Ukraine after air defenses shot down four missiles Monday, Gov. Vyacheslav Gladkov said on his Telegram channel.
"Our air defense system was activated in Belgorod and Belgorod Oblast. Four missiles were shot down. The extent of damage on the ground is being clarified. One person is already known to be wounded," the post read. "An ambulance team was dispatched on its way to the site. There is also damage from missile debris in two private homes."
Gladkov made no mention of the source of the missiles.
Authorities in Belgorod, which borders Ukraine's Kharkiv region, have reported multiple attacks since Russia began the full-scale invasion of its neighbor last year.
Ukraine has previously declined to comment on attacks inside Russia.
1 min ago
Zelensky honors executed POW with posthumous "Hero of Ukraine" award
From CNN's Mariya Knight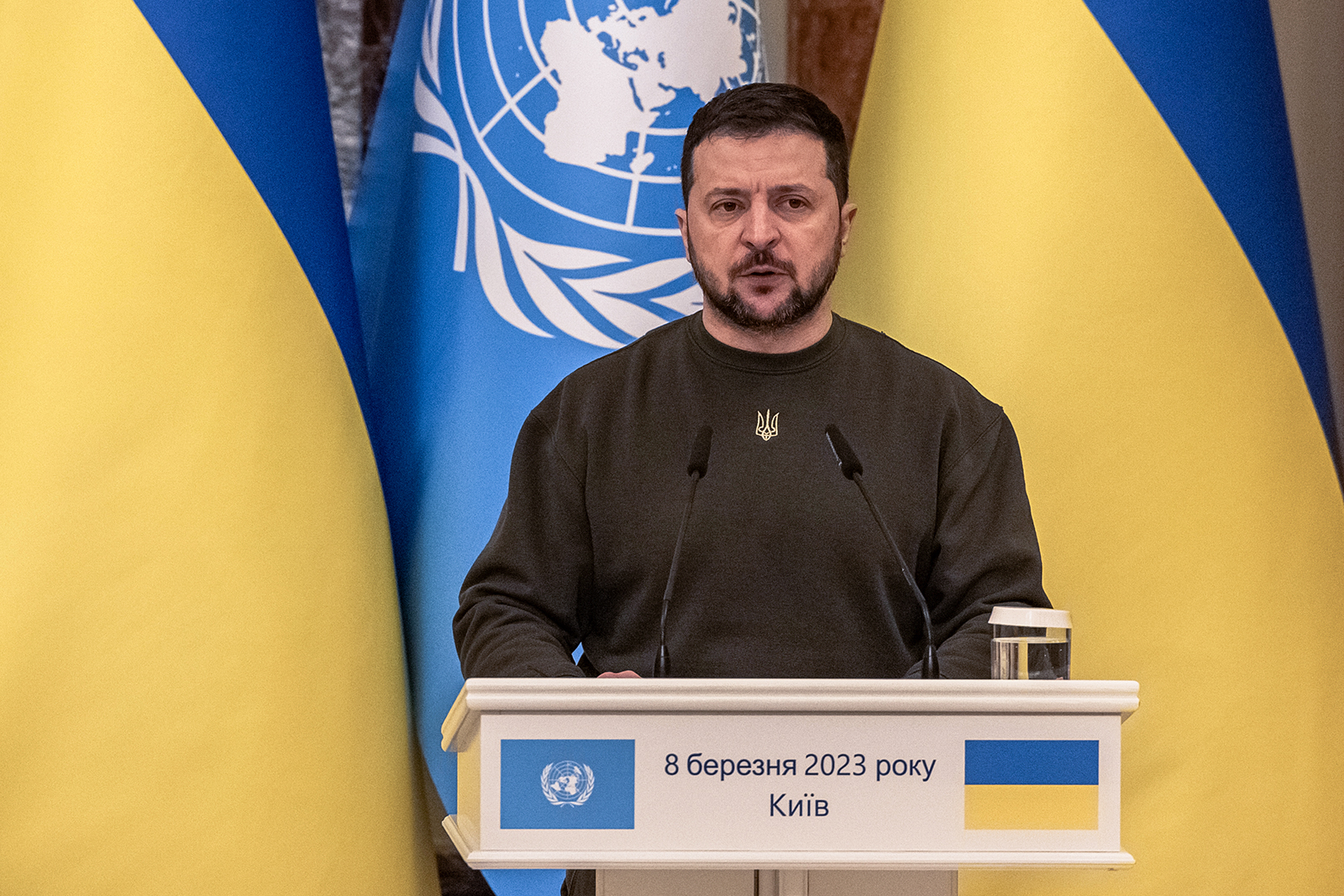 President Volodymyr Zelensky on Sunday posthumously awarded Ukraine's highest honor to a prisoner of war who shouted, "Glory to Ukraine!" before his execution by Russian forces was captured on video.
Oleksandr Matsiyevsky, would receive the "Hero of Ukraine" medal, Zelensky said in his nightly address on Sunday, calling him "a man whom all Ukrainians will know" and who "will be remembered forever for his bravery, for his confidence in Ukraine."
Matsiyevsky, a sniper with the 163rd Battalion of the 119th Separate Tank Brigade of the Chernihiv Region, was executed on Dec. 30. His body was returned home in February, but a shocking video of his execution appeared in March and was widely circulated on social media.
The Security Service of Ukraine has said it is working to identify the Russian military personnel involved in the execution, and investigating the killing under Article 438 of the Criminal Code of Ukraine (violation of the laws and customs of war).
Officials in Kyiv, including Zelensky, have roundly condemned the sniper's on-camera slaying as a war crime.
4 hr 43 min ago
Wagner chief admits Ukrainian forces are fiercely fighting in Bakhmut
From CNN's Mariya Knight and Mohammed Tawfeeq
Yevgeny Prigozhin, head of the Russian private military company Wagner, has admitted that Ukrainian forces are fighting fiercely in Bakhmut, saying they are "fighting for every meter."
In a new audio message posted on his Telegram page on Sunday, Prigozhin said, "the situation in Bakhmut is very difficult, the enemy is fighting for every meter. The closer we are to the city center, the harder the battles, the more artillery works against us, and the more tanks."
"The Ukrainians are throwing up endless reserves," Prigozhin added.
2 hr 21 min ago
Russia maintains assault on Bakhmut and shells nearby city, Ukraine's military says
From CNN's Kostan Nechyporenko and Sophie Tanno
Russian troops continued to attack the eastern Ukrainian city of Bakhmut Sunday, Ukraine's military said in an update.
The city of Sloviansk, located about 59 kilometers (36 miles) northwest of Bakhmut, was also hit, the General Staff of the Armed Services of Ukraine said in the note.
"Over the past day, the enemy launched a missile attack on a civilian infrastructure facility in Sloviansk, Donetsk region. The enemy also carried out four airstrikes and fired about 20 times from multiple launch rocket systems," the update reads.
Sloviansk is among the towns noted by Ukrainian President Volodymyr Zelensky this week as potential next targets for Russia if Bakhmut falls.
"We understand that after Bakhmut (the Russians) could go further. They could go to Kramatorsk, they could go to Sloviansk, it would be open road for the Russians after Bakhmut to other towns in Ukraine, in the Donetsk direction," he told CNN's Wolf Blitzer in an exclusive interview from Kyiv. "That's why our guys are standing there."
There have been no confirmed advances by Russian forces in Bakhmut, according to think tank the Institute for the Study of War, but the exact picture of what is happening in the besieged eastern city is difficult to establish.
4 hr 47 min ago
No confirmed advances by Russian forces in Bakhmut, think tank says
From CNN's Sophie Tanno
There have been no confirmed advances by Russian forces in Bakhmut, according to think tank the Institute for the Study of War.
The report published late Saturday said that despite Russian forces and units from the paramilitary Wagner Group launching continued ground attacks in the city, there is no evidence that they made any progress.
"Russian forces did not make any confirmed advances within Bakhmut on March 11.
"Ukrainian and Russian sources continue to report heavy fighting in the city, but Wagner Group fighters are likely becoming increasingly pinned in urban areas, such as the AZOM industrial complex, and are therefore finding it difficult to make significant advances," the ISW said.
The exact picture of what is happening in Bakhmut is difficult to establish. On Saturday Wagner's chief said his forces were close to the city center.
Some context: For the first time in eight months, it appears the Russians are on the cusp of taking a Ukrainian city, albeit a small one already abandoned by more than 90% of its prewar population.
Ukrainian defenses in and around the eastern city of Bakhmut have been squeezed in recent weeks by a combination of intense artillery, mortar fire, and airstrikes and a substantial commitment of ground forces, both Russian regulars and fighters of the Wagner private military company.
4 hr 53 min ago
Ukraine's foreign minister compares Russia to a burglar in Bakhmut offensive
From CNN's Sophie Tanno
Ukraine will fight on in the city of Bakhmut, where Russia's advance can be compared to a burglar trying to "steal everything," Ukrainian Foreign Minister Dmytro Kuleba said in an interview with Germany's Bild newspaper on Sunday.
Asked whether he thought the city could still be held, Kuleba told the publication: "When someone breaks into your house, you don't ask yourself how long you can resist the guy who broke into your house and is trying to kill you and your family and steal everything in the house, right?
"You think what else can you do to evict him from your home and get the police to arrest him."
Kuleba also expressed disdain for protests in Germany calling for an end to the war and to stop the Berlin government from providing Ukraine with more weapons.
"I assure you that every single Ukrainian, even the soldier in the trenches who kills the Russian soldier who is attacking him at this very moment, wants peace more than the most peaceful protester at the Brandenburg Gate," he said.
5 hr 10 min ago
Russian wives and mothers call on Putin to stop sending mobilized men "to the slaughter"
From CNN's Josh Pennington and Heather Chen
A group of Russian wives and mothers have called on President Vladimir Putin to stop sending their husbands and sons "to the slaughter" by forcing them to join assault groups without adequate training or supplies.
In a video shared by the independent Russian Telegram channel SOTA, the women said their loved ones had been "forced to join assault groups" at the beginning of March despite having just four days training since their mobilization in September.
The video shows the women holding a sign in Russian that reads, "580 Separate Howitzer Artillery Division," dated March 11, 2023.
Read more here.