From Chris Stapleton probably delivering the best rendition of the national anthem since Whitney Houston to Travis Kelce's stanky leg dance, here's all that you missed during the show.
1. First, Sheryl Lee Ralph turned in a beautiful rendition of "Lift Every Voice and Sing" and looked GLORIOUS doing it.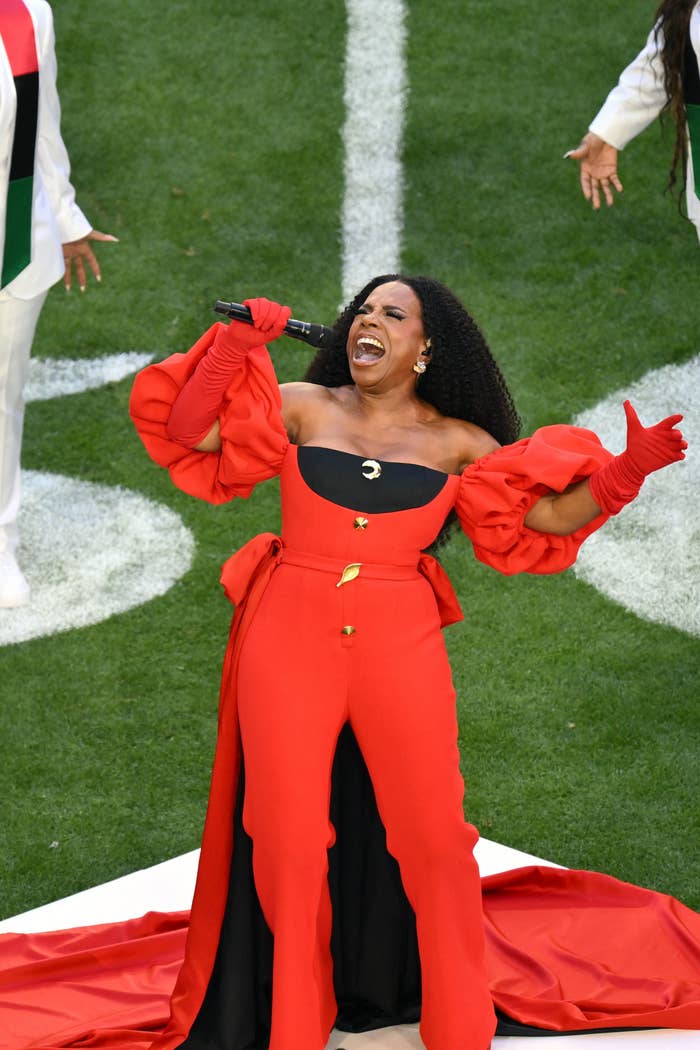 2. Babyface made "America the Beautiful" sound super smooth, while Chris Stapleton sang his little beard off while performing "The Star-Spangled Banner."
3. Damar Hamlin made an appearance following his recovery from cardiac arrest. He looked great!
4. Dak Prescott was booed by Eagles fans while receiving the Walter Payton Man of the Year Award.
5. Ben Affleck, who's a hugeeee Dunkin' fan, got to star in his very own ad for the coffee and baked goods brand, where he served up customers who included none other than his wife, Jennifer Lopez. It was cute.
6. Alicia Silverstone also did an ad for Rakuten that returned her to her iconic Clueless character, Cher Horowitz. She even wore her classic yellow plaid suit.
7. Travis Kelce gave major 2009 vibes when he did the stanky leg after a touchdown. He killed it, though.
8. JuJu Smith-Schuster made a major statement with this skirt and bag.
9. There was a Breaking Bad reunion of sorts as Bryan Cranston, Aaron Paul, and Raymond Cruz reprised their roles to do an ad for PopCorners chips. As a fan of the show, I might be a little biased in saying this, but I feel like it was probably one of the best ads in the show.
10. The trailer for The Flash came out. It was shocking to see that this film is going forward, given the legal troubles involving its star, Ezra Miller, NGL, but I am glad to see Michael Keaton back as Batman.
11. Bradley Cooper was hilarious in a T-Mobile ad with his mom. Like, it was so good, it would make me wanna switch over to them if I weren't already a customer.
12. Guardians of the Galaxy Vol. 3 also had its trailer released. It's apparently the last movie in the franchise, so be there or be square come May 5!
14. Next, Rihanna gave her first live performance in YEARS as she headlined the Super Bowl halftime show. She wore a fire red outfit as she ran through hits like "Bitch Better Have My Money," "Run This Town," and "Wild Thoughts." ANDDD she revealed she's pregnant again!!!
15. A bunch of celebs were there to watch the game, including Cara Delevingne, Jay-Z and Blue Ivy, Martha Stewart, and Nick Jonas.
16. And finally, the Kansas City Chiefs defeated the Philadelphia Eagles to win Super Bowl LVII!!!!!
What were your thoughts on the Super Bowl? Did you have any favorite moments from the game or the halftime show? Let's hear 'em in the comments.