The former president of Georgia Mikheil Saakashvili has told Sky News he is approaching death in the hospital he has been moved to from jail.
In a moment of rare media access, the former leader also delivered a warning to the people of Georgia after days of protests had swept through the country.
An appeal trial last month heard claims from the former leader that somebody had poisoned him in jail.
Georgian authorities reject that possibility, and will not let him be transferred for treatment in Europe.
Sky News was denied access to the hospital but was able to pass Mr Saakashvili questions via his lawyer, and receive handwritten responses in reply.
Asked how close to death he was, Mr Saakashvili said: "I was initially 120 kilogrammes, now I am 64, if I become less than 60 doctors predict multiple organ failure."
As for his health, he said: "I am in bed all the time, my bones are disintegrating and it gives excruciating pain."
His lawyer Shalva Khachapuridze said his client's condition is worsening every day.
"It's an awful scene," Mr Khachapuridze told Sky News. "He looks like a prisoner in a concentration camp in Nazi Germany."
Mr Saakashvili sent a message to the thousands of demonstrators who have been on the streets protesting proposed new laws criticised as pro-Russian.
"Stay very vigilant, be ready to mobilise at short notice, because of the vengeful mood of the oligarchs' regime," he wrote in his correspondence with Sky News.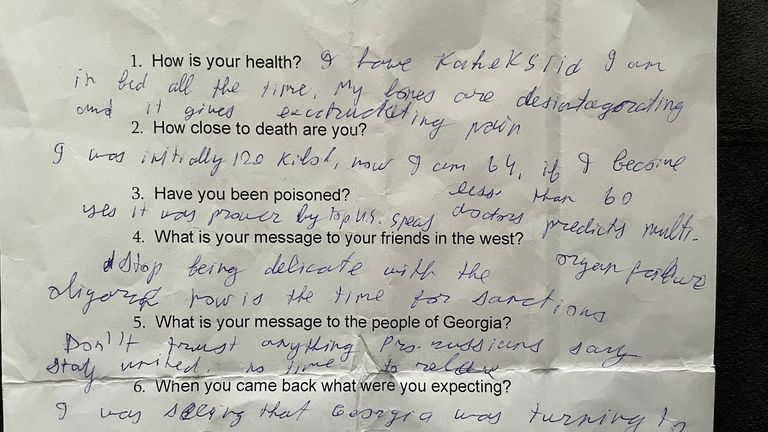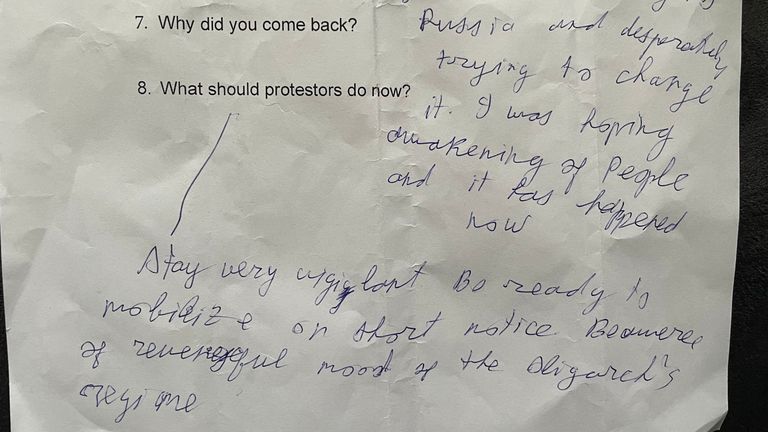 Zelenskyy and Macron weigh in
The government has now withdrawn the controversial bill.
But the West is closely watching what happens to Mr Saakashvili, reading it as a sign of the country's true loyalties towards Russia or Europe.
French President Emmanuel Macron spoke out on Mr Saakashvili's fate this week, saying: "Former political leaders in Georgia who are being detained and in poor health should be freed or the health situation checked."
A European parliament resolution in February demanded his release and pardon and warned Georgia the issue would be seen as a "litmus test" for its commitment to European values.
Last month the Ukrainian president Volodymyr Zelenskyy called for the release of the former Georgian leader.
"Right now, Ukrainian citizen, former Georgian president Mikheil Saakashvili is being slowly killed," President Zelenskyy said.
"Ukraine offered solutions. I urge the world to help save [Saakashvili's] life and prevent his execution."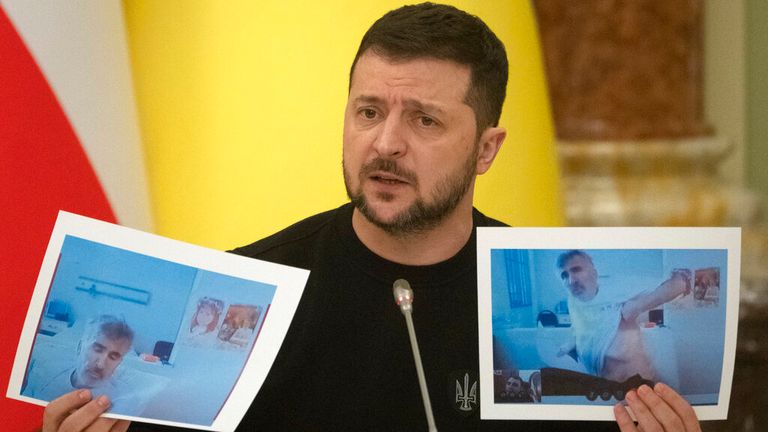 Mikheil Saakashvili rose to fame as a dynamic young politician who led his country through the so-called "Rose Revolution" in 2003, when Georgians rose up and shook off Russian domination.
He became a hero in the West for resisting aggression from Moscow, which was sending tanks into Georgia.
But he was accused of abuse of power and his administration was overshadowed by accusations he plotted the death of opponents in custody.
Government is 'doing everything' needed for Mikheil Saakashvili
The ruling Georgian Dream party insists Mr Saakashvili must serve his sentence and is receiving enough care. Authorities say his health problems are caused by his refusal to eat enough food.
"We do hope that it (his death) will not happen and his needs are properly addressed," Georgian Dream MP Maka Botchorishvili told Sky News.
"We do believe that the government is doing everything that Saakashvili as a prisoner in Georgia has absolute rights to," she said during an interview in Tbilisi.
"Whatever he needs it is done, health-wise... and needs that are there."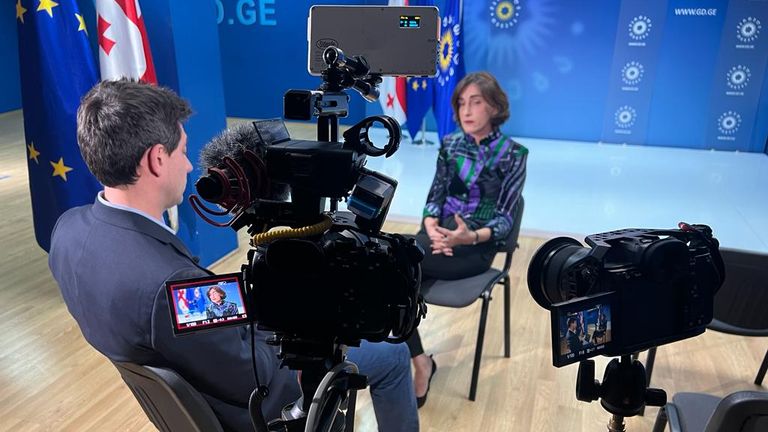 But Amnesty International and Human Rights Watch say the Georgian government is denying him "adequate medical care", putting him at grave risk of dying.
A group of medical experts appointed by the Georgian public defender confirmed Saakashvili's condition was severe and required urgent change to his ineffective treatment.
Poland and Ukraine have offered to welcome Mikheil Saakashvili for medical care.
But the Georgian government says it doubts he is as ill as he claims and says his release could destabilise the country.
If they are wrong, and he is close to multiple organ failure, the fallout of his imminent death could significantly set back the country's chances of joining the European Union.
A lot is at stake as the world watches the fate of the former Georgian leader.