A Pennsylvania teacher urged a school board to restrict "sexually explicit" library books because if children are exposed it could cause "trauma."
"I've worked in special education most of my carer here at PV and what I can tell you is the majority of the kids I've worked with have experienced trauma," Heidi Brown, a Perkiomen Valley School District (PSVD) teacher, said during Monday's PSVD school board meeting.
"Children develop emotionally, physically, and socially at different times and when exposed to material that they are not ready for or make sense of, it can cause trauma. Most kids are not developmentally ready to be exposed to content like this. I have seen some very disturbing cases," Brown said.
"We need to step back and take a look at the big picture," she said, fighting back tears. "Our children are so precious. We need to nurture them. We need to carefully select and team content that makes them grow and learn in a healthy way. I've seen too many times what kind of inappropriate material and experiences can do to a child and affect their behavior. Sexual intimacy should come with advanced knowledge of relationships."
CALIF. PARENTS SLAM 'DIVISIVE' ETHNIC STUDIES CURRICULUM: 'TEACHING THEM TO BE HATEFUL TOWARDS PEOPLE'
"School-aged children are not prepared for that," she said.
PSVD is considering a new policy that would boost oversight of its book curation process. Library recommendations will be made at the district level if the policy is passed.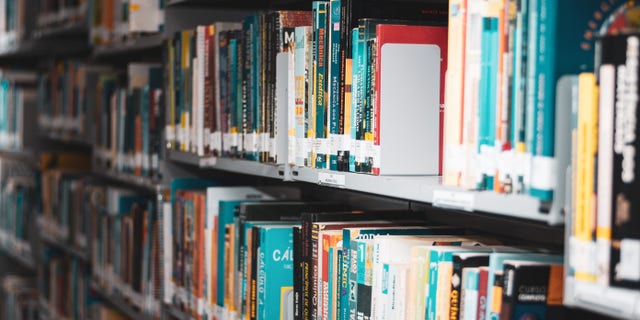 Bookcase in a library. (iStock)
Furthermore, the proposed policy's vetting process will be improved to ensure library books are age-appropriate. Any books deemed to have explicit visual or written depictions of sexual acts will be prohibited from being placed on any PSVD shelves.
Tensions were high as community members of the school district debated the policy. One speaker compared the book policy to a similar measure being used at a nearby school district. The Central Bucks School District on Tuesday voted to approve a controversial policy about what can be displayed in classrooms after a heated debate. The policy took aim at LGBTQ-related paraphernalia being displayed in the classroom.
Another parent, Jess Coulter, claimed that there was bias against homosexual representation since there has not been much anger leveled at heterosexual relationship content in books.
ALABAMA DOCTORS, PARENTS OF TRANSGENDER KIDS SUE TO BLOCK LAW BANNING CROSS-SEX HORMONES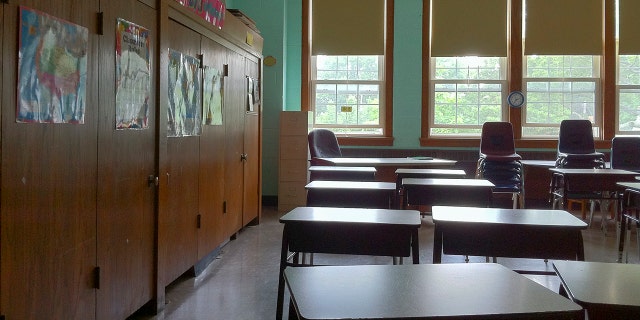 Documents show that a Arizona high school counselor is coaching staff to obtain students' secret genders, a process that appears to have been kept undercover from parents. (Education Images/Universal Images Group via Getty Images)
"Your assertion that it's about age-appropriate material is absurd," she said.
"Your problem is not with sex," she continued. "It's with homosexual sex. I know this not only because of the literature you have challenged but because of the literature you have not challenged."
A student named Christian spoke up, condemning the consideration of banning certain books.
"Literature is the human experience. It defines ourselves, our communities, and our generations. Literature can open doors to other worlds true or fictional and allow us to find these worlds in one another. They promote change for the better across the world, country, and inside ourselves," Christian said.
UTAH BILL LOOKS TO BAN GENDER-AFFIRMING SURGERY FOR MINORS
"Sexuality, race, and identity–these are human experiences, and more than that, they are teenage experiences. Sex is not inherently gratuitous and is not inherently obscene. This taboo perspective on human nature and development is and often has been a leading factor in identity struggles that many teens face at this developmental age."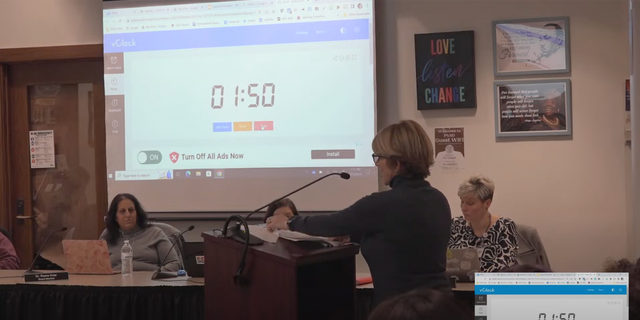 A Pennsylvania teacher urged a school board to restrict "sexually explicit" library books because if children are exposed it could cause "trauma."
School board members clashed as well. Board vice president Kim Mares said the library should be diverse.
"I totally agree that we should have a diverse library," Mares said. "I just can't support at all sexually explicit materials, whether -- it doesn't matter what the interaction is, heterosexual or homosexual. It's the sexually explicit part that is disturbing."
CLICK HERE TO GET THE FOX NEWS APP
PVSD did not immediately respond to Fox News Digital's request for comment.
The proposed book review policy will be discussed at a later date.
Joshua Q. Nelson is a reporter for Fox News Digital.
Joshua focuses on politics, education policy ranging from the local to the federal level, and the parental uprising in education.
Joining Fox News Digital in 2019, he previously graduated from Syracuse University with a degree in Political Science and is an alum of the National Journalism Center and the Heritage Foundation's Young Leaders Program.
Story tips can be sent to joshua.nelson@fox.com and Joshua can be followed on Twitter and LinkedIn.