KEENE, N.H. - Former Vice President Mike Pence is highlighting his support for Ukraine and making clear that he firmly disagrees with former President Donald Trump and Florida Gov. Ron DeSantis on an issue that's dividing the burgeoning Republican 2024 presidential nomination field.
Pence, addressing the more than year-long Russian war against Ukraine, said on Thursday that "there is much debate about this even within our party and that's healthy.''
But the former vice president, headlining a Republican fundraising dinner in New Hampshire, the state that holds the first primary and second overall contest in the GOP presidential nominating calendar, emphasized that "Republicans need to speak clearly that we understand that American is the arsenal of democracy… we must continue to provide the courageous Ukrainian military the support they need to drive Russia off their sovereign soil."
Pence's comments come days after DeSantis argued that protecting Ukraine is not a "vital" national interest for America.
THE INCREASING GOP DIVIDE OVER SUPPORTING UKRAINE FRONT AND CENTER IN 2024 RACE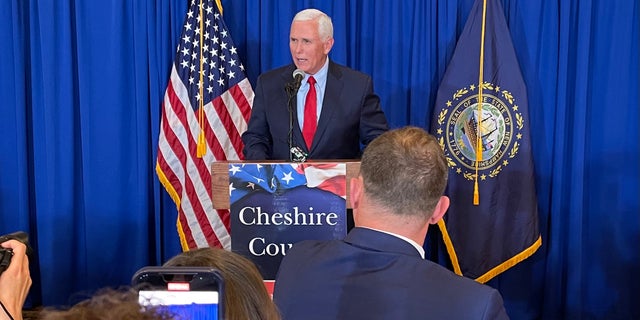 Former Vice President Mike Pence keynotes the Cheshire County, New Hampshire GOP's annual Lincoln-Reagan fundraising dinner, on March 16, 2023 in Keene, N.H. (Fox News )
While many in the GOP's traditional hawkish wing firmly back supporting Ukraine and criticize President Biden's administration for not doing enough to assist Kyiv, they face an increasingly more vocal wing of anti-war voices from the MAGA wing of the party that is led by Trump, who remains the front-runner in the early legs of the GOP presidential nomination race.
DeSantis, who currently remains on the 2024 sidelines but who now appears to be openly flirting with launching a presidential campaign as he makes visits to Iowa and the other early voting caucus and primary states, wrote earlier this week that "while the U.S. has many vital national interests — securing our borders, addressing the crisis of readiness within our military, achieving energy security and independence, and checking the economic, cultural, and military power of the Chinese Communist Party — becoming further entangled in a territorial dispute between Ukraine and Russia is not one of them."
TRUMP WIDENS LEAD OVER DESANTIS IN LATEST 2024 GOP PRESIDENTIAL NOMINATION POLL
"The Biden administration's virtual 'blank check' funding of this conflict for 'as long as it takes,' without any defined objectives or accountability, distracts from our country's most pressing challenges," the governor said in a response to a questionnaire sent by Fox News' host Tucker Carlson, which Carlson posted on Twitter.
Speaking with reporters minutes after keynoting the Cheshire County GOP's annual Lincoln-Reagan fundraising dinner in Keene, Pence was asked by Fox News if Trump and DeSantis are wrong when it comes to Ukraine.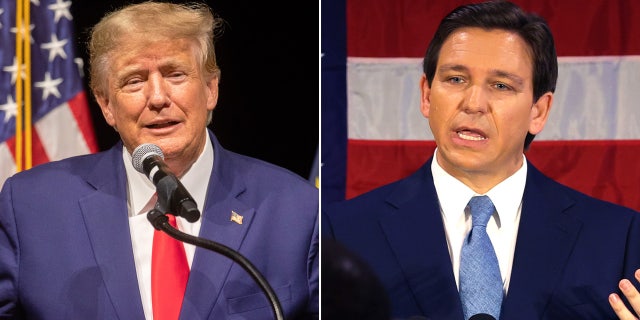 File photos of former President Donald Trump, left, and Florida Gov. Ron DeSantis. (Scott Eisen, Spencer Platt)
"I think anyone who believes that Vladimir Putin will stop if he takes Ukraine has another thing coming," Pence said. "I've met Vladimir Putin. It's clear to me….that he has returned to his efforts to re-establish what used to be the old Soviet sphere of influence."
And pointing towards DeSantis' comments, the former vice president stressed "let me be very clear – the war in Ukraine is not a territorial dispute. It is a Russian invasion."
WHO'S IN AND WHO'S ON THE SIDELINES — YOUR GUIDE TO THE 2024 GOP PRESIDENTIAL NOMINATION RACE
Pence argued that "if Vladimir Putin was able to overtake Ukraine, it wouldn't be too long before Russian tanks would be rolling into NATO countries where our service members would be required to enter the fight."
And Pence, who is gearing up for a likely White House run and who's said he'll make a decision by springtime, emphasized "I'm going to continue to be a strong voice for support for Ukraine and I'm going to continue to urge other Republicans - not only those that are considering running for president – but the leaders of our party, to stand firm as the arsenal of democracy and the leader of the free world."
The war of words over Ukraine is a potential preview of a policy clash as the 2024 Republican presidential nomination field grows.
Carlson sent a list of questions about Ukraine to a number of actual and potential 2024 Republican presidential contenders, including former President Donald Trump, DeSantis, Pence, former two-term South Carolina governor and United Nations ambassador Nikki Haley, and others.
While they agree on policy when it comes to support for Ukraine, Trump chided DeSantis. Pointing to then-Rep. DeSantis' support for aiding Ukraine in 2014, Trump claimed the governor is "following what I am saying. It is a flip-flop. He was totally different. Whatever I want, he wants."
Haley, who launched her 2024 campaign last month, disagreed with both Trump and DeSantis in her response.
"America is far better off with a Ukrainian victory than a Russian victory, including avoiding a wider war," Haley argued. "If Russia wins, there is no reason to believe it will stop at Ukraine. And if Russia wins, then its closest allies, China and Iran, will become more aggressive."
Speaking with reporters, Pence was also asked if Trump should drop out of the race if he's indicted. Legal scrutiny focusing on Trump appears to be intensifying, and possible indictments in the coming weeks could make him the first former president in American history to face criminal charges.
Pence didn't directly answer the question and instead said "it's a free country. Everybody can make their own decisions."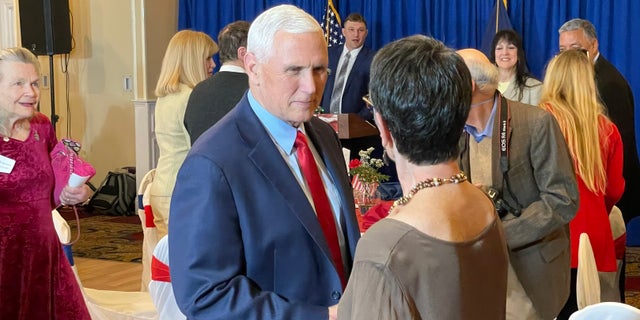 Former Vice President Mike Pence, a potential 2024 Republican presidential candidate, speaks with party activists in New Hampshire before keynoting the Cheshire County GOP annual Lincoln-Reagan fundraising dinner, on March 16, 2023, in Keene, N.H. (Fox News )
Pence headlined the fundraising gala in Keene after meeting behind closed doors in Manchester – New Hampshire's largest city – with a group of Republican activists and leaders. He was joined by two of his top advisers.
"His message was more about what are we thinking. What do we find important. What are our priorities. He just listened and offered some feedback but never said the words 'I am running,'" a Republican activist who attended the meeting and who asked for anonymity to speak more freely, told Fox News.
The early public opinion polls in the GOP nomination race indicate Trump is the front-runner with DeSantis in second and everyone else far behind, in the mid to low single digits.
CLICK HERE TO GET THE FOX NEWS APP
But Juliana Bergeron, one of the two New Hampshire committee members on the Republican National Committee, told Fox News "I do think there's room for somebody like a Mike Pence or Nikki Haley."
And Bergeron, a former Cheshire County GOP chair, said that Republican voters in New Hampshire "I think they're looking for a new generation of candidates."
Paul Steinhauser is a politics reporter based in New Hampshire.