Mourners attended the funeral Friday of a Pakistani female field hockey player who died in a migrant boat crash off Italy's coast last month, sending a wave of shock and grief through this impoverished Islamic nation.
The boat carrying the athlete, Shahida Raza, and 170 others set sail from the Turkish port of Izmir last month. Aboard were people from Afghanistan, Pakistan, Iran and other countries who were seeking a better quality of life in Europe. It broke apart in rough waters off Calabria, killing Raza and at least 66 others.
Raza's funeral and burial took place in Quetta, the capital of southwestern Baluchistan province, a day after her body was repatriated from Italy with help from the country's Foreign Ministry.
PAKISTANI COURT EXTENDS PAUSE IN EFFORT TO ARREST FORMER PREMIER IMRAN KHAN
Raza's family said the athlete attempted to emigrate to Europe to find a good job and earn money for the treatment of her disabled son, 3, so he could live a normal life. The boy, who was not on the boat, suffered brain damage as a baby and is also paralyzed on one side of his body. He remained in Pakistan.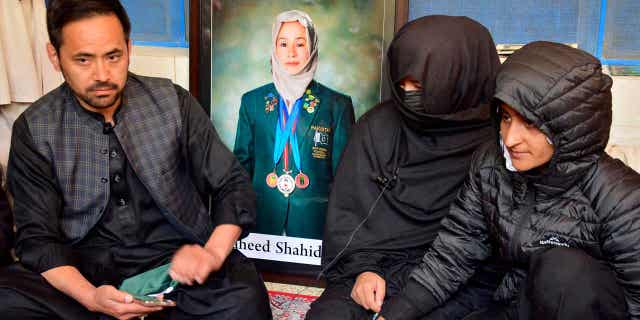 Sister Sadia Raza, center, relative Naimatullah Hazara, left, and friend Sumiaya Kianat, right, of Pakistani field hockey player Shahida Raza, who died in the shipwreck tragedy, attend her funeral, in Quetta, Pakistan, on March 17, 2023. (AP Photo/Arshad Butt)
The athlete's younger sister, Sadia Raza, said on Friday that her elder sister went on the voyage due to financial problems.
CLICK HERE TO GET THE FOX NEWS APP
"She gave her life just for her sick child," the athlete's sister said. She thanked the government for bringing back Raza's body so that she can be buried in her own country.
Photographs of Raza donning the country's national colors and sporting accolades have appeared on television and social media. But most people came to know of her after her death, as women's sports are not widely televised in Pakistan.