People for the Ethical Treatment of Animals (PETA) placed a 'Go vegan' advertisement near a family-owned Baltimore seafood restaurant urging people not to eat fish.
The owners of Jimmy's Famous Seafood decided to respond by creating their own billboards, telling "Fox & Friends" that PETA crossed a line by going after their livelihoods.
PETA's billboard read, "I never lent you my flesh. Go vegan," with a crucifix and fish image.
Jimmy's Famous Seafood's clap-back billboards read, "They died to be enjoyed," and "It'd be a sin to waste them," with pictures of seafood.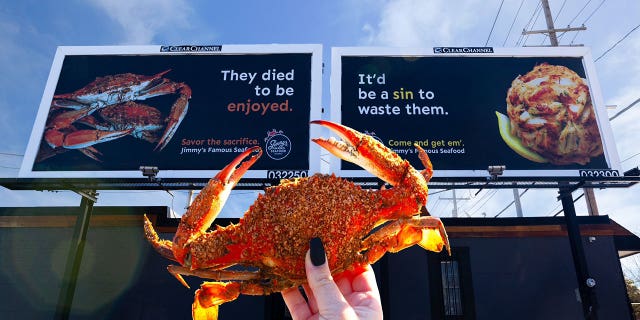 Jimmy's Famous Seafood launches two billboards in response to PETA's billboard encouraging people to "go vegan." ((Jimmy's Famous Seafood))
Owners John and Tony Minadakis told host Steve Doocy that PETA's "unlimited pockets" made it "personal with a small family-owned business." Tony said this is the second time PETA has targeted their business.
"While the billboards at times can be tongue in cheek," says John Minadakis, "it's not a laughing matter to come after somebody's livelihoods."
John Minadakis said, "these crabs are how we feed our families."
CLICK HERE FOR THE FOX NEWS APP
The restaurant also sells shirts saying "People Eating Tasty Animals" where a portion of the funds goes to a local animal shelter.
As referred to in PETA's billboard, Lent is a period of prayer and fasting observed by Catholics.
"To go after religion was a low blow," said John Minadakis. "Some things should be off limits in the marketing world, and religion is definitely one of those."
PETA tweeted at the restaurant, "Too bad you don't have the marketing smarts to realize that people are SNAPPING up vegan eats. Instead of getting your claws out, show kindness to fish & crabs during Lent and year-round by adding a tasty vegan option to the menu."
"We were in fight mode right away," said Tony Minadakis.
"We were just preparing to see what we were going to do on our side."