British troops and loyalists fled Boston by ship for Canada in "disgrace" after nearly a decade of occupation that incited protest, bloodshed and then revolution, on this day in history, March 17, 1776.
"Surely it is the Lord's doings and it is marvelous in our eyes," patriot and future first lady Abigail Adams wrote of the incredible victory by the pugnacious little city over the mighty British crown.
The humiliating flight of King George III's forces in the face of his disloyal subjects is still celebrated each year as Evacuation Day, a civic holiday, in Boston.
ON THIS DAY IN HISTORY, MARCH 16, 1802, UNITED STATES MILITARY ACADEMY ESTABLISHED AT WEST POINT
"It was a spectacle such as could only have been imagined until that morning," David McCullough wrote in his "1776" epic of the most heroic year in American history.
"There were 120 ships departing with more than 11,000 people packed on board — 8,906 King's troops, 667 women and 553 children, and in addition, waiting down the harbor, were 1,100 Loyalists."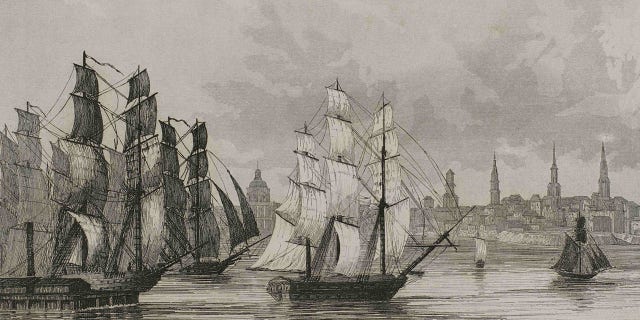 American Revolutionary War. Siege of Boston (April 19, 1775-March 17, 1776). Departure of the British fleet. On March 17, 1776, British forces were forced to evacuate the city of Boston following Gen. George Washington's successful placement of fortifications and artillery on Dorchester Heights, which overlooks Boston from the south. Engraving by Petit. Panorama Universal. History of the United States of America, from 1st edition of Jean B.G. Roux de Rochelle's Etats-Unis d'Amerique in 1837. Spanish edition, printed in Barcelona, 1850. (Prisma/Universal Images Group via Getty Images)
The Massachusetts Minutemen famously routed the Redcoats at the Battles of Lexington & Concord on April 19, 1775 — the "shot heard 'round the world" and the start of open hostilities between colony and crown — and chased them all the way back to Boston.
The Siege of Boston followed.
"Surely it is the Lord's doings and it is marvelous in our eyes." — Abigail Adams
Thousands of militiamen from around New England left their farms, descended on Boston and launched an 11-month siege of their own port city. It was an unplanned display of resolve that shocked the British.
The British took Breed's Hill, north of Boston, in the Battle of Bunker Hill, in June 1775, but at shocking cost. They did not make an attempt on Dorchester Heights, south of Boston.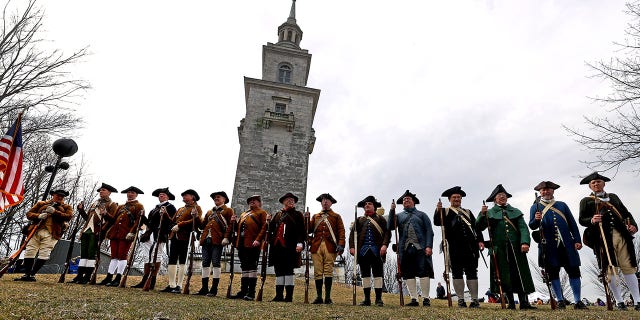 In a line, the Lexington Minutemen and a group of the Massachusetts Sons of American Revolution stand atop Dorchester Heights in Boston on March 17, 2022. The annual commemoration of Evacuation Day at Dorchester Heights in South Boston on Thursday, March 17, is hosted by the National Parks of Boston and South Boston Citizens Association. (David L. Ryan/The Boston Globe via Getty Images)
The Brits were trapped inside the city.
Gen. George Washington of Virginia arrived in Boston on July 3 to forge the militia surrounding Boston — 16,000 men strong — into a legitimate fighting force.
"The siege of Boston from June 1775 to March 1776 marked Washington's debut as commander in chief," writes Smithsonian Magazine.
TEXAS MOM SUFFERS QUADRUPLE AMPUTATION, CREDITS HER FAITH AND A LITTLE DOG FOR PULLING HER THROUGH
"He met many of the men who would comprise his general staff for the duration."
One of those men was Boston bookseller Henry Knox.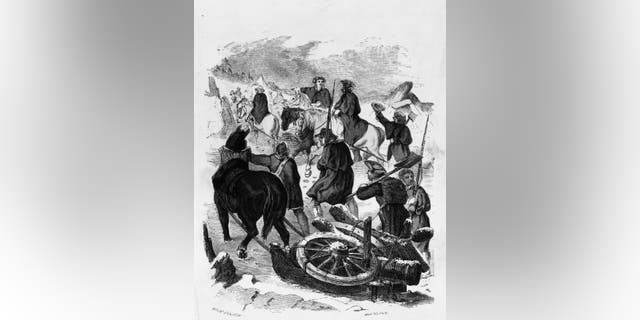 Col. Henry Knox, Washington's chief of artillery, brings guns and mortars from Fort Ticonderoga to Boston. Hand-colored engraving by Van Ingen. (MPI/Getty Images)
"Knox impressed Washington with his energy, ingenuity, determination and knowledge of artillery," writes MassMoments.org, a repository of Massachusetts history.
Knox proposed an audacious plan to end the stalemate: Trek more than 200 miles each way through a New England winter to Fort Ticonderoga, New York, and haul its bounty of artillery back to Boston.
"It was a spectacle such as could only have been imagined until that morning." — David McCullough
"In less than two months' time, Knox and his men moved 60 tons of artillery across lakes and rivers, through ice and snow to Boston," writes MassMoments.org.
MEET THE AMERICAN WHO ROWED WASHINGTON ACROSS THE DELAWARE ON CHRISTMAS: SAILOR-SOLDIER JOHN GLOVER
It's gone down in American lore as the Noble Train of Artillery. Villagers cheered as the expedition of American patriots passed through their towns.
Knox arrived without losing a single piece of equipment. Continental troops mounted the guns on Dorchester Heights under the cover of darkness the night of March 4 and 5 — six years to the day of the Boston Massacre.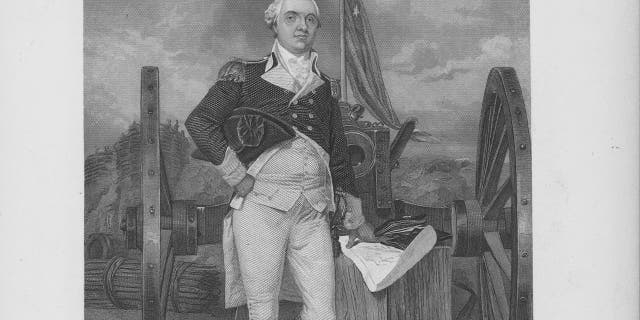 Engraved portrait of former U.S. Secretary of War Henry Knox standing next to a cannon, circa 1780-1800. Engraved from the original by Chappel. (Kean Collection/Archive Photos/Getty Images)
"My God, these fellows have done more in one night than I could many my army do in three months," British commander General William Howe reportedly exclaimed amid his shock at seeing the guns.
The British garrison, and the loyalists inside Boston, had been reduced to near starvation during the siege.
Howe realized his situation was hopeless. He shipped out March 17.
"The British were completely disgraced," enthused the New York Constitutional Gazette.
"In less than two months' time, Knox and his men moved 60 tons of artillery across lakes and rivers, through ice and snow to Boston." — MassMoments.org.
"The first cheers from the American lines had been heard as early as nine that morning, when the hen on Prospect Hill and Dorchester Heights saw clearly what was happening," McCullough writes.
"In no time small boys came running across the Neck from Boston to deliver the news that the 'lobsterbacks' were gone at last."
The American Revolution moved elsewhere: next to New York, New Jersey and Pennsylvania, and eventually southern colonies, before the British were finally defeated at Yorktown, Virginia, in 1781.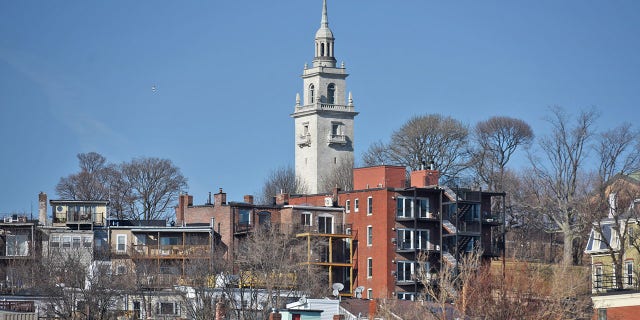 View of residences near Dorchester Heights Monument on April 2, 2015. (Patrick Whittemore/MediaNews Group/Boston Herald via Getty Images)
The American Revolution was over in Boston, the city where it began and where 11-year-old Bostonian Christopher Seider was the first colonist to give his life in the cause of independence in 1770.
CLICK HERE TO SIGN UP FOR OUR LIFESTYLE NEWSLETTER
Boston has not been occupied by a foreign soldier since.
The victory renewed faith in American independence across the colonies.
Spurred by leading Boston rebels John Hancock and John Adams, the Second Continental Congress declared independence four months later.
The same road into downtown Boston is known today as Washington Street.
Washington deferred the honor of marching into the newly liberated city on March 17 to the New England officer who led the colonial militia in its siege before his arrival.
"In the early afternoon the first troops from Roxbury crossed the Neck and marched into Boston," writes McCullough. "Drums beating, flags flying and led by Artemus Ward on horseback."
CLICK HERE TO GET THE FOX NEWS APP
The general from Virginia soon followed.
The same road into downtown Boston is known today as Washington Street.
Kerry J. Byrne is a lifestyle reporter with Fox News Digital.