A New York woman was found guilty of murder on Friday in the death of her 8-year-old stepson, who she forced to sleep in an unheated garage without blankets, in below freezing temperatures.
A Suffolk County, New York jury found Angela Pollina, 45, of Center Moriches guilty for her role in the death of 8-year-old Thomas Valva, who died of hypothermia in 2020 after he and his brother were forced to sleep in the garage for months.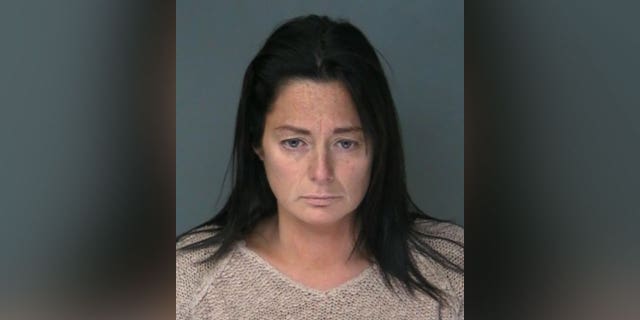 Angela Pollina was found guilty by a jury in the second-degree murder of her 8-year-old stepson, who was forced to sleep in an unheated garage in freezing temps. (Suffolk County District Attorney's Office)
"The cruelty that Thomas and his brother had to endure because of this defendant's callous and selfish conduct is abhorrent, and, thankfully, the jury clearly agreed," District Attorney Tierney said in a press release. "Her treatment of these children was nothing short of pure evil. This defendant will now face the consequences of her actions and will experience her own imprisonment just as she forced these boys to live imprisoned in a freezing garage. Unlike Thomas and his brother, Pollina deserves this punishment."
NYPD OFFICER CHARGED WITH MURDER IN DEATH OF AUTISTIC SON, 8, ON LONG ISLAND
Tierney said the evidence presented during the trial showed the Pollina "consciously disregarded the well-being" of her two stepsons Thomas and Anthony, which ultimately led to Thomas' death on Jan. 17, 2020.
The prosecution presented the jury with text messages between Pollina and the boys' father, Michael Valva, an NYPD officer to whom she was engaged. In the text messages, Polina insisted that Thomas and Anthony sleep in the garage of their Center Moriches home and not be permitted to use the bathrooms inside.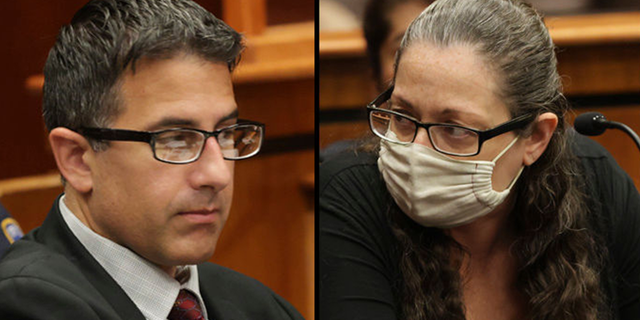 Michael Valva and Angela Pollina sit together inside Suffolk County Supreme Court Judge William Condon's courtroom for their murder trials in Riverhead, New York on Monday, Sept. 12, 2022. (Getty Images)
The boys slept in the garage without blankets for months, the release read, and the night before Thomas died, he and his brother had been in the garage for 16 hours after coming home from school.
FORMER NYPD COP SENTENCED TO 25 YEARS FOR MURDER OF 8-YEAR-OLD SON
That night, there was no heat in the garage, the boys had no access to bathrooms, no blankets, and no mattress and the temperature outside was 19 degrees.
The next morning, Thomas soiled his pants as he was freezing to death, the release said.
The prosecution showed surveillance video from the home with Pollina doing her bills in the kitchen and not doing anything to help Thomas. At one point, another child asked Pollina why Thomas could not walk.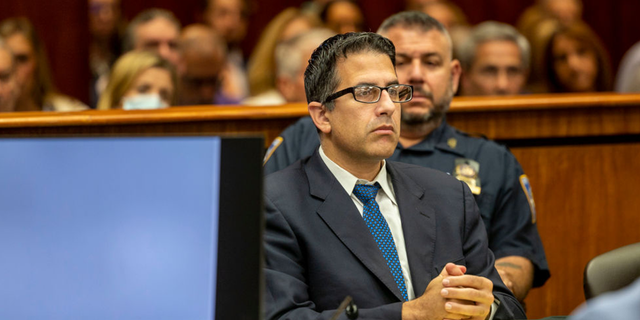 Michael Valva, a former NYPD officer, was sentenced Thursday to 25 years in prison for the death of his 8-year-old son.
"Cause he's hypothermic, hypothermic means you're freezing, washing yourself in cold water when it's freezing outside, you get hypothermic," Pollina replied.
SMALL PLANE CRASH ON LONG ISLAND LEAVES 1 DEAD, 2 CRITICAL: OFFICIALS
The video also captured Pollina hosing down Thomas in the backyard with water, and two hours later Thomas was pronounced dead due to hypothermia.
Thomas and Anthony lived at the home with Pollina, Valva, another brother and Pollina's three daughters starting in 2017.
Employees at the East Moriches School District testified during the trial that the two brothers looked thin, ate food off the floor, took food from other pupils and pulled half-eaten food out of the garbage cans.
The boys also arrived at school so soiled that employees could smell urine and feces on them.
NEW YORK REAL ESTATE BROKER BUSTED FOR HOMELESS SHELTER BRIBERY SCHEME
Pollina testified during trial that she deleted footage from the home surveillance system and did not realize forcing the two boys to live in the garage in freezing temperatures was wrong until Thomas died.
She also acknowledged that her method of discipline was "evil," and blamed Valva for Thomas' death.
Pollina was found guilty of second-degree murder and four counts of endangering the welfare of a child. She is scheduled to appear in court on April 11 for sentencing and faces 25 years to life.
CLICK HERE TO GET THE FOX NEWS APP
Valva was also found guilty of second-degree murder and four counts of endangering the welfare of a child, and he is serving 25 years to life in prison.
Greg Wehner is a breaking news reporter for Fox News Digital.