The world's No. 1-ranked men's tennis player will not be able to compete in the Miami Open next week due to his COVID-19 vaccine status.
Novak Djokovic, who recently won his 22nd Grand Slam at the Australian Open, was denied an exemption to enter the United States, according to Miami Open tournament director James Blake.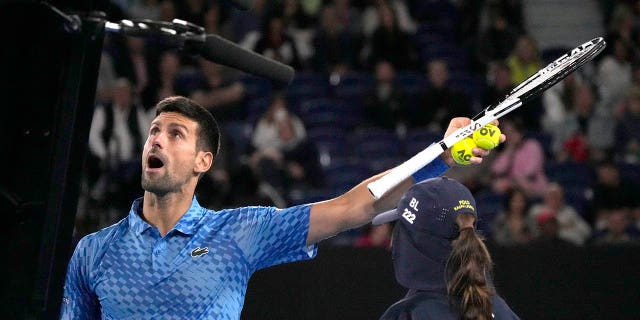 Novak Djokovic of Serbia argues with the chair umpire during his second round match against Enzo Couacaud of France at the Australian Open tennis championship in Melbourne, Australia, Thursday, Jan. 19, 2023. (AP Photo/Aaron Favila)
"Obviously, we run one of the premier tournaments in the world, we'd like to have the best players that can play," Blake told the Tennis Channel on Friday. "We did all that we could. We tried to talk to the government, but that's out of our hands. We tried, and he wasn't able to play.
KARINE JEAN-PIERRE DODGES QUESTION ON UNVAXXED TENNIS PLAYER DJOKOVIC: 'ABIDE BY OUR COUNTRY'S RULE'
"Same result that he had in Indian Wells, where I know Tommy Haas [Indian Wells tournament director] did as much as he could. We tried to get Novak Djokovic to be allowed to get an exemption, but that wasn't able to happen."
In February, Djokovic applied for special permission to enter the U.S. in order to play in tournaments due to being unvaccinated against COVID-19.
The U.S. currently requires all non-U.S. citizens to be fully vaccinated against COVID-19 in order to enter the country via air travel.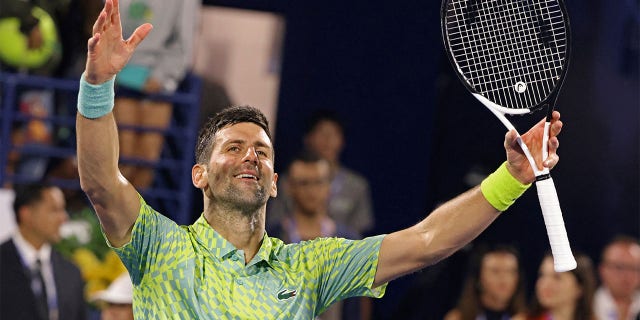 Serbia's Novak Djokovic reacts after his match against Poland's Hubert Hurkacz (not pictured) during their Dubai Duty Free Tennis Championship in Dubai on March 2, 2023. (KARIM SAHIB/AFP via Getty Images)
In recent weeks, there has been a push from politicians to allow Djokovic to enter the country.
CLICK HERE FOR MORE SPORTS COVERAGE ON FOXNEWS.COM
In a letter obtained by Fox News Digital, Florida Gov. Ron DeSantis urged President Biden to "put pandemic politics aside and give the American people what they want – let him play." DeSantis wrote that Djokovic's denial to enter the U.S. is unfair, unscientific and unacceptable."
The Miami Open will be played from March 20-April 2 and the tournament in Indian Wells is scheduled for March 6-19.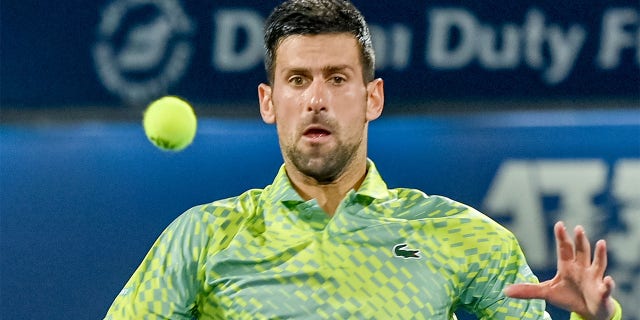 Novak Djokovic of Serbia competes with Hubert Hurkacz of Poland (not seen) during men's single quarter-final match of Dubai Duty Free Tennis Championship in Dubai, United Arab Emirates on March 02, 2023. (Waleed Zein/Anadolu Agency via Getty Images)
In January, Indian Wells tournament director Tommy Haas said it would be a "disgrace" if Djokovic could not compete in the U.S. due to his vaccination status.
CLICK HERE TO GET THE FOX NEWS APP
"Obviously, the one problem being that he still cannot come to the U.S. If he doesn't play Indian Wells and Miami in March (it will be tough), they're supposed to lift those mandates by mid-April," Haas told reporters.
"It would be nice to see if we could maybe lift those a little earlier and have him come to play Indian Wells and Miami. I think he wants to play, so we should give him the chance. Hopefully, we can have him there," he continued.
"I mean, it would be a disgrace in my eyes if he wasn't coming to these events, or not allowed to come."
Fox News' Ryan Gaydos contributed to this report.
Joe Morgan is a Sports Reporter for Fox News.