Prince Harry's wife made a statement in Los Angeles recently wearing an understated, yet expensive, outfit, and some experts say that Meghan Markle's curated closet is not earning her fans in comparison to Kate Middleton's more sustainable wardrobe.
The Duchess of Sussex stepped out for lunch at the trendy vegan eatery Gracias Madre wearing one of her signature monochrome ensembles. The all-black outfit, which included a Max Mara cashmere coat, Valentino mules, a Chanel purse and Princess Diana's Cartier watch, looked simple and sleek, but set Markle back more than $11,000.
The former "Suits" star's penchant for expensive fashion is a drastic turn from Middleton's take on what-to-wear when stepping out of Buckingham Palace. British royals expert Hilary Fordwich explained to Fox News Digital that Middleton's fashion choices send "the message of being relatable for the British people in a way that couture-clad Meghan Markle's clothing choices demonstrate she sure doesn't appreciate."
Fashion expert Melissa Rivers exclusively told Fox News Digital that one reason the women have adapted to distinct styles is due to their vastly different public-facing roles. Middleton, the future queen, has royal etiquette restrictions, while Markle is living in the United States again and is free to show off her classic California flair.
"They both dress beautifully, but man, oh man, does Meghan wear rich girl clothes," Rivers said. "Kate can't do that other than a piece here and a piece there. She wears Alexander McQueen coat dresses, and she does have a lot of very expensive clothing, but she uses it very judiciously."
MEGHAN MARKLE ISN'T 'BRAVE ENOUGH' TO ATTEND KING CHARLES' CORONATION, PRINCESS DIANA'S BUTLER CLAIMS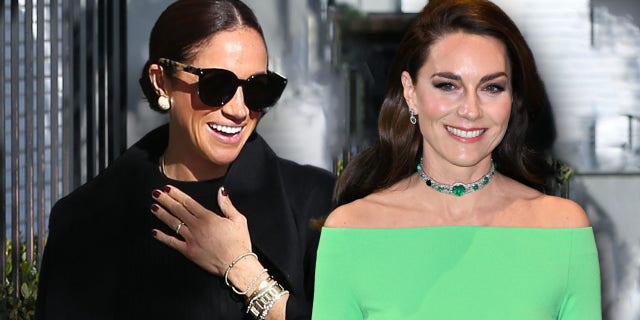 Meghan Markle's latest outfit choice has left some fashion experts to believe she's far less relatable than the future queen, Kate Middleton, right. (Backgrid/Getty Images)
Here are a few famous looks from the most fashion-forward women in the royal family.
Rivers, who hosts the Group Text podcast, explained that Markle's adapting to a look that is "a touch more casual," but ultimately, she has always been a "fashion girl."
PRINCE HARRY HATED 'WOKE NONSENSE' BEFORE MEGHAN MARKLE, CLAIM 'HORRIFIED' SCHOOLMATES
Her latest all-black ensemble "doesn't scream designer," despite the hefty price tags, including $800 Valentino flats and a stack of gold bands on her wrist with the famous Cartier love bracelet worth nearly $7,000 sparkling in between.
Royal fashion expert Miranda Holder said "a lot has changed in Meghan's life over the past couple of years and her clothes naturally reflect this."
She added, "Since moving back to the U.S., the Duchess has shrugged off her more subdued and formal 'royal costume,' allowing her natural, easy-breezy style personality to shine through what is undoubtedly a very expensive curated closet. From Dior to Chanel and beyond, Meghan is partial to the very best designers, but there is a subtle art to the way she dresses, as she still manages to make each look her own."
In December, the Princess of Wales sported a neon green, off-the-shoulder dress by Solace London, which retails for $420, to attend the Earthshot Prize awards with Prince William in Boston. Middleton rented the dress for the ceremony, which celebrated actionable solutions to environmental problems.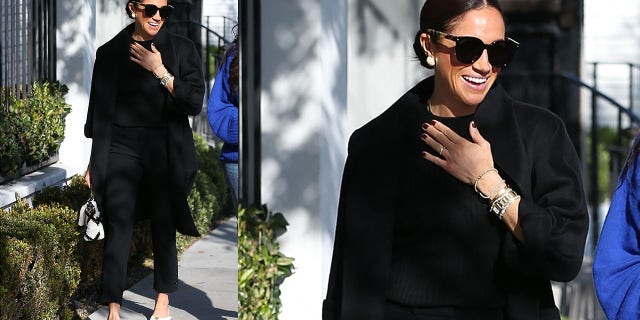 Meghan Markle's latest monochrome outfit included a $5,600 Max Mara coat and $700 Valentino flats. (Backgrid)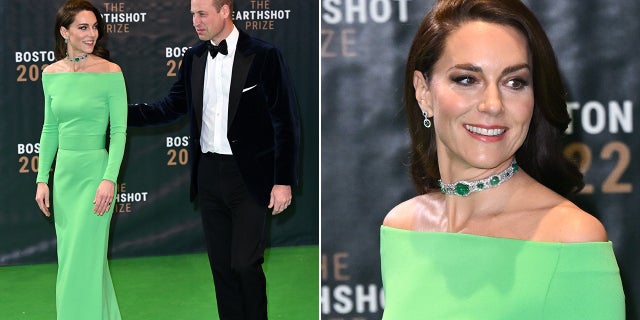 Kate Middleton rented her green Earthshot Prize dress, which retails for less than $500. (Getty Images)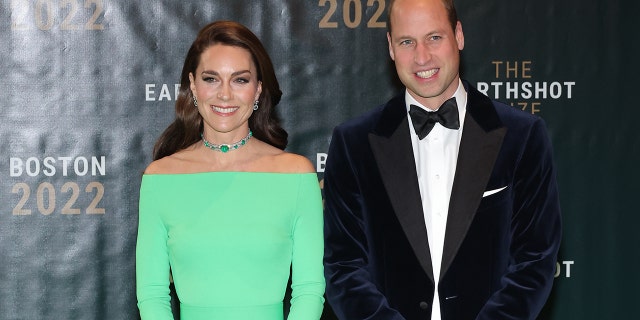 Kate Middleton, left, added Queen Mary's emerald choker to her rented outfit, a beloved piece worn by Princess Diana. (Mike Coppola)
"I loved this look on her," Rivers said. "This whole thing was all about sustainability, and this is a perfect example of fit making a dress that isn't expensive look expensive. And you're wearing that choker. I mean, do any of us get past that?"
Middleton wore Queen Mary's emerald choker necklace for the event, a statement piece Princess Diana adored and last wore in 1997 weeks before her death.
PRINCE HARRY AND MEGHAN MARKLE'S CHILDREN OFFICIALLY GIVEN ROYAL TITLES
"Kate's pristine choices also reflect her dedication to her causes since she doesn't let – nor intend – her style to dominate headlines during events," Fordwich said. "Understated elegance, enduring quality, a brand of demure elegance is that of the Princess of Wales."
Kinsey Schofield, of the "To Di for Daily" podcast, said, "Princess Diana used to quietly tell her story through her wardrobe. The black sheep sweater ... the revenge dress. Catherine does the same. Catherine's clothing tells us that she perseveres. She doesn't rock the boat. She is royalty. She never tries too hard. She has somehow mastered the ability to look like a supermodel and super mom."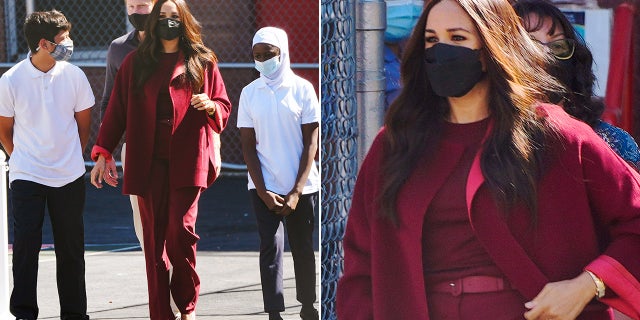 The Duchess of Sussex promoted her first children's book in Harlem, New York, and wore an outfit that cost more than $10,000. (Getty Images)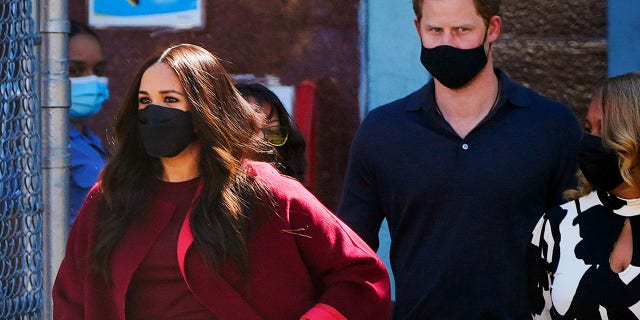 Meghan Markle and Prince Harry toured a Harlem, New York elementary school to promote her children's book to the students. (Gotham/GC Images)
When Markle stopped by a Harlem elementary school in New York to promote her children's book, "The Bench," all eyes were on her vibrant red cashmere ensemble – a look put together for $10,000.
"That's an expensive freaking outfit. Loro Piana is beyond expensive," Rivers said. "Very often I just sort of press myself against the window, you know, and go, 'Oh, please, can I just come in and pet everything' because it's a very famous cashmere company. It's incredibly expensive. It looks expensive. But again, it's not … it's subtle designers. It's not screaming in your face. Is it ridiculously expensive? Is it rich girl clothing? Absolutely. Does it look great? Yes. Can you replicate the look without spending a gazillion dollars? 100%."
Fordwich noted that Markle's monochrome pantsuit dominated headlines for all of "the wrong reasons."
"For meeting schoolchildren in Harlem, one of the city's most deprived areas where 94% of the students receive free school meals, she chose to wear a $10,741 ensemble, a $5,480 cashmere coat and $1,685 pants from Italian label Loro Piana," Fordwich said. "Rather ironic as Markle emphasizes 'equality' while showing off her expensive designer dresses and accessories. Her glitz renders her 'works' shallower as flaunting her wealth in a less affluent part of the city – and in general – by wearing such is rather thoughtless given they were worth in excess of the wage of the school children's parents and indeed staff."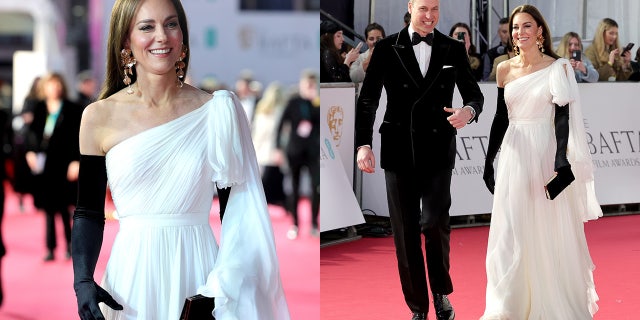 The Princess of Wales wore $27 Zara earrings with a stunning Alexander McQueen gown to the BAFTAs. (Getty Images)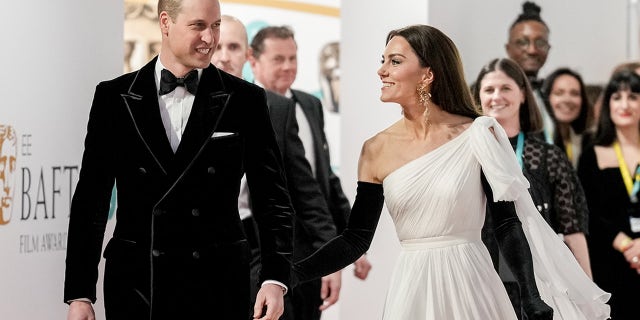 Kate Middleton had previously worn the Alexander McQueen dress in 2019. (Chris Jackson)
Middleton has taken a more sustainable approach and a "little air of sophistication" with her fashion choices. "She's just absolutely regal you know, her sensibility, I mean she looks like a future queen," stylist Leslie Christen said.
For the BAFTAs recently, Middleton upcycled a white Alexander McQueen gown she had previously worn to the ceremony in 2019. She styled the gown with dramatic black opera gloves and $750 gold shoes to match her $27 Zara earrings.
"The Princess of Wales wins hand down in the tailoring department," Schofield said. "Her wardrobe is sleek, slim, and sophisticated. Catherine radiates elegance with dresses and suits that feature a higher waist to visually enhance the length of her legs. A fun fashion hack! Catherine is unique because she still shops at everyday stores that we can shop at... like Zara or Topshop. This is Kate's way of reminding us that she is still the girl next door. And we can dress like a princess too!"
CLICK HERE TO SIGN UP FOR THE ENTERTAINMENT NEWSLETTER
However, Middleton is not afraid to spend for the right ticket. The Princess of Wales went all out for the "Top Gun: Maverick" premiere in London and wore a $3,600 Roland Mouret gown to chat it up with Tom Cruise on the red carpet.
"This was a big fashion moment for her, everybody was talking about it," Rivers said. "This, to me, was perfection. This is royalty, the simplicity of it, the fit of it, the hair and makeup is perfect for the dress."
Rivers noted that a big difference in Middleton and Markle's style comes down to their job titles.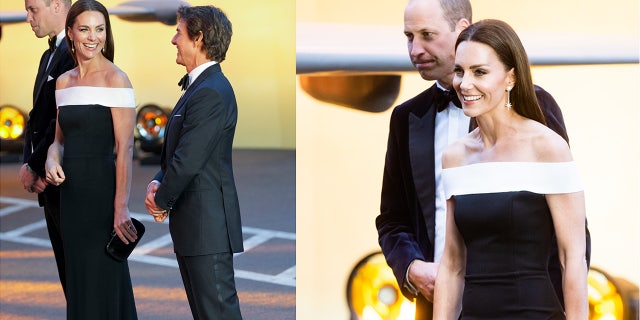 Kate Middleton shared a laugh with Tom Cruise at the "Top Gun: Maverick" premiere in London. The Princess of Wales wore a $3,600 Roland Mouret gown. (Getty Images)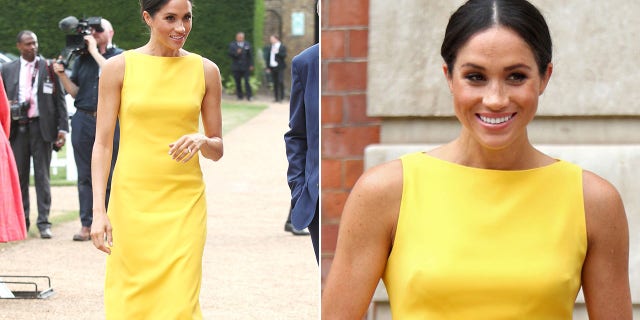 Meghan Markle wore a yellow Brandon Maxwell cocktail dress at the Commonwealth Secretariat's Youth Leadership Workshop in 2018. (Getty Images)
"She has certain rules that, because she is the Princess of Wales, because she is the future queen, that she has to abide by that Meghan doesn't," she said. "It's like saying, you know, can the person who works in finance dress the same as the person who works in tech? No, you can't. They have vastly different jobs. And Kate always has to dress appropriately for her job. And she does it beautifully."
Schofield believes Markle's style has "changed dramatically" since she severed ties with her former best friend, Jessica Mulroney.
"Meghan does not dress as stylish and fun as she used to. There was a youthful effortlessness that used to be there. Now Meghan's wardrobe looks very Banana Republic with a Versace price tag," Kinsey said.
"As one of the most photographed women in the world, Kate always cuts a poised, elegant figure, and seems to become more naturally regal by the week," Holder said. "Compared to Meghan, Kate's style is infinitely more formal, and due to Royal etiquette restrictions some might say predictable, stuffy even, but both women have definitely worked hard to develop their own signature style which suits them both."
CLICK HERE TO GET THE FOX NEWS APP
Tracy Wright is an entertainment writer for Fox News Digital. Send story tips to tracy.wright@fox.com.