Democratic presidential candidate Marianne Williamson claims that a report that she verbally abused campaign staffers during her first run for the White House four years ago is a "hit piece."
Williamson, the best-selling author and spiritual adviser who earlier this month became the first Democrat with a national following to primary-challenge President Biden in 2024, charged in a Fox News interview that the report, and recent apparent mocking of the candidate by White House press secretary Karine Jean-Pierre, are moves by Democratic "establishment forces who don't want me in the game."
Williamson has had a very successful career encouraging people to spotlight the power of love and the importance of forgiveness. But according to a report published Thursday, a dozen people who worked with Williamson on her 2020 presidential campaign say she "subjected her employees to unpredictable, explosive episodes of anger. They said Williamson could be cruel and demeaning to her staff and that her behavior went far beyond the typical stress of a grueling presidential cycle."
Williamson calls the accusations "slanderous" and "categorically untrue."
WILLIAMSON 2020 CAMPAIGN STAFFERS ALLEGE ABUSIVE BEHAVIOR BY THE DEMOCRATIC PRESIDENTIAL CANDIDATE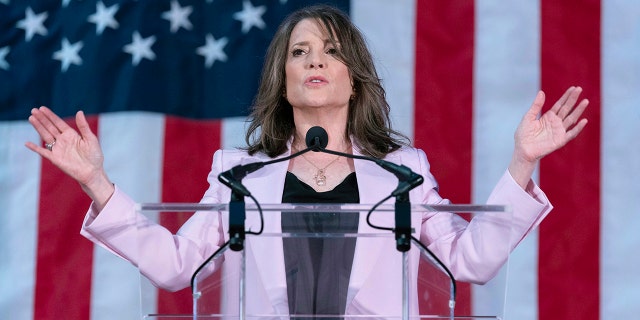 Self-help author Marianne Williamson speaks to the crowd as she launches her 2024 Democratic presidential campaign in Washington, Saturday, March 4, 2023. (AP Photo/Jose Luis Magana)
According to former campaign aides interviewed by Politico, Williamson's outbursts included throwing phones at staffers and, in once instance, the candidate reportedly became so angry about the logistics for a campaign trip that she pounded a car door until her hand began to swell, forcing her to head to an urgent care facility.
Former two-term Rep. Paul Hodes of New Hampshire, who served as Williamson's state director in 2020 in the crucial first-in-the-nation presidential primary state, corroborated the report.
IN FOX NEWS INTERVIEW, WILLIAMSON BLASTS DEMOCRATS FOR 'MOCKING' HER CHALLENGE AGAINST BIDEN
"What Politico reported was entirely consistent with what I saw on the campaign and what I personally experienced with her on multiple occasions," Hodes, who was quoted in the Politico report, told Fox News Digital on Thursday. "There are multiple reasons why I'm not helping her this time around. Her behavior is one reason."
"Important that we have a president with the right temperament," Hodes emphasized. "It's really important to have leadership that is calm under pressure. The presidency is a very stressful job . . . you really need leadership that can be calm under pressure."
In a statement to Fox News Digital, Williamson dismissed the report as an effort to smear her presidential bid.
Williamson said that "former staffers trying to score points with the political establishment by smearing me might be good for their careers, but the intention is to deflect attention from the important issues facing the American people... This Presidential Campaign expects concerted efforts to dismiss and denigrate us. But the amplification of outright lies should not occur."
Williamson also denied ever throwing a phone at staffers, but she did acknowledge that she had gone to urgent care after getting upset and hitting her hand on a car door but said that "a car door is not a person. I would never be physically hurtful to a person."
MARIANNE WILLIAMSON LAUNCHES PRIMARY CHALLENGE AGAINST BIDEN
Hours later, she told Fox News' Neil Cavuto that "if anybody has ever felt that I was not respectful to them who worked for me, then I am sorry. But I also know that this is a hit piece."
"I think any time that somebody criticizes you, you always have to ask yourself, is any of it true? Is 10% of it true? If 10% of it is true, then I want to correct that within myself and within my behavior," she added. "But that's not what's going on here. Do I have some things to learn from any experience, including that one? Absolutely. But I also think that people can see through the obvious game that's being played here by establishment forces who don't want me in the game."
When asked last week at a White House briefing whether the president was annoyed with the launch of Williamson's campaign, Jean-Pierre appeared to mock the candidate, saying: "I'm not tracking that. I mean, if I had a – what is it called? A little globe here – a crystal ball, then I could tell you. A magic eight-ball or whatever. If I could feel her aura."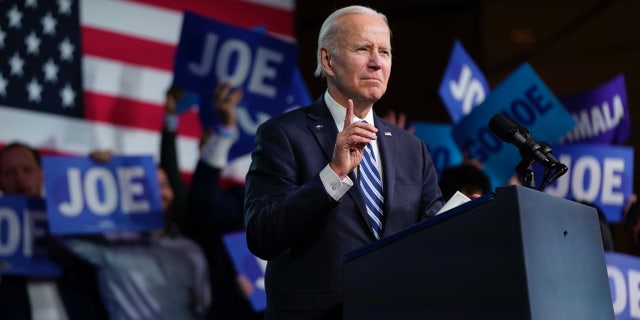 President Joe Biden speaks at the Democratic National Committee Winter Meeting, Friday, Feb. 3, 2023, in Philadelphia. (AP Photo/Patrick Semansky) (AP)
Public opinion polling indicates that Biden, who has yet to announce a 2024 re-election campaign, is leagues ahead of Williamson. Asked in a Fox News Digital interview last week whether she felt that the president and his team and the Democratic Party were not taking her campaign seriously, Williamson answered: "I think it's pretty fair to say they're not taking me seriously. But more important than that is that they're trying to get you to not take me seriously. Which actually means on some level they are taking me seriously."
But Williamson charged "that kind of mockery is purposeful. This is what they did to me last time — make her look like a laughingstock so that nobody could possibly take seriously the idea of voting for her. They know what they're doing in doing that. It's the talking points of the Democratic Party establishment at this point. But my hope is that people are not buying it as easily as they did last time."
And on Thursday, she reiterated her criticism, arguing on her Fox News Channel interview that "this is what they do. This is what they do. These are the hits that they make. Hit pieces come. Mockery from the press secretary to the president comes. The women on The View. These are the dirty tricks that mean you're rattling someone. Somebody is not happy that you're there. Somebody feels threatened by the conversation that you're bringing up. So this is what happens in politics."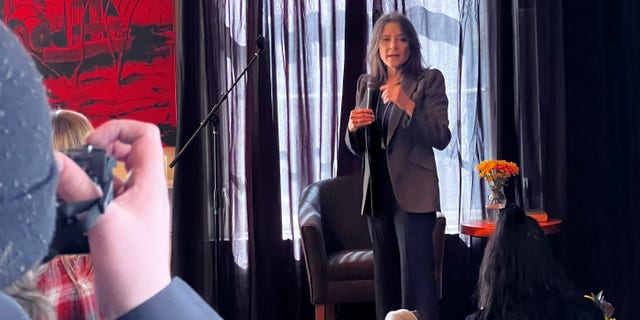 Democratic presidential candidate Marianne Williamson campaigns in Portsmouth, New Hampshire on March 9, 2023. (Marianne Williamson campaign )
During the 2020 cycle, Williamson was an unconventional candidate who preached the politics of love. She emphasized "six pillars for a season of moral repair," including economic justice. She proposed creating a Department of Children and Youths and a Department of Peace, and she pushed for reparations for the descendants of African-American slaves. Among her unorthodox acts was holding a meditation session while campaigning in New Hampshire.
CLICK HERE TO GET THE FOX NEWS APP
But Williamson struggled with fundraising and failed to qualify for most of the Democrat presidential debates. Days after laying off most of her small staff, she dropped out of the race in January 2020, just ahead of the start of the nomination primaries and caucuses.
"I have a right to run. This is democracy," Williamson told Fox News Digital last week. And pointing to the Democrats, she said: "How can a party claim to be champion of democracy if anything about its initial process is the suppression of that democracy? And make no doubt about it, mocking me, deriding me, smearing me, is a way of trying to suppress my voice."
Paul Steinhauser is a politics reporter based in New Hampshire.