March 12, 2023, isn't just any Sunday. It's "Selection Sunday" — the day the NCAA names the 68 teams that will play in the men's college basketball tournament, as well as the 68-team field for the women's tournament.
It's a day that hoops fans — especially those who gamble — have come to see as a sort of holiday. Anyone who has witnessed March Madness knows there's a lot of money behind those brackets.
But the extent of the wagering and its legal growth in recent years have turned the annual event into a massive business.
When all is said and done — from office pools and bets with bookies to online gaming — NCAA Tournament time is the focus of billions of dollars in sports wagers.
WalletHub estimates there will be more than $10 billion worth of gambling around the 2023 edition of the NCAA Tournament. Over 50% of people in the U.S. will place online wagers on the event.
Those are big numbers, and they aren't all coming in strictly above-board methods.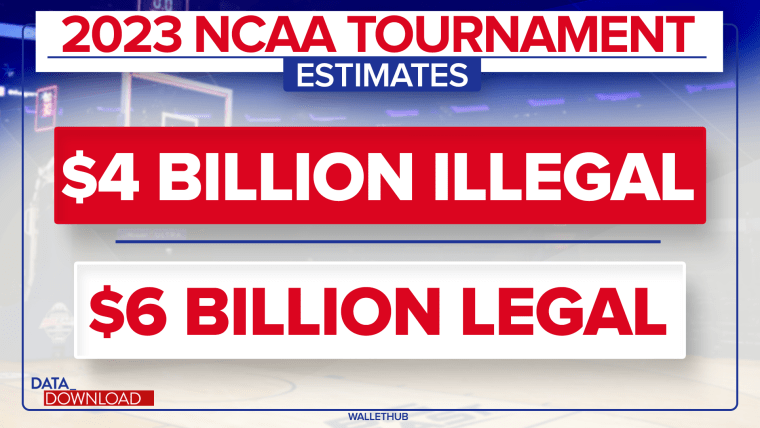 About 40% of the money will be wagered illegally on the games, according to WalletHub. But that means the remaining tournament gambling will be done through legal methods.
The legal share has grown because more places have allowed legal bets on games — online and in-person — in recent years.
In 2018, the Supreme Court struck down the 1992 Professional and Amateur Sports Protection Act, opening the door to sports gambling across the U.S. States rushed into the space and continue to join.
In total, 36 states and Washington, D.C., have legalized sports gambling in one form or another. Nine more states are considering it.
The rules vary by state. Some don't allow betting on some in-state teams at the college level. Others don't allow novelty bets for which there are knowable answers, like what color headband a player will wear.
But the larger trend is unmistakable: Legalized sports gambling is becoming a massive industry. Anyone who listens to a sports podcast can tell you about the growth in segments discussing "the over/under" or "the spread."
And, unlike other aspects of American life, this trend seems to cut across the partisan divide. Look again at that map of legalized gambling with the blue and red shading of the 2020 presidential election.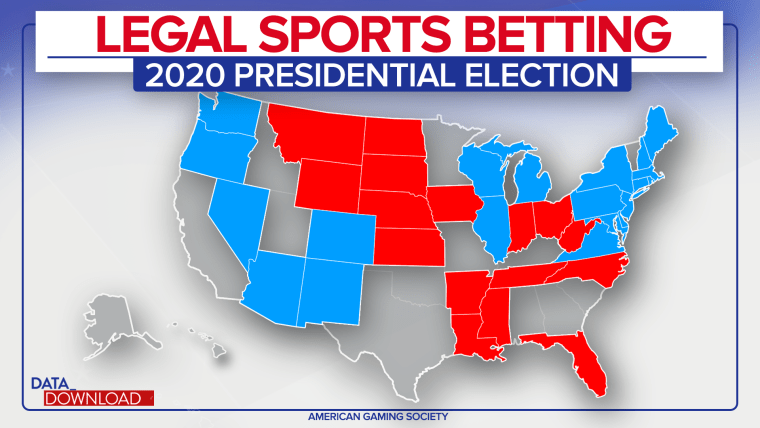 Twenty of the 36 states that have legalized sports gambling voted for President Joe Biden in 2020; the other 16 voted for former President Donald Trump. Another set of other states from both sides of the political spectrum is considering legalizing it, as well. Overall, it's a pretty even partisan split.
What can bring together a nation that is so often divided along red and blue lines? Green. All those wagers yield a lot of tax revenue for states that legalize sports gambling. The size and speed of the tax revenue growth are impressive.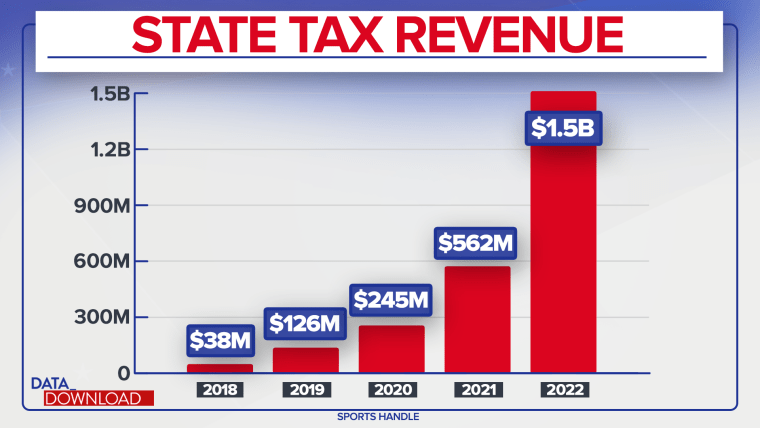 In the five years since the Supreme Court ruling, overall state tax revenues tied to sports gambling have grown from $38 million in 2018 to $126 million in 2019 to over $1 billion in 2022, according to SportsHandle.com.
Although part of the increase is due to more states' having legalized sports gambling, some of it from the climbing tax revenues in states that have legalized the practice.
In fact, since the Supreme Court ruling, more than $2.6 billion in state tax revenues has been raised from sports gambling. Over half — $1.5 billion — was last year alone.
Sports gambling could be a new revenue stream for states hungry for revenue. The next few weeks will put a lot of money into state coffers.
If you want proof, consider Massachusetts. It only recently legalized sports gambling, but it ensured that digital wagering, the ability to gamble on your phone, went live Friday — just in time for the NCAA Tournament.
And as online gambling has grown to become something of a tax revenue machine, states have looked for other ways to cash in or at least new ways to draw people into gambling.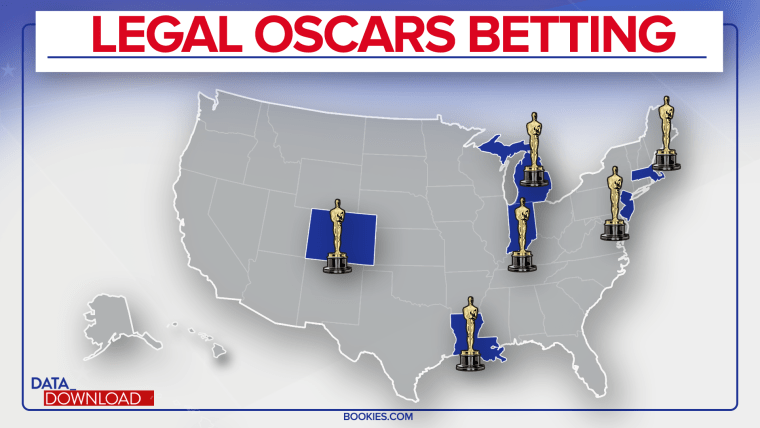 Take Sunday's Oscars. Have a feeling about "Everything Everywhere All at Once" or "Tár"?
Get yourself to Colorado, Indiana, Louisiana, Massachusetts, Michigan or New Jersey. They will let you bet on who will go home with a golden statue, according to Bookies.com. No brackets required.
Dante Chinni
Dante Chinni is a contributor to NBC News specializing in data analysis around campaigns, politics and culture.