A shutdown of schools in Los Angeles, the nation's second-largest education system, could be imminent after a union representing workers announced a three-day strike planned for next week.
After almost a year of negotiations, members of SEIU Local 99, otherwise known as Education Workers United, voted to approve a strike that will be held on Tuesday, March 21 through Thursday, March 23.
The strike will be held with support from the district's teacher's union, United Teachers Los Angeles, which represents 35,000 local educators. They said they will honor the strike and will not cross picket lines imposed by workers.
Thousands of members, from cafeteria workers to bus drivers working in the Los Angeles Unified School District (LAUSD) are demanding equitable wage increases, more full-time work, respectful treatment and increased staffing levels for better student services.
PROGRESSIVE LOS ANGELES DA OFFERING FREE SHUTTLE SERVICE SO STAFF CAN GET TO WORK SAFELY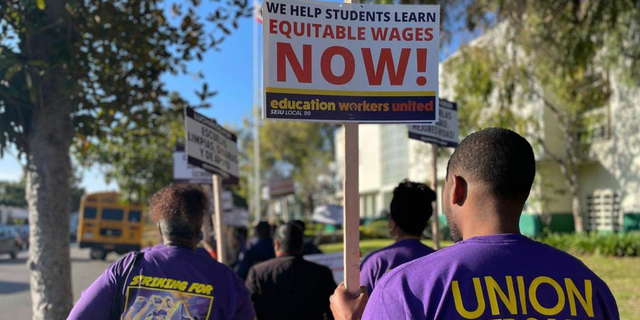 SEIU Local 99 plan to strike for 'equitable wages' from March 21-23, 2023. (SEIU Local 99)
They say the school district has engaged in "unfair practices" and that there's been little progress since negotiations began in April 2022. In December, SEIU Local 99 announced talks had reached an impasse and a state mediator was appointed to oversee communications between the two parties.
The strike was authorized by 96% of LAUSD school workers represented by SEIU Local 99 in February.
"Throughout the strike vote and during the bargaining process, workers have been subjected to surveillance, intimidation, and harassment by the school district," SEIU Local 99 said in a press release. "Dozens of unfair labor practice charges have been filed with the California Public Employee Relations board to protest LAUSD's unlawful interference in workers' right to vote and participate in union activities."
SACRAMENTO TEACHERS STRIKE AS MINNEAPOLIS WALKOUT CONTINUES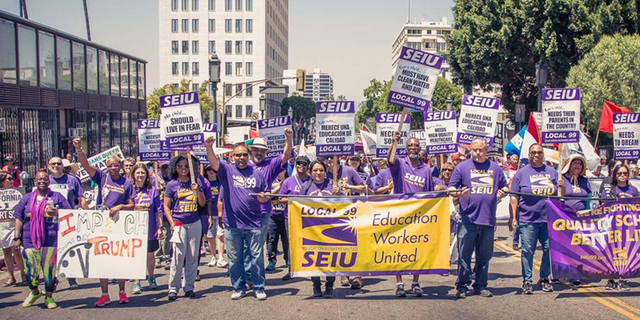 SEIU Local 99 workers protest for quality schools and better lives in Los Angeles. (SEIU Local 99)
Janette Verbera, a special education assistant and single mother, said she is ready to strike for the "respect we deserve" and noted she works two to three jobs to support her family.
"I'm exhausted and not just because I'm physically tired, it is debilitating to do a job day-in-and-day-out that I passionately love and be at a salary below the poverty wage level. How do we properly service our students when we are being overworked and underpaid and disrespected?" she said.
SEIU Local 99 Executive Director Max Arias said workers have been living off "poverty wages" and blamed the school district for pushing workers to act. The average salary of workers at LAUSD is $25,000 a year, often working part-time hours.
SACRAMENTO'S TEACHERS UNION TO STRIKE OVER PAY, STAFFING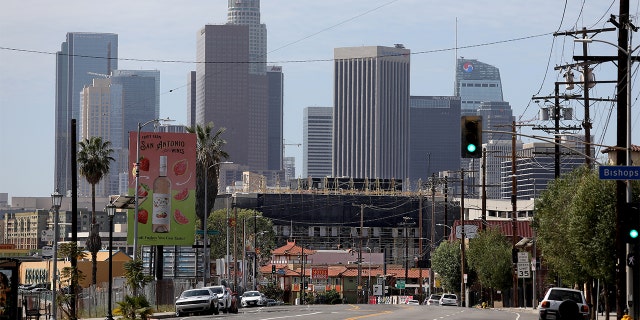 Downtown Los Angeles skyline in the background shown from the Broadway and Bishops Rd. on Thursday, March 17, 2022 in Los Angeles, CA. (Gary Coronado / Los Angeles Times via Getty Images)
"Students have been sacrificing for too long in school environments that are not clean, safe or supportive for all. Too many workers have been subjected to harassment simply for demanding change. Enough is Enough!," Arias said.
According to their website, SEIU Local 99 is a union of 50,000 education workers in K-12 schools, early education centers and homes, and community colleges throughout Southern California, including 30,000 cafeteria workers, special education assistants, custodians, bus drivers and others providing essential student services at LAUSD schools.
During a Wednesday news conference, district Superintendent Alberto Carvalho said that the strike will make it "virtually impossible to keep schools open."
He also claimed the union is "simply refusing to negotiate" despite a "historic offer on the table."
Nikolas Lanum is an associate editor for Fox News Digital.