The stepmother of an 8-year-old boy who froze to death on Long Island, New York, in January 2020 was found guilty of murder Friday, the district attorney's office said.
Angela Pollina, 45, was found guilty on all counts — second-degree murder and four counts of endangering the welfare of a child — in the death of Thomas Valva, who died the day after he slept in the garage in the family's home in temperatures that dropped under 20 degrees.
Pollina's former fiancé, Michael Valva, the boy's father, who had worked with the New York Police Department since 2005, was found guilty of second-degree murder and four counts of child endangerment in November. He was sentenced to 25 years to life in prison.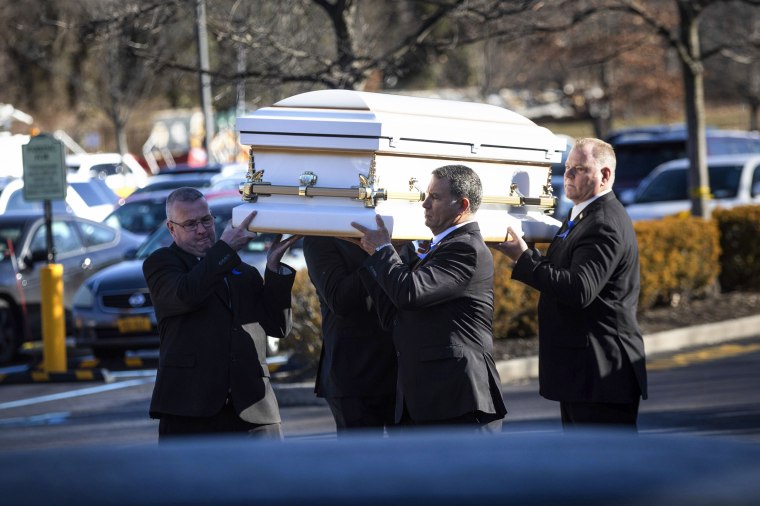 Thomas and his older brother, Anthony, 10, spent 16 hours in the home's garage without heat as punishment for having urinated and defecated in the house, NBC New York reported.
A medical examiner ruled the death a homicide and found that hypothermia was a major contributing factor. Prosecutors said Thomas and Anthony, 10, were both on the autism spectrum and were at times forced to sleep in the garage.
"The cruelty that Thomas and his brother had to endure because of this defendant's callous and selfish conduct is abhorrent, and, thankfully, the jury clearly agreed," Suffolk County District Attorney Raymond Tierney said in a statement. "Her treatment of these children was nothing short of pure evil."
In a two-week trial, prosecutors tried to paint Pollina as a "wicked stepmother" who tortured the children and who did not try to help Thomas as she claimed, pointing out that he died of hypothermia and had an internal temperature of 76 degrees when he reached the hospital, according to NBC New York.
Pollina's attorneys, meanwhile, insisted that she was not responsible for his death.
During the trial, Pollina admitted, when she was asked, that she did not allow the boys to use any of the four bathrooms in the home, according to NBC New York.
Pollina was also asked whether she thought she had a "duty to protect [the boys] from harm" when she was watching them or whether she treated them differently from the other children. She replied the same way to both questions, saying, "I did the best that I could," NBC New York reported.
Pollina, who is expected back in court for sentencing on April 11, faces 25 years to life in prison, the district attorney's office said.
In a statement provided to NBC News, Pollina's attorney, Matt Tuohy, said: "She is understandably devastated about the conviction, and we are going to exhaust all next steps to try and help her." Tuohy did not immediately elaborate on what those next steps might be.