The Israeli army says its soldiers have shot dead three Palestinian gunmen who opened fire on their post in the West Bank.
The incident happened near the northern city of Nablus and a fourth gunman was arrested after he surrendered, the military added.
Palestinian officials had no immediate comment on what happened in the West Bank where there has been a surge in violence in recent months.
Sunday's deaths take the number of Palestinians killed since the start of the year to 80, as Israel has increased raids in the territory. Palestinian attacks have killed 14 people in 2023.
The Israelis say the raids are essential to dismantle militant networks and prevent future attacks. But Palestinians see the operations as a way of Israel tightening its 55-year, open-ended occupation of lands they seek for their future state.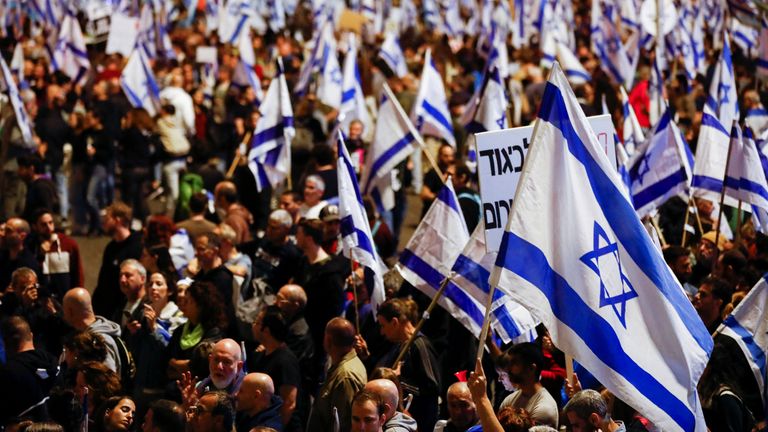 It comes as Israel faces one of its worst domestic crises, with tens of thousands taking to the streets to demonstrate against contentious plans by the hard-right government to curb the powers of the Supreme Court.
The biggest protest on Saturday was in Tel Aviv which included hundreds of Israeli women's rights activists dressed as characters from the TV series The Handmaid's Tale.
The nationwide demonstrations, which have been dominated by the country's secular middle class, have taken place over more than two months and have escalated as the controversial reforms approach ratification.
The protests, now in their 10th week, were mostly peaceful but there were reports of injuries and arrests among demonstrators when police cracked down on attempts to block traffic.
'We will never agree to have democracy demolished'
One protester Einat Gival-Levi said: "We are protesting because if not, it's like compliance and we will never agree to have democracy abolished in this country.
"It's really important that we raise awareness all around the world."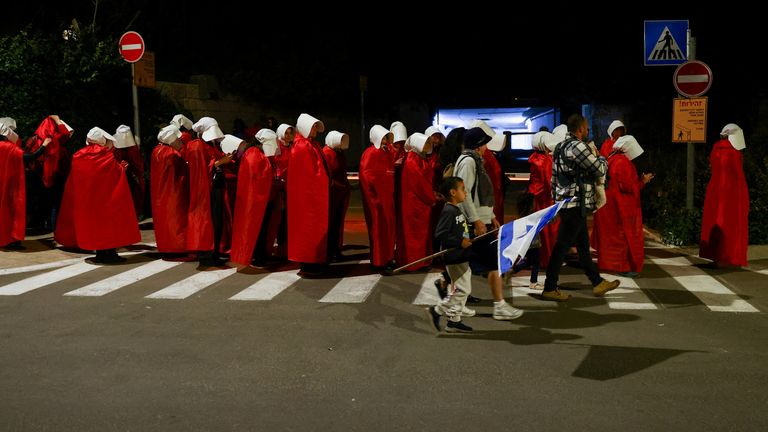 Read more:
Israeli police say Tel Aviv gunman wounded three after opening fire in street
Israelis protest against Netanyahu's legal overhaul plans for ninth week in a row
Netanyahu criticises anti-government protesters in televised statement
Prime Minister Benjamin Netanyahu's administration has vowed to press ahead with new laws that would strip the Supreme Court of its role in reviewing legislation and give coalition politicians control over judicial appointments.
Click to subscribe to the Sky News Daily wherever you get your podcasts
Critics argue the plans are a threat to judicial independence as they would destroy the system of checks and balances and concentrate power in the hands of Mr Netanyahu and his religious-nationalist coalition allies.
But the prime minister, who returned to office for a sixth term last December, says the aim of the changes is to balance out branches of government and the protests are aimed at unseating him.
Opponents of the bills also say Mr Netanyahu, who is on trial for alleged corruption, is driven by personal grievances and that he could find a way out from the charges through the overhaul.
He denies any wrongdoing and says the legal changes have nothing to do with his trial.