The internet is not happy with Hugh Grant after his awkward interview with Ashley Graham on the Oscars red carpet.
The model, one of the on-air hosts for ABC's "Countdown to the Oscars" before the ceremony kicked off, asked the actor standard questions, to which his responses were brief.
Graham began by asking what his favorite thing about the Oscars was, and Grant replied, "It's fascinating. The whole of humanity is here. It's a vanity fair."
The Sports Illustrated model seemed to think he was referring to the Vanity Fair Oscars party, but many online suspect he was referring to "a scene or place characterized by frivolity and ostentation" as defined by Merriam-Webster.
OSCARS RED CARPET 2023: HOLLYWOOD STARS DARE TO BARE IN SHEER AND CUTOUT GOWNS
When asked if he was rooting for anyone, Grant replied, "No one in particular."
Fashion is always a topic of discussion at award shows. Graham asked about what the "Notting Hill" star was wearing, and he simply answered, "My suit." Graham attempted to follow up, and Grant credited his tailor.
Graham also asked about his appearance in "Glass Onion." Grant brushed it off and said, "I'm barely in it, I'm in it for like three seconds." She asked if had fun while filming, and he briefly answered, "Almost."
The actor quickly became a trending topic on Twitter, where people were not pleased with how he interacted with Graham.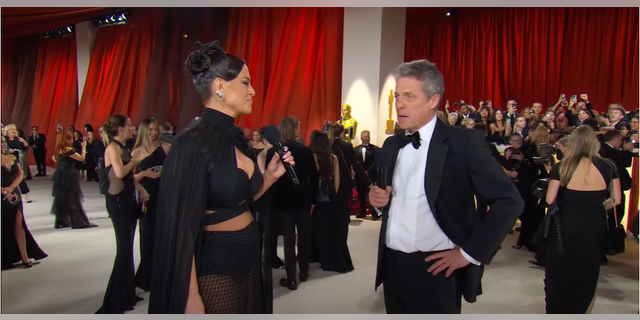 Ashley Graham and Hugh Grant shared an awkward interview during "Countdown to the Oscars" on ABC. (ABC)
CLICK HERE TO SIGN UP FOR THE ENTERTAINMENT NEWSLETTER
"Is Hugh Grant just an arrogant d*** all the time?" asked one commenter. "He was so rude to Ashley Graham on the red carpet, complete with an eye roll. Maybe he should stay home if he's too good for his industry of choice."
Another shared their sympathy for Graham, writing, "This poor interviewer…the night hasn't even started and Hugh Grant has already had it."
Others had harsher, blunt language for the actor.
"You don't have to be that much of a d***, Hugh Grant. I mean you really just don't," wrote one user.
HUGH GRANT REVEALS HE HATED FILMING HIS ICONIC 'LOVE ACTUALLY' DANCE SCENE: 'EXCRUCIATING'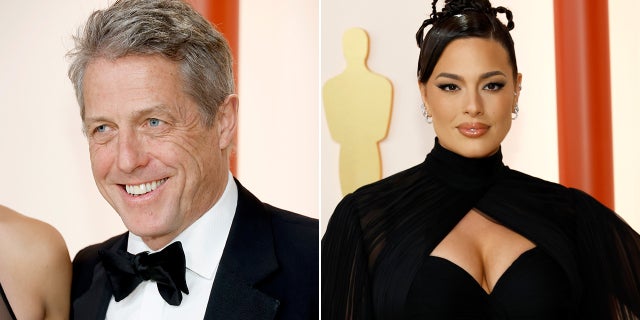 Commenters slammed Hugh Grant online for what they deemed to be rude answers to Ashley Graham's questions. (Getty Images)
"Hugh Grant is the biggest D bag for this interview. Hugh, If you don't want to be there go home. Worst Oscars interviews ever," said another.
"And the Oscar for the guy who totally doesn't want to be there goes to Hugh Grant," quipped one person.
CLICK HERE TO GET THE FOX NEWS APP
Representatives for Grant did not immediately respond to Fox News Digital's request for comment.
Grant was at the Oscars to present alongside his "Four Weddings and a Funeral" co-star Andie MacDowell.
Their introduction for best production design got off to an equally awkward start, with the pair giggling before MacDowell said, "Lovely to be here," to which he quickly added, "It is lovely."
Grant continued, "We're actually here to do two things. The first is to raise awareness about the vital importance of using a good moisturizer. Andie's been wearing one for the last 29 years. I've never used one in my life."
"Still stunning," he said pointing to MacDowell, then joked he's "basically a scrotum."