EXCLUSIVE: Members of Congress met with officials in Guyana on Friday to bolster U.S. relations with the South American country while also keeping China's encroaching influence at bay.
House Ways and Means Chairman Jason Smith, R-Mo., led a group of Democrats and Republicans in Guyana, part of a three-country tour that also included stops in Mexico and Ecuador.
"We appreciate the productive conversation the delegation had with President Dr. Ali about the-American-Guyanese-bilateral relationship. Guyana's abundant energy resources have the potential to lift its people out of poverty, help power the world, and ensure more affordable energy for American families and job creators," Smith told Fox News Digital.
"China also is participating in Guyana's oil production," he said. "America must be committed to outcompeting China around the world while strengthening key American supply chains, increasing U.S. production of affordable energy resources, and improving partnerships with allies in the Western Hemisphere and beyond."
WAYS AND MEANS CHAIR CONDEMNS MEXICO'S THREAT TO CAMPAIGN AGAINST REPUBLICANS: 'UNACCEPTABLE'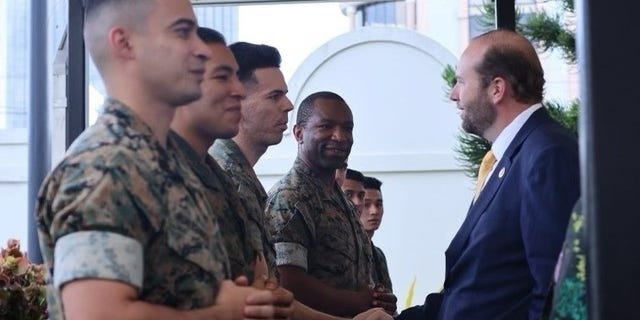 House Ways & Means Chair Jason Smith meets with U.S. Marines stationed in Guyana.
U.S. relations with Guyana have been fragile in the past, particularly during the latter country's time as a socialist one-party state in the second half of the 20th century. Ties improved from the 1990s as Guyana moved toward democratically held elections and improving its human rights record.
In 2018, however, Guyana also aligned itself with China's Belt and Road Initiative, a massive global infrastructure development plan that has global security hawks concerned about Beijing's brazen efforts to grow its influence abroad.
Smith said his congressional delegation helped present the U.S. as a "much-needed alternative" to China.
CHINA'S SPYING IS OUT OF CONTROL: GET THE CCP'S DRONES OUT OF US SKIES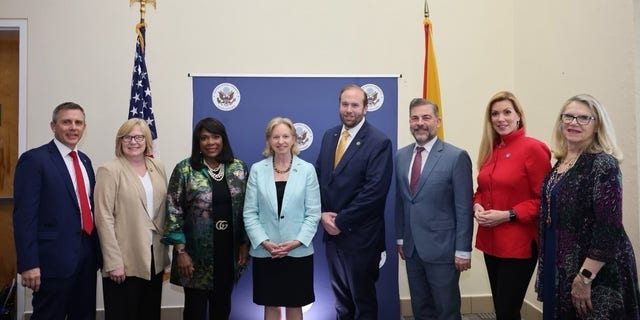 House Ways and Means Committee pose for a photo in Guyana, the last stop on a three-country tour.
"Our delegation's meetings have shown how U.S. bilateral relationships-in the region benefit American workers and provide a much-needed alternative to countries that might otherwise orient their economies toward China. An energy boom in Guyana can help American workers while also benefiting the people of Guyana and their economy," the Republican lawmaker said.
Along with meetings with the Guyanese president, vice president and their cabinet, the lawmakers also spoke with members of the country's opposition party and U.S. Marines stationed in the capital city of Georgetown.
US ISSUES 'DO NOT TRAVEL' WARNING FOR PARTS OF MEXICO AS SPRING BREAK APPROACHES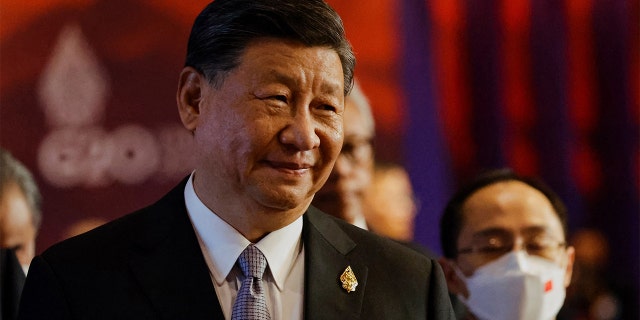 China's President Xi Jinping has presided over his government's Belt and Road Initiative, a global infrastructure development strategy. (WILLY KURNIAWAN/POOL/AFP via Getty Images)
CLICK HERE TO DOWNLOAD THE FOX NEWS APP
Smith raised worries about China's encroaching influence in South America earlier this week after the Ways and Means Committee's stop in Ecuador.
"We must use every tool at our disposal, including trade, to counter China's influence in Latin America, and I shared my concerns with President Lasso about Ecuador's expanding trade ties with China," the congressman said.
They had kicked off the trip with a visit to Mexico, where Smith said they discussed the Central American country's obligations under the U.S.-Mexico-Canada trade agreement as well as their disapproval of the crisis at the southern border.
Elizabeth Elkind is a politics reporter for Fox News Digital.