Rishi Sunak has declined to offer his backing to the chairman of the BBC and stressed his appointment was made by his predecessor Boris Johnson.
Richard Sharp has been dragged into the BBC row over Gary Lineker because of his close ties to government and the role he played when Boris Johnson was considering taking a huge loan while he was prime minister. The circumstances of his appointment are being reviewed by the appointments commissioner.
The PM was asked by Sky News whether Sharp is a man of integrity in whom the public could trust to oversee the BBC. The position is in the gift of the government and the BBC has made it clear it is for ministers to remove the officeholder.
Mr Sunak used to work for Mr Sharp at Goldman Sachs and they are longstanding allies. Mr Sunak brought Mr Sharp into the Treasury as an advisor shortly after he became chancellor.
Read more:
Sources close to Lineker hopeful row with BBC will be resolved in next 24 hours
The role of DG has always been a tricky balancing act - and it's not getting any easier
Gary Lineker row: BBC director general will not resign
Travelling to San Diego, Mr Sunak declined to respond to questions about their relationship or his integrity, and instead told reporters: "Richard Sharp went through an independent appointments process at the time that I had nothing to do with - he was appointed before I was prime minister, but also the Chair of Publics appointments has asked, a leading KC, has asked to review - to re-review - that appointments process so there is not much I can say more that's ongoing, but it's right in that process concludes.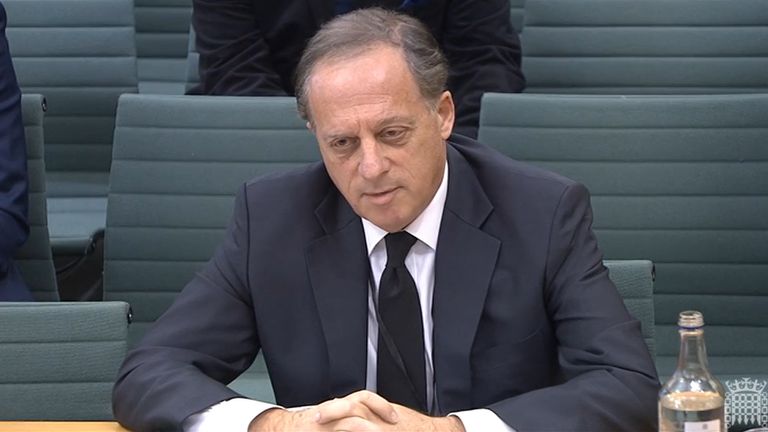 "It gives people the confidence that they need."
Mr Sunak suggested that the row over Linker was missing "perspective" and should be resolved between the BBC and its presenter quickly.
"I hope they can resolve it in a timely fashion. I think Gary Lineker was a great footballer and is a very talented presenter but this is an issue they need to resolve themselves.
"It is important we have perspective, there is a very real issue with tens of thousands of people coming to our country illegally and I believe we need to have a compassionate and an effective response to that and I believe the proposals the government have put forward are exactly that."