President Biden raised eyebrows on St. Patrick's Day with jokes about the Irish going to jail and loving drinking.
Biden attended the Friends of Ireland Luncheon with House Speaker Kevin McCarthy, R-Calif., and Irish Taoiseach Leo Varadkar Friday where the three gave speeches on their shared Irish heritage and friendship between the two nations.
When it was his turn to speak, Biden joked about visiting Ireland and seeing his family members there, "There are so many and they actually weren't in jail."
BIDEN REFUSES TO TAKE QUESTIONS WITH IRISH LEADER AFTER WH DEFENDS NOT HOLDING PRESS CONFERENCE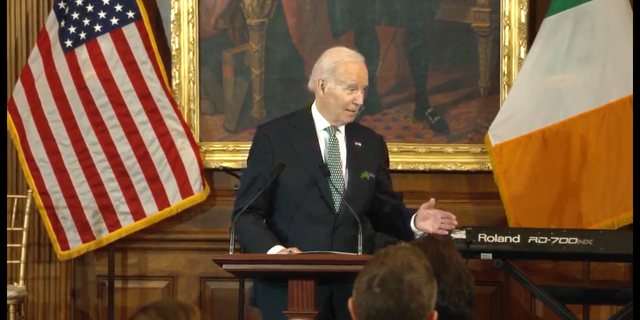 President Joe Biden speaks at the Friends of Ireland Luncheon on St. Patrick's Day, March, 17, 2023. (Fox News Digital)
He also mentioned going to Finnegan's Pub, which he said was related to his family. "I'm the only Irishman you've ever met though that's never had a drink, so, I'm OK," he quipped. "I'm really not Irish."
Biden has made disparaging jokes about his Irish heritage before. In December, Biden said during a veterans town hall, "I may be Irish, but I'm not stupid," insisting he's got "a little Italian" in him because his wife's family is Italian. Though many internet users panned the comments as being in poor taste.
Last St. Patrick's Day, he began his remarks with the same joke, saying, "Well, I just want you to know, I may be Irish, but I'm not stupid," Biden continued. "I married Dominic Giacoppa's daughter."
BIDEN TAKES FLAK FOR JOKE SUGGESTING THE IRISH ARE DUMB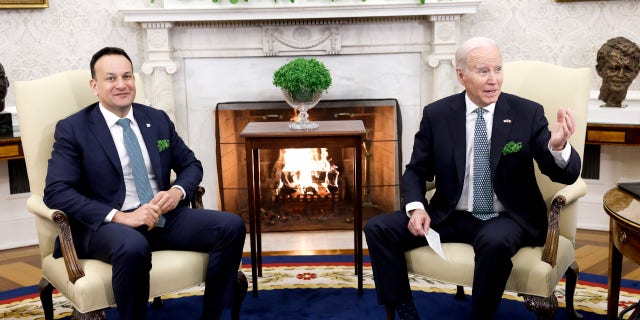 U.S. President Joe Biden and Irish Taoiseach Leo Varadkar speak to one another in the Oval Office of the White House on March 17, 2023 in Washington, DC. (Anna Moneymaker/Getty Images)
Former Obama Defense Secretary Leon Panetta offered Biden's Irish heritage as an excuse for a gaffe the president had made last March while overseas. Biden said Russian President Vladimir Putin "cannot remain in power." The comments were later walked back by the White House.
"I happen to think that Joe Biden, you know, he's Irish, really has a great deal of compassion when he sees that people are suffering. And I think it overwhelmed him in the sense of seeing all of the horrors that were resulting from this war," Panetta said at the time.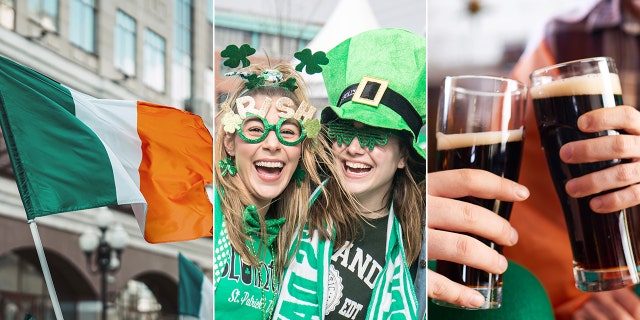 St. Patrick's Day is celebrated annually on March 17. (iStock)
CLICK HERE TO GET THE FOX NEWS APP
Biden was also skewered this week as the "world's worst Catholic" for cheapening Irish and Catholic identity by a writer for The UK Telegraph.
"President Joe Biden's self-delusion seems to be boundless. When he looks in the mirror, he apparently sees an upright Irish Catholic true to the historic values of his deeply rooted religious identity," Ruth Dudley Edwards wrote in the Telegraph. "He is, in fact, an appalling Catholic who publicly flouts the church's most cherished teachings and is about as authentically Irish as a leprechaun hat in a St Patrick's Day parade."
Alexa Moutevelis is a Media editor for Fox News Digital. Follow her @AlexaShrugged.