"The Rubin Report" host Dave Rubin sounded off on "America's Newsroom" Friday on California Gov. Gavin Newsom's plan to build 1,200 tiny homes for the state's homeless population, arguing the Democrat leader is taking a backwards approach to the crisis and is ruining the state with his liberal policies.
SAN FRANCISCO LATEST DEM CITY TO CRACK DOWN ON GAS APPLIANCES
DAVE RUBIN: Well, I'd actually like to give Gavin Newsom credit, believe it or not, Dana, because nobody on earth in the history of the world is better at creating homeless people than Gavin Newsom. And he deserves credit for that. You know, when he was San Francisco mayor back in 2008, he had like a 10-year plan to eliminate homelessness. There's a video that's going viral that explains that. People can check it out, my Twitter's @Rubinreport, if you want to see that. He has ruined San Francisco as mayor, he has ruined California as governor. And if you think that 1,200 homes are going to do anything about the homeless problem, which has far more to do with fentanyl and meth and the general state of lawlessness that the progressives and the Democrats and the one-party state that is California have caused, I mean, it's not going to stop anything. You know, these people have serious drug problems. They have serious psychological problems on top of the economic conditions, as I said, that the Democrats have created. So there's 100 other issues that should be dealt with to help these people, if you believe the state has that role, and then we can talk about housing. But relative to housing, California also has some of the highest taxes in the nation, some of the craziest regulation related to buildings. So builders don't want to even build there. And, you know, all of the high income earners are fleeing the state. So you're getting less tax revenue for these crazy adventures that Gavin wants to go on.
HALF OF ALL 'UNSHELTERED' HOMELESS PEOPLE ARE LOCATED IN ONE STATE: REPORT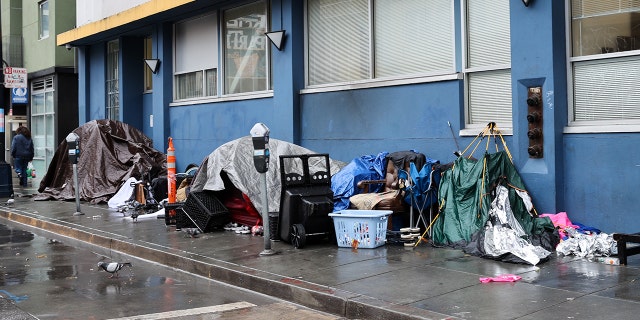 SAN FRANCISCO, CA - JANUARY 13: Homeless tents are seen near the Tenderloin District during rainy day in San Francisco on January 13, 2023 as atmospheric river storms hit California, United States. (Tayfun Coskun/Anadolu Agency via Getty Images)
California will spend about $30 million to build 1,200 small homes across the state this year, Newsom announced Thursday, part of a plan to help house the nation's largest homeless population and to address an issue that has persistently plagued the state during the governor's time in office.
The homes, some as small as 120 square feet, can be assembled in 90 minutes and cost a fraction of what it takes to build permanent housing. Newsom said the homes can create space to help clear homeless encampments that have sprung up across the state's major cities. Federal courts have ruled cities can't clear homeless encampments if there are no shelter beds available.
"We need to focus more energy and precision on addressing encampments," Newsom said. "There's no humanity there. People are dying on our watch."
CLICK HERE FOR THE FOX NEWS APP
Newsom announced the plans in Sacramento on the first stop of a planned four-city tour, where he has promised to make major policy announcements on housing, health care and public safety. The tour is replacing the governor's traditional State of the State address.
The Associated Press contributed to this report.