Germany's education and research minister is making an official trip to Taiwan next week, officials said Friday. It will be the highest-level visit by a German official since 1997 to the island that China claims as part of its territory.
The March 20-22 visit comes amid growing tensions between China and the West, including over Beijing's stance on Russia's war in Ukraine. China reacted when angrily when then-U.S. House Speaker Nancy Pelosi traveled to Taiwan last year.
The visit by Education Minister Bettina Stark-Watzinger, whose ministry also oversees science, will focus on cooperation in areas of chip research and manufacturing, green hydrogen and battery production, spokesman Martin Kleinemas said.
GERMANY NEEDS STEP UP AGAINST RUSSIA AND START PULLING ITS WEIGHT IN UKRAINE
Government spokesman Steffen Hebestreit said the visit didn't indicate any change in position when it comes to Germany's policy on Taiwan, which supports the European Union's practice of cooperating with Taipei at the technical level without calling into question the principle of "one China."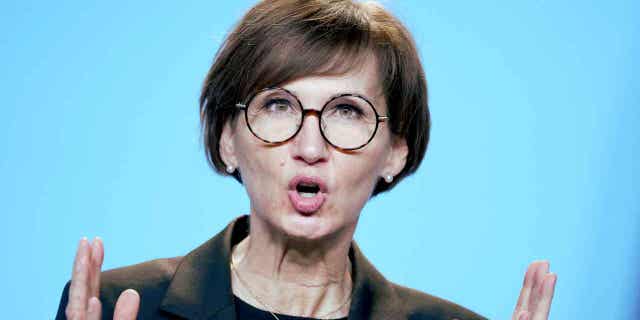 German Science and Education Minister Bettina Stark-Watzinger is making an official trip to Taiwan next week, officials said on March 17, 2023. (AP Photo/Michael Sohn, pool, file)
"We are also in regular and close contact with China and the Chinese leadership," he said. "The visit that the minister for education and research is making to Taiwan now doesn't call into question our stance in any way."
CLICK HERE TO GET THE FOX NEWS APP
The last Cabinet-level German official to visit Taiwan 26 years ago was then-Economy Minister Guenter Rexrodt, a member of the same libertarian Free Democratic Party as Stark-Watzinger. The party has been pushing for a tougher line toward Beijing on human rights and free speech.