Chairman of the Joint Chiefs of Staff Mark Milley said during a briefing on Wednesday that America doesn't seek "armed conflict" with Russia after the collision of a Russian jet and a U.S. drone
On Tuesday, a Russian Su-27 fighter plane collided with a U.S. MQ-9 Reaper drone while traveling over the Black Sea, a U.S. defense official told Fox News.
The collision occurred in international airspace while over international waters, with the jet in question being one of two Su-27s flying in tandem. The drone's propeller was damaged, forcing it to be ditched in the Black Sea west of Crimea, the defense official said.
Secretary of Defense Lloyd Austin described the incident as a continuation of risky behavior from Russia during Tuesday's press briefing.
PENTAGON: RUSSIAN JET TAKING DOWN US DRONE PART OF 'PATTERN' OF 'AGGRESSIVE' PILOT ACTIONS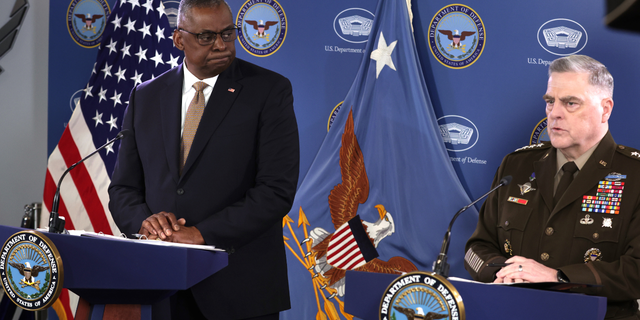 U.S. Secretary of Defense Lloyd Austin (L) listens as Chairman of the Joint Chiefs of Staff Army Gen. Mark Milley speaks during a press conference at the Pentagon on March 15, 2023 in Arlington, Virginia. Secretary Austin and Gen. Milley discussed various topics including the downing of an American MQ-9 Reaper drone in the Black Sea by Russian fighter jets. (Alex Wong/Getty Images)
"This hazardous episode is part of a pattern of aggressive, risky and unsafe actions by Russian pilots in international airspace," Austin said.
When asked if he believes that the collision of the Russian jet and the U.S. drone was intentional, Milley said it's not yet known, but said that the interception of the drone was intentional.
"We know that the Intercept was intentional. We know that the aggressive behavior was intentional. We also know it was very unprofessional and very unsafe. The actual contact of the fixed wing Russian fighter with our [unmanned aerial vehicle], the physical contact of those two. Not sure yet. That remains to be seen," Milley said during the briefing. "I can tell you with certainty, though, that we have absolute evidence of the contact, the intercepts, etc., and is very aggressive."
Milley said that "clearly, we do not seek armed conflict with Russia."
RUSSIAN JET COLLIDES WITH US DRONE IN INTERNATIONAL AIRSPACE OVER BLACK SEA, OFFICIAL SAYS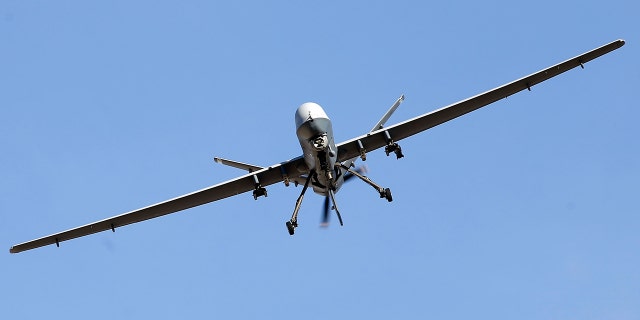 An MQ-9 Reaper remotely piloted aircraft (RPA) flies by during a training mission at Creech Air Force Base on Nov. 17, 2015, in Indian Springs, Nevada. (Isaac Brekken/Getty Images)
Russian officials said on Wednesday that operations were underway to collect what is left of the U.S. drone. A U.S. defense official told Fox News that the drone is property of the United States.
"The aircraft is U.S. property," a U.S. defense official told Fox News. "We take the recovery very seriously but will not get into details right now."
Milley said that there's likely not anything of value to the Russians in the drone.
"It probably broke up and probably not a lot to recover, frankly. As far as the loss of anything of sensitive intelligence, etc., as normal, we would and we did take mitigating measures. So we are quite confident that whatever was of value is no longer a value," Milley said.
U.S. European Command and U.S. Air Forces in Europe – Air Forces Africa said in a statement on Tuesday that prior to the collision, the Russian jet dumped fuel on the U.S. drone.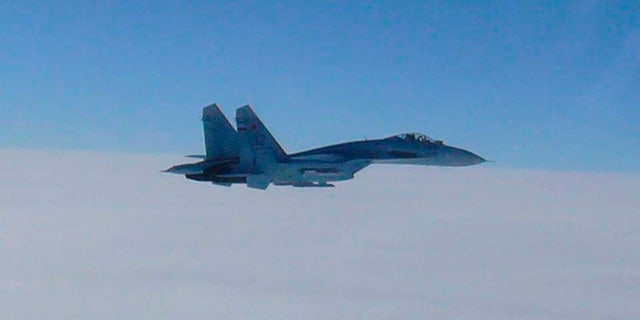 A Russian Su-27 fighter as seen in this handout photo. (Reuters)
CLICK HERE TO DOWNLOAD THE FOX NEWS APP
"At approximately 7:03 AM (CET), one of the Russian Su-27 aircraft struck the propeller of the MQ-9, causing U.S. forces to have to bring the MQ-9 down in international waters. Several times before the collision, the Su-27s dumped fuel on and flew in front of the MQ-9 in a reckless, environmentally unsound and unprofessional manner. This incident demonstrates a lack of competence in addition to being unsafe and unprofessional," the statement reads.
The official said that the Su-27 was headed toward Crimea where it landed after the incident.
Gen. James B. Hecker, commander, USAFE-AFAFRICA said that the drone was conducting routine operations at the time of the collision.
"Our MQ-9 aircraft was conducting routine operations in international airspace when it was intercepted and hit by a Russian aircraft, resulting in a crash and complete loss of the MQ-9," Hecker said. "In fact, this unsafe and unprofessional act by the Russians nearly caused both aircraft to crash."
Fox News' Liz Friden and Timothy Nerozzi contributed to this report.
Adam Sabes is a writer for Fox News Digital. Story tips can be sent to Adam.Sabes@fox.com and on Twitter @asabes10.