Larry Rendall Brock, of Grapevine, Texas, was convicted of obstruction of the joint session of Congress on Jan. 6, 2021.
WASHINGTON — A federal judge sentenced a retired Air Force lieutenant colonel to two years in prison Friday for joining a mob that occupied the U.S. Senate on Jan. 6, 2021.
Larry Rendall Brock, of Grapevine, Texas, appeared Friday for sentencing before U.S. District Judge John Bates. Bates convicted Brock after a bench trial in November of one felony count of obstruction of an official proceeding and four misdemeanor counts for his role in the Capitol riot.
Images from the day show Brock, wearing a combat helmet and tactical vest and carrying zip-tie handcuffs, on the floor of the Senate Chamber after members of Congress had been evacuated from their joint session of Congress. He was inside the building for approximately 37 minutes.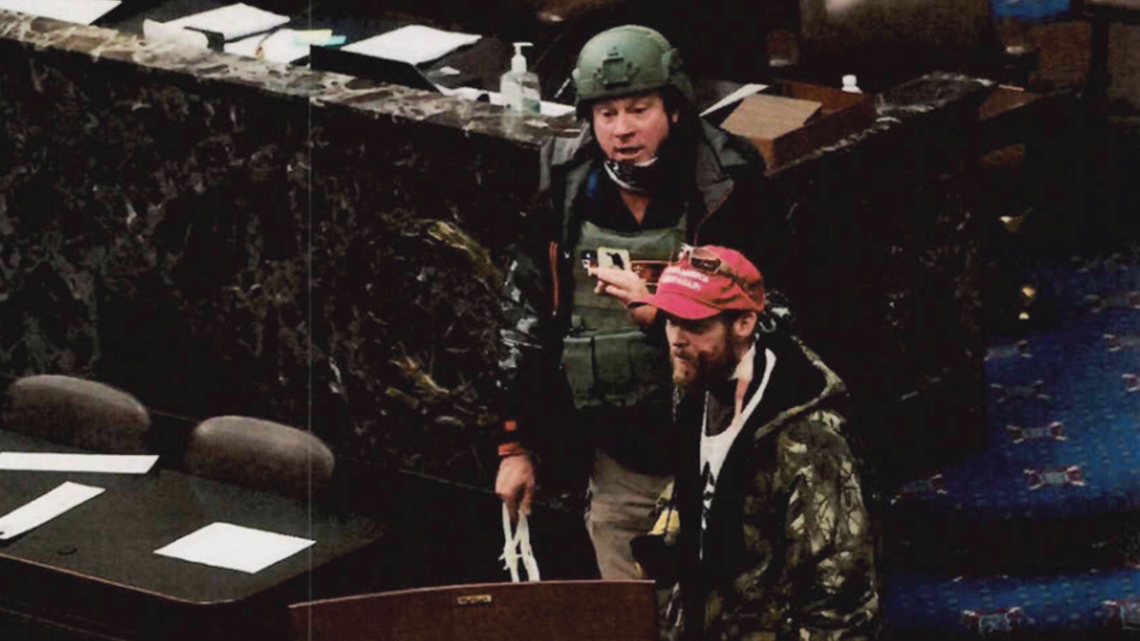 Prosecutors asked Bates to sentence Brock to five years in prison – at the lower end of the recommended guideline range they'd calculated – in no small part because of what they described as a "manifesto" he sent to another military veteran on Christmas Eve 2020. Titled "Plan of Action if Congress fails to act on 6 January," the document laid out eight points that Brock described as "main tasks," including:
Seizing all democratic politicians and Biden key staff and select republicans, including Senators John Thune and Mitch McConnell, and interrogating them using "measures we used on Al Queda" [sic].
Seizing national media figures. Brock wrote they should "eliminate them. Media silence except for White House communications."
Former President Donald Trump issuing a general pardon "for all crimes up to and including murder" for those who put down "the Democratic Insurrection."
Brock's task list also included the note, "Do not kill LEO unless necessary. Gas would assist in this if we can get it."
After hearing from the government, Bates, a former U.S. Army lieutenant who was appointed to the federal bench in 2001 by former President George W. Bush, rejected a significant enhancement against Brock for threatening bodily injury. Bates' decision reduced his sentencing guideline range to 24-30 months. However, he also rejected the defense's request for a further downward variance to a probationary sentence.
Bates credited Brock's distinguished military service, which included five Air Medals and multiple deployments during the War on Terror, as well as his community involvement and his lack of any criminal history. But he also expressed grave concerns about the Christmas Eve plan Brock sent, which Bates referred to as "rules of engagement."
"I think it's especially reprehensible, and quite frankly unbelievable, coming from a former senior military officer," Bates said. "It's detailed, it's persistent, it's consistent, and it's both astounding and atrocious. And that's coupled with the fact that he purchased and wore a tactical vest and helmet."
Bates also said Brock had demonstrate no acceptance of guilty or showing of remorse whatsoever.
Ultimately, Bates sentenced Brock to 24 months in prison, to be followed by 24 months of supervised release. He will also have to pay $2,000 in restitution. Bates agreed to recommend placement at a facility as close to Grapevine, Texas, as possible.
We're tracking all of the arrests, charges and investigations into the January 6 assault on the Capitol. Sign up for our Capitol Breach Newsletter here so that you never miss an update.