WASHINGTON — U.S. Capitol Police officials were not told that the surveillance video of the Jan. 6 attack on the Capitol, which they gave to House Republicans, would be passed on to Fox News host Tucker Carlson, the department's top lawyer said in a sworn court filing.
In a declaration filed Friday in Washington federal court, Capitol Police general counsel Thomas DiBiase said police found out from a media report on Feb. 20 that Carlson's staff were reviewing thousands of hours of footage from the day of the riot that had not been made public at the time.
The Republican-led Committee on House Administration had requested access to the footage from Capitol police just 12 days earlier, according to DiBiase in the filing, first reported by Politico.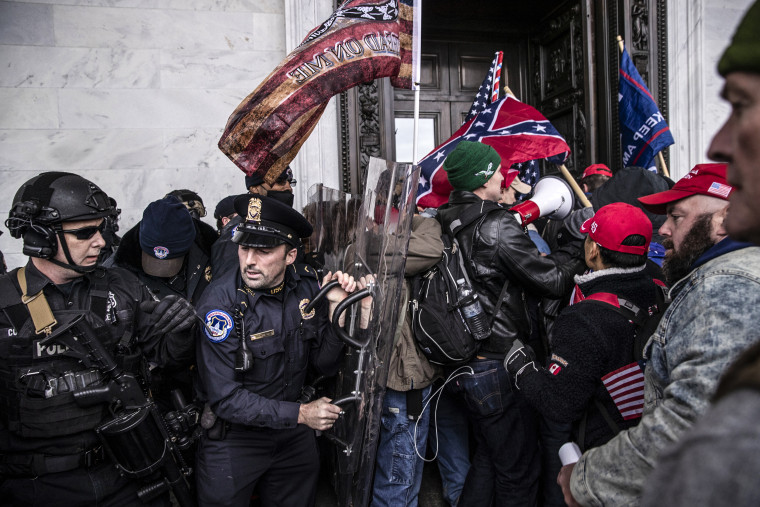 DiBiase said he was told that "personnel from the Tucker Carlson Show were allowed to view whatever footage they wanted while supervised by staff from CHA but that no footage had physically been turned over to the show."
He said he had "numerous conversations" with the committee's staff director in the weeks that followed asking to review every clip that would be made public.
Carlson aired dozens of clips on his Fox News show this month. He said on his show: "We do take security seriously, so before airing any of this video we checked first with the Capitol Police. We're happy to say the reservations were minor and for the most part, they were reasonable. In the end, the only change that we made was in blurring the details of a single interior door in the Capitol building."
In his declaration, DiBiase said out of the numerous clips that were broadcast on Carlson's show March 6 and 7, he was only shown one clip before it aired.
DiBiase said that clip was from a list of locations that had been designated "sensitive" and he approved its use.
"The other approximately 40 clips, which were not from the Sensitive List, were never shown to me nor anyone else from the Capitol Police," DiBiase said.
Representatives for Fox News and the House Administration Committee did not immediately respond to a requests for comment.
Using snippets of the footage, one Carlson segment featured rioters walking through the Capitol and not doing any damage or committing any acts of violence. The host said most of the rioters were peaceful "sightseers" and not "insurrectionists."
The segment was blasted by lawmakers from both sides of the aisle as being misleading. More than 900 people have been arrested in connection with the attack on Jan. 6, 2021, which left about 140 officers injured.
In a letter to the Capitol Police force that was obtained by NBC News, the agency's chief Thomas Manger said that Carlson's report was "offensive."
"The program conveniently cherry-picked from the calmer moments of our 41,000 hours of video," Manger wrote. "The commentary fails to provide context about the chaos and violence that happened before or during these less tense moments."
House Speaker Kevin McCarthy, R-Calif., said he had agreed to share the video with Carlson as an "exclusive."
DiBiase's declaration was filed in the case of a Jan. 6 defendant named William Pope, who's said he believes the videos could include footage that might help exonerate him.
Other Jan. 6 defendants have tried making similar arguments to no avail.

Frank Thorp V is a producer and off-air reporter covering Congress for NBC News, managing coverage of the Senate.

Dareh Gregorian is a politics reporter for NBC News.