The two brothers who were paid by actor Jussie Smollett to orchestrate a fake hate crime had a message for the country about its "ramifications."
Abimbola and Olabinjo Osundairo, nicknamed Bola and Ola, apologized for their role in the 2019 hoax, saying they agreed to Smollett's terms because they wanted to use his connections as a prominent actor to help them in their own careers.
"I just first want to apologize to everyone in the audience, the country and anyone who might have been affected by this directly. When we were asked to partake in this, we really didn't foresee the ramifications of what something like this could do to the country," Ola Osundairo explained Thursday on "Hannity."
"We allowed our ambition to cloud our judgment."
Smollett, who is Black and gay, purportedly attempted to vilify Trump supporters as racist and homophobic. He originally suggested White "attackers" shouted racial slurs at him and yelled, "this is MAGA country," as they beat him and wrapped a rope around his neck.
The brothers' attorney Gloria Rodriguez said upon hearing about the incident, her instinct was that they were both innocent.
"My immediate thought wasn't, 'Oh my God, this is a national spotlight case.' My immediate thought was, 'Oh, my God, I have two innocent guys here that are being accused of doing this horrific hate crime," she said.
"My natural instinct really was to first, unlike a lot of the journalists that were out there reporting this, my instinct was to first get a handle on the facts. And that same night that I met them, I went by myself, had to cancel my plans with my wife and say, 'I've got to go down to the scene of the crime.' And I looked around and I just remember thinking, it is dark, it is late out and there's nobody out here. It's super safe. It's... this is ridiculous that this would happen."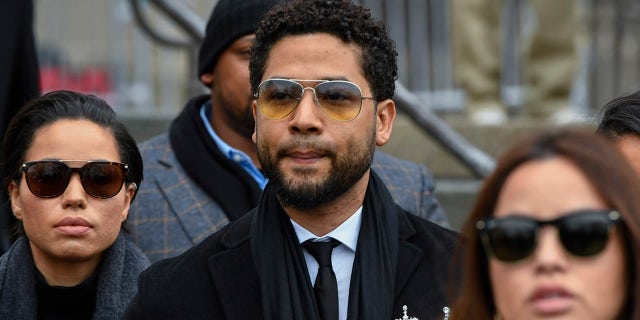 Former "Empire" actor Jussie Smollett leaves the Leighton Criminal Courthouse in Chicago. (AP Photo/Matt Marton File)
The Osundairo brothers maintain everything they did that night was at the request of Smollett.
In a Fox Nation special, "Jussie Smollett: Anatomy of a Hoax," the brothers take viewers through the streets of Chicago and to the site of the fake "crime" scene.
HOW JUSSIE SMOLLETT STAGED HIS HATE CRIME HOAX: ACCOMPLICES RETURN TO THE SCENE OF THE 'CRIME'
The brothers said Smollett told them to attack him in the streets at 2 a.m.
They explained how they faked calling him out, chasing him down, hitting and tackling him, even adding in a "nuggie" so as to "give him a scar. To give him a mark. To make it look real, like he really did get his a** beat."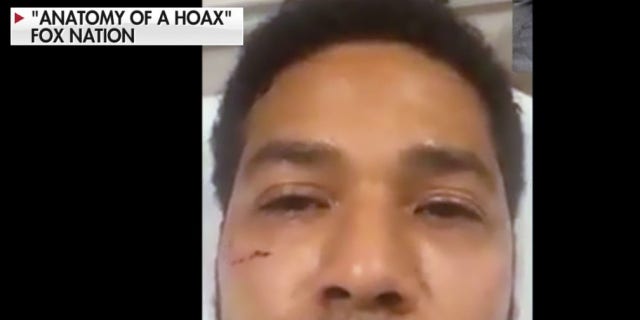 Actor Jussie Smollett hired two brothers to instigate a fake hate crime in 2019. ((Screengrab/ Hannity))
Smollett was found guilty of five of the six charges of disorderly conduct against him following a nearly two-week trial in 2021.
CLICK HERE TO GET THE FOX NEWS APP
He was sentenced to 150 days in jail and 30 months of probation over the incident, but he was released from jail six days into his sentence pending his appeal.
Ashley Carnahan is a production assistant at Fox News Digital.