President Biden has accused Republicans of seeking to cut Medicare and Social Security, but his own policies will take away hundreds of billions of dollars promised to seniors through the two federal entitlement programs, according to a new report.
Casey Mulligan, a professor of economics at the University of Chicago, estimates in a study published by the Committee to Unleash Prosperity that "anti-growth" policies spearheaded by the Biden agenda will ultimately reduce Medicare and Social Security tax revenue by at least $400 billion and perhaps up to $900 billion, depending on how long those policies last.
"Joe Biden has pledged many times that he will not cut Social Security and Medicare benefits — and has even accused Republicans of a secret plan to cut these programs for seniors," the report states. "But the real risk to the financial security of Americans in retirement comes from Biden's anti-growth welfare, regulatory, tax, and employment policies that will reduce GDP, growth, work, and wages."
Mulligan explains that, under Biden, real wages adjusted for inflation have fallen, and real returns on many investments have turned negative.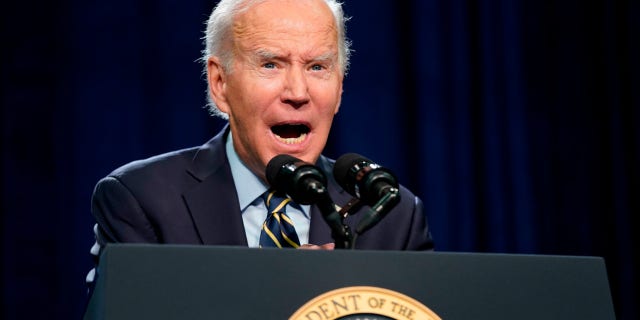 President Joe Biden speaks about his administration's plans to lower prescription drug costs and protect Social Security and Medicare, Nov. 5, 2022, at Jones Elementary School in Joliet, Ill. (AP Photo/Patrick Semansky) (Copyright 2022 The Associated Press. All rights reserved.)
AVERAGE AMERICAN FAMILY HAS NOW LOST $6,000 IN ANNUAL WAGES UNDER BIDEN DUE TO INFLATION
Indeed, U.S. Department of Labor data has consistently shown throughout the Biden presidency workers' wages going up on paper but decreasing significantly when accounting for inflation, which last year reached its highest level in four decades. Meanwhile, retirement savings plans have lost $4 trillion in value since Biden's inauguration, according to a separate report previously released by the Committee to Unleash Prosperity.
"Promised Social Security and Medicare benefits are also put in harm's way by low- or negative-growth economic policies," writes Mulligan. "Today's benefits are paid for out of today's worker wages and tomorrow's benefits (and thereafter) are paid out of future wage growth. Quite literally, the programs give the elderly a share of the earnings of the nation's workers."
In other words, the more people work, and the more each worker earns, the more payroll tax revenue that's available to fund Social Security and Medicare. However, the inverse is also true, and according to Mulligan, that's what's happening under Biden: Fewer people are working, and each worker is earning less, so there's less tax revenue going to the entitlement programs.
"The combination of health insurance expansions, economic regulation (including policies related to welfare programs and labor markets), energy or climate regulation, education policy, and business taxation reduced growth and thus revenues into the trust funds," according to the report. "Because Social Security and Medicare operate on a 'pay as you go' basis, benefits will be severely squeezed in the years to come as Congress struggles to figure out how to make up for this worsening structural deficit. Even before that happens, less national labor income translates to lower Social Security benefits, lasting the rest of their lives, for every worker reaching retirement age."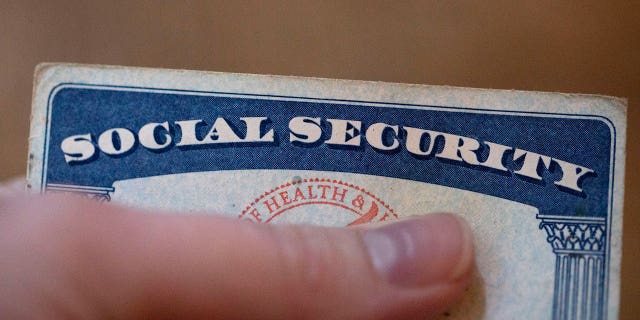 A Social Security card. (AP Photo/Jenny Kane, File)
SEVEN-FIGURE AD CAMPAIGN EXPOSES BILLIONS IN BIDEN'S MEDICARE CUTS AFTER ACCUSATIONS GOP WANTS TO SLASH
Citing a variety of factors, Mulligan estimates that the combined effect of Biden's insurance, regulatory and tax policies is to reduce labor income by 5% to 6.5%.
Mulligan also outlines how real employee compensation per adult, which reflects "the fraction of adults working, the number of hours they work, and the inflation-adjusted cash and fringe benefi­ts they receive per hour of work," is 3.3% below the pre-pandemic trend. Meanwhile, the employment-population ratio is still 1.3% below its pre-pandemic level.
The report notes that, while the pandemic hurt the economy, Biden's policies have slowed growth: "Even if the Biden economy had attained 2.0% annualized growth per adult from the ­first quarter of 2021 — a tepid growth rate for a normal recovery — real compensation per adult would be 2.5% above where it is now."
Another factor slashing tax revenue to Social Security and Medicare, according to the report, is the fallout of school closures during the pandemic.
"Democrats' support for pandemic school closures have already set back student learning, which will translate into substantially less future earnings of today's young people," writes Mulligan. "This is another hit to Medicare and Social Security payroll tax bases."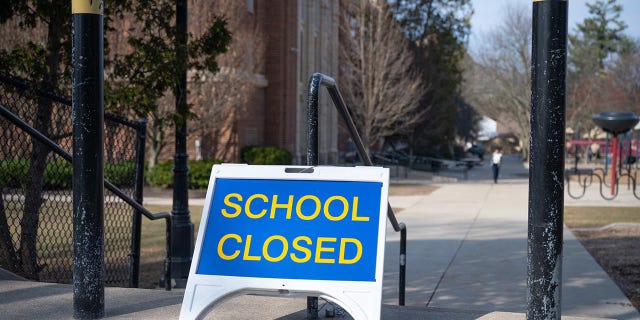 Schools across the country closed in March 2020 amid the outbreak of the coronavirus. (iStock)
IN LATEST BLOW TO SCHOOL CLOSURES, STUDY FINDS KIDS OVER 100 TIMES LESS LIKELY TO DIE FROM COVID THAN ADULTS
The new study comes as students in the U.S. are struggling to deal with the effects of learning loss suffered from school closures during the pandemic.
The Education Department's National Assessment of Educational Progress, known as the "nation's report card," which tests a broad sampling of fourth- and eighth-graders, was released in October and showed the "largest score declines" since the federal government began tracking these metrics in 1990.
Math and reading scores took major hits nationwide, especially among the country's most vulnerable students. Black and Hispanic students, for example, experienced steeper declines than White and Asian peers in fourth-grade math after already starting out behind.
More recently, a Stanford University study found that students enrolled in schools during pandemic restrictions will face an average of a 2% to 9% drop in lifetime earnings, resulting in states facing a 0.6% to 2.9% drop in total GDP.
"At the extreme, California is estimated to have lost $1.3 trillion because of learning losses during the pandemic," wrote the study's author, Eric Hanushek. "These losses are permanent unless a state's schools can get better than their pre-pandemic levels."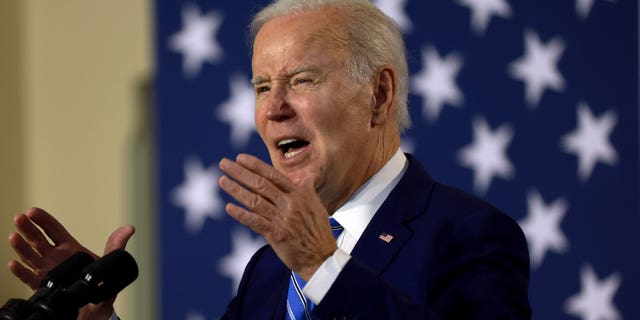 President Joe Biden speaks at the University of Tampa on Feb. 9, 2023. (Joe Raedle/Getty Images)
BIDEN WILL KEEP CLAIMING GOP WANTS TO CUT SOCIAL SECURITY, MEDICARE INTO THE 2024 CAMPAIGN, CONSULTANTS SAY
Hanushek argued that there's "overwhelming evidence that students in school during the closure period and during the subsequent adjustments to the pandemic are achieving at significantly lower levels than would have been expected without the pandemic."
In 2020, Biden campaigned against opening schools. At the height of the debate over school closures in July 2020, for example, the Democratic National Committee released an ad lambasting then-President Trump for being "desperate to reopen schools," accusing him of "ignoring how the virus spreads" and "risking teachers' and parents' lives" by "going against the advice of experts."
The ad then showed a school hallway with an ominous voice asking, "Do you trust him [Trump] to do what's best for our children?"
In 2021, when Biden was in office, the White House was aware of efforts by the American Federation of Teachers (ATF) to lobby the Centers for Disease Control and Prevention (CDC) to adopt advisory language delaying school openings. The lobbying effort worked, and Biden administration officials appeared to facilitate, rather than resist, the ATF's campaign, according to emails previously obtained by a watchdog group.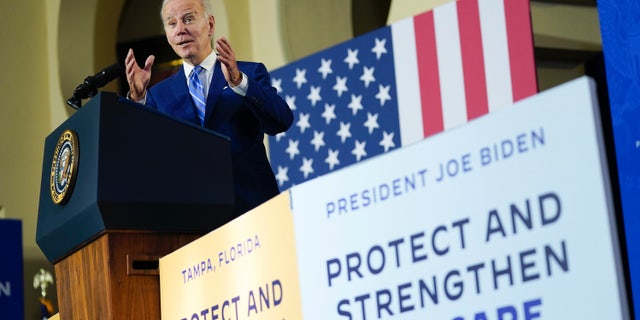 President Joe Biden speaks about his administration's plans to protect Social Security and Medicare and lower healthcare costs, Feb. 9, 2023, at the University of Tampa in Tampa, Fla. (AP )
WHITE HOUSE TRIPLES DOWN ON BIDEN'S FALSE CLAIM REPUBLICANS WANT TO CUT SOCIAL SECURITY, MEDICARE
Critics accused the Biden administration of dragging its feet on fully reopening schools, which happened months after Biden promised it would in his first 100 days.
School closure policies will reduce Medicare and Social Security tax revenue by $118 billion, according to Mulligan, who outlines in the report the methodology behind his calculations. He also estimates that Biden's insurance, regulatory and tax policies will lead to a Medicare and Social Security tax loss of $296 billion to $385 billion over four years, and $592 billion to $770 billion over eight years if the president is re-elected.
In total, Mulligan estimates that the Biden agenda "will ultimately reduce Medicare and Social Security tax revenue by at least $400 billion and perhaps up to $900 billion depending on how long these anti-growth policies last."
CLICK HERE TO GET THE FOX NEWS APP
The new study came out weeks after the Biden White House claimed repeatedly that congressional Republicans want to slash Medicare and Social Security by putting both programs "on the chopping block" — a claim that GOP lawmakers have adamantly denied.
In a statement to Fox News Digital, a White House spokesperson echoed these attacks on Republicans and touted Biden's efforts to bolster Medicare and Social Security.
"Congressional Republicans are pursuing the biggest Medicare benefits cut in decades and have a record of proposing other massive cuts to Medicare and Social Security," said White House Assistant Press Secretary Robyn Patterson. "By contrast, President Biden released a detailed plan to extend Medicare's solvency for another 25 years by having the wealthy pay their fair share and lower drug costs for seniors. He's also leading an historic economic recovery that has created more than 12 million jobs, helped 10.5 million small entrepreneurs start small businesses, and extended the Social Security Trust Fund."
Aaron Kliegman is a politics reporter for Fox News Digital.