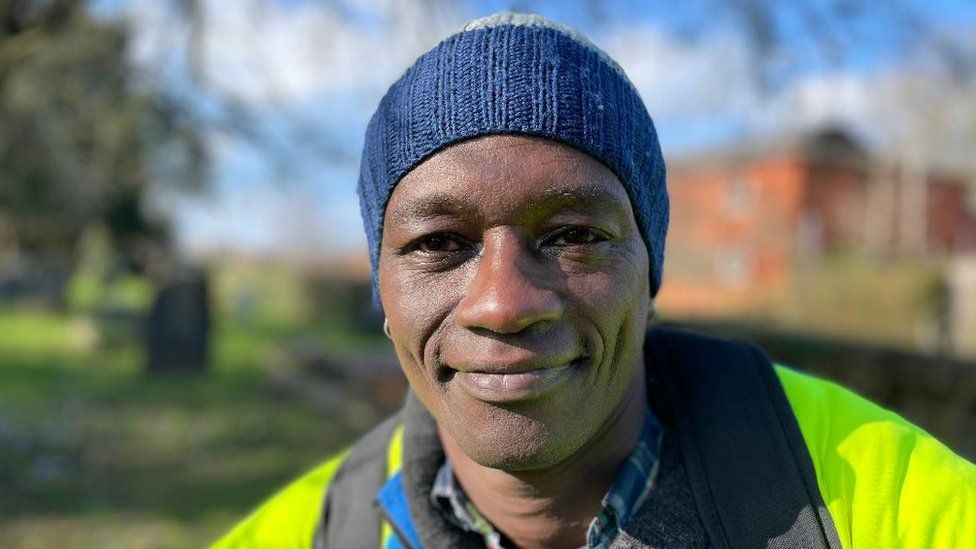 By Malcolm Prior
BBC News rural affairs producer
Mo would be the first to admit he has led a deeply troubled life.
Caught up in a county lines drug-dealing gang, in and out of prison and battling his own drink and drug addictions, he spent years homeless.
At first, that was in London. But then, after the break-up of a relationship, he found himself sleeping rough across the rural boroughs, market towns and coastal resorts of southeast England.
Yet it's in a small village in the heart of the Kent countryside where he says he has finally found some salvation.
Mo, 53 and originally from London's East End, is now in supported accommodation provided by the local council.
To say his life has been transformed is an understatement - and he says it is down to the support he has received from the villagers themselves.
"When I first came here, I cried. Because I wasn't sure where I was going and how it was going to be," Mo told the BBC.
"I was going through a difficult patch in my life where I was taking from the community, where I would be a menace.
"Now, thank God, through the grace of this village, I'm able to give back - and I enjoy giving back because it gives me a sense of belonging. It gives me a sense of self worth. And it also helped me mentally."
After more than a year here, Mo is now a well-recognised face, an active member of the local church and a volunteer for a nearby "memory café", which provides support for people with Alzheimer's and dementia.
But, for many, things have not worked out as well.
A new report has found that not only has rough sleeping and homelessness increased across the English countryside in the past year but also that rural support services are facing a lack of vital funding, compared to those in urban areas.
The year-long study, called "Homelessness in the Countryside: A Hidden Crisis", found there had been a 24% increase in rough sleeping in rural areas in 2022 compared to the year before.
That is similar to the 25% increase in urban areas, found by the government's snapshot survey of the number of rough sleepers in England carried out on one night last autumn.
The report says, of more than 3,000 people found sleeping rough that night, 473 were in rural areas but many are often hidden away in more remote areas of farmland or woods and go uncounted.
The researchers from the universities of Kent and Southampton also found that funding for homelessness prevention in rural areas was "significantly lower" than in urban areas.
They estimate that allocations under the government's Homelessness Prevention Grant last year saw rural areas receive 65% less per person than urban areas.
Researchers say local voluntary groups, charities and church groups have been left bearing the cost of providing vital support in villages, market towns and the countryside.
Dr Carin Tunåker, co-author of the report, told the BBC: "We found that some of the reason for why rural homelessness is hidden is because people in rural areas rely on an enormous amount of goodwill.
"Churches, community groups, farmers and members of the public are doing their part to provide warm spaces, cups of tea, safety, help filling out forms and a shoulder to cry on.
"It is fantastic to see people coming together to do this, but it also shields the real scale of the problem from view, and it is not a long-term solution. That is why the government needs to act to address the crisis."
The report's authors say there needs to be more innovative, flexible and proactive homelessness prevention and support schemes in rural areas and mental health services need to be made a priority.
One of the charities doing just that is Turning Tides, based in West Sussex.
Its outreach services include a converted double-decker bus that travels around the countryside, acting as a mobile hub.
The charity is also creating high-support accommodation for 50 people at a former bible college near Horsham, called Roffey Place.
Franc is one of those the charity has helped back into housing.
A former restaurant manager, Franc was jobless, in debt and had become homeless in 2017. He ended up sleeping under a tarpaulin in woods for almost two years, relying on drinking water from the radiator top-up pumps at petrol stations.
"It became my life and I just became this almost kind of feral human being. I was living at the most base level," said Franc.
"Every day was about how am I going to get food? How am I going to stay warm in the winter?"
Turning Tides helped bring him into temporary housing before helping to set him up in a new flat.
"They completely rebuilt me and put my life back together," he says.
But running the charity, which has 300 volunteers and 140 staff, is always a struggle.
Ruth Poyner, the charity's head of fundraising, said: "We never have enough money. We have 35 different projects across West Sussex at the moment and in a 12-month period will be supporting about 900 people so I am tasked with my colleagues to raise £650,000 in a year to support the charity. We are always run at a deficit."
A spokesperson for the government's Department for Levelling Up, Housing and Communities said £366m was being given to local councils to help them "ensure families are not left without a roof over their heads".
She added that more than half a million households had been supported to secure accommodation since the introduction of the Homelessness Reduction Act and the distribution of its Homelessness Prevention Grant for 2023/24 across England would reflect where the need was greatest.
Meanwhile, after years without a permanent home, Mo feels settled for the first time.
But his thoughts are with those hidden rough sleepers across the countryside who have yet to come in out of the cold.
"I just hope, and I pray, for people who are out there, that are going through struggles - don't lose faith, if you have one. Don't lose belief. And most of all, don't lose trust.
"Because to get a stranger to come and help you takes a massive trust."