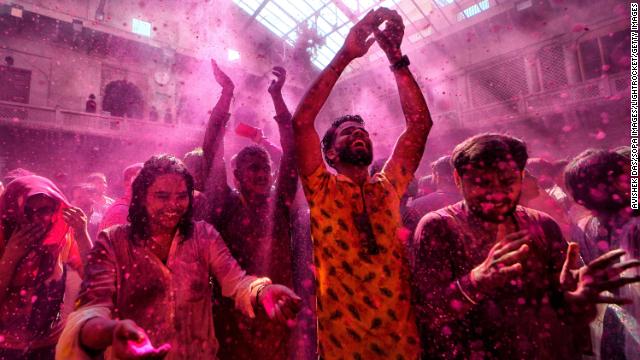 By Alexandra Meeks and Ivory Sherman
Prince Harry and Meghan's daughter will be known by which royal title?
The daughter of the Duke and Duchess of Sussex will go by the title of Princess Lilibet Diana, a spokesperson for the couple said following news of the child's christening. This marks the first time the title of princess has been used publicly for Harry and Meghan's daughter.
Senators unveiled a bipartisan bill this week empowering President Joe Biden to ban which popular app nationwide?
The legislation expands Biden's legal authority to ban TikTok nationwide, marking the latest in a string of congressional proposals threatening the social media platform's future in the US.
Millions of people in India and around the world are celebrating which holiday this week?
The Hindu festival known as Holi is being celebrated this week with signature traditions, including the throwing of colored powders.
Which state rejected a ballot measure this week that would have legalized recreational marijuana?
Voters in Oklahoma rejected a measure that would have legalized recreational marijuana in the state for adults ages 21 and older. Similar measures in November failed in Arkansas, North Dakota and South Dakota, while voters in Maryland and Missouri approved recreational cannabis use.
Approximately how many troops does the US maintain in Syria as part of its campaign to defeat ISIS?
There are about 900 troops in Syria fighting against ISIS. A top US official visited them this week to check in and inspect force protection measures.
Which comedian is set to host the 2023 Academy Awards Sunday night?
Jimmy Kimmel is set to take the Oscars stage as the host for the third time — one year after Will Smith infamously slapped presenter Chris Rock.
Amid violent clashes with police, dozens of people were detained this week in which country near Russia?
Tens of thousands of people gathered outside the Georgian parliament for demonstrations over a controversial "foreign influence" bill.
Which network aired false depictions of the January 6, 2021, attack this week, drawing widespread criticism for misleading its audience?
The White House lashed out at Fox News host Tucker Carlson in an extraordinary rebuke of the commentator who has been airing false depictions of the Capitol insurrection this week. Carlson has aired carefully selected clips to portray the pro-Trump mob as peaceful patriots.
Large parts of which state were under emergency warnings due to recent storms and this week's severe weather?
Millions across central and Northern California are grappling with a major storm system, with heavy rain threatening to cause widespread flooding in areas already dealing with dayslong snowfall.
Professional baseball player Justin Turner was hit by a fastball during a game this week, resulting in 16 stitches to the face. Which team does he play for?
The Boston Red Sox third baseman is resting at home after he was hit in the face by a pitch, his family said in a statement.