The catalytic converter theft crime wave that's been sweeping America may be even worse than it seems.
A new report from CarFax estimates that 153,000 of the emissions control devices were stolen in 2022, based on repair records.
That's higher than some previous estimates and the situation doesn't appear to be improving.
According to the National Insurance Crime Bureau, the number of thefts increased 1,215% from 2019 through 2022.
CAR THEFTS HIT 1 MILLION IN 2022 DUE TO WEAK ENFORCEMENT AND JUVENILE OFFENDERS, NICB SAYS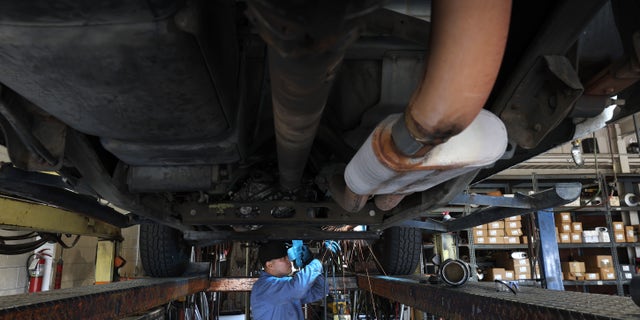 Catalytic converters are targetted for the platinum, palladium and rhodium they contain. (Justin Sullivan/Getty Images)
Thieves are going after catalytic converters because of the valuable materials used in their construction, including platinum, palladium and rhodium.
They're also relatively easy to steal, the process taking little more than a minute in some cases.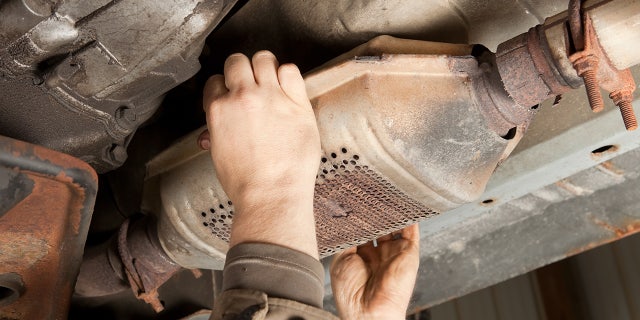 The devices are easily accessible on many vehicles. (iStock)
But it's not without risk. One thief in Georgia was recently killed when the vehicle he was working on fell and crush him.
Another in California was run over by a woman who was sleeping in the lifted Ford Excursion SUV he was under and drove off when she was awoken by the noise he was making.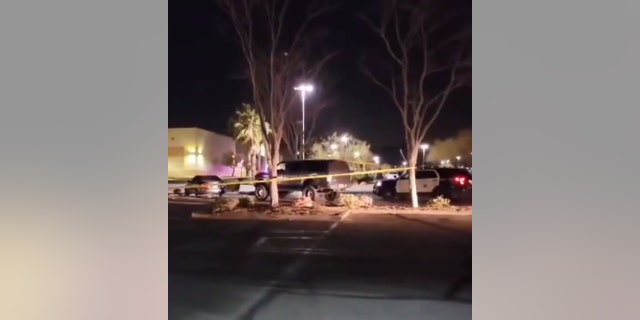 A man was killed when the lifted Ford Excursion he was stealing a catalytic converter from pulled away and drove over him. (AV NEWS CREW)
CLICK HERE TO SIGN UP FOR THE FOX NEWS AUTOS NEWSLETTER
As part of its review, CarFax identified which vehicles are hit the most often and these are the top 10:
1. Ford F-Series
2. Honda Accord
3. Toyota Prius
4. Honda CR-V
5. Ford Explorer
6. Ford Econoline
7. Chevrolet Equinox
8. Chevrolet Silverado
9. Toyota Tacoma
10. Chevrolet Cruze
As with all automotive theft prevention, experts advise owners to park in well-lit areas or in garages when possible.
CLICK HERE TO GET THE FOX NEWS APP
There are also catalytic converter anti-theft devices available on the aftermarket, and Toyota is now offering them as optional accessories on several models, including the Prius, Rav4 and Tacoma.
Gary Gastelu is Fox News Digital's automotive editor.